Ceramic Tradition in Puglia
It's all about location. Ceramic making – earthenware, stoneware and porcelain – is a cultural tradition in Italy, intrinsically tied to regions such as Umbria, Tuscany, Sicily and Puglia. In Puglia, ceramic production, as well as terracotta, has been flourishing since antiquity, thanks to its privileged location.
Nearly 3000 years ago, Puglia was part of Magna Grecia, the expansion of the Greek empire in the Mediterranean. The fertile lands of southern Italy were inspiring, and none more so than in Puglia where the Greeks were extracting clay from the area around Taranto for earthenware production. In fact, ceramica (ceramics) is ultimately derived from ancient Greek kéramos (κέραμος potter's clay).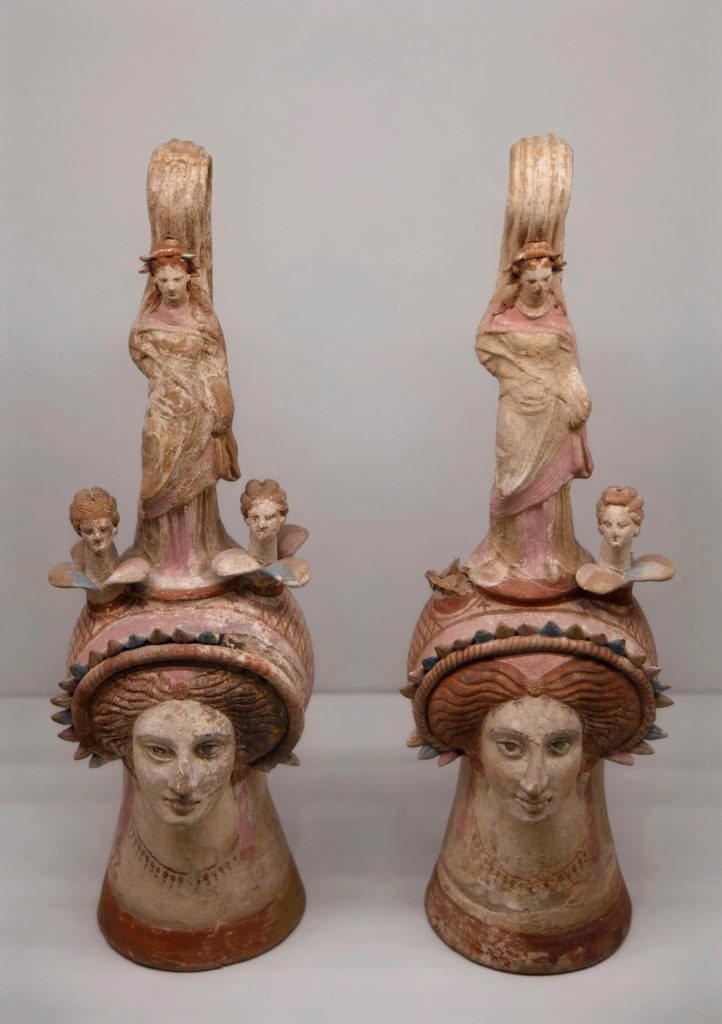 From Magna Grecia to the Roman Empire to the Republic of Italy, ceramics are the ultimate marriage of form and function. Beautiful designs of artistic expression used on everyday household items. Throughout the centuries, colours and techniques became more and more refined, in particular with the technological advancements in kilns and glazes. Artists innovated and experimented with beautiful skills, styles and patterns. Today, Puglia is world-recognized for its resplendent glossy and decorated white enameled majolica.
Splatter ware tradition
Smammorizzato, smamriato, schizzato. Move over, Jackson Pollock, we've got better splatters. The simple speckled pattern is all over earthenware in southern Italy, but no better than in Puglia. The schizzato (splattered paint) style is found in Tuscany as well as Puglia but the green splatters on a beige enamel background design is traditional to Puglia's Salento, and considered part of its cultural heritage. Some say that the schizzato technique started as a quick and economic solution to dressing up everyday objects like pitchers and plates, and Pugliese potters will also tell you that the green splatter was used for decoration and to distinguish their wares. Over the past few decades, splatter ware has become a coveted table element, dominating dinner parties and Instagram feeds.
Two centuries of tradition
The Fratelli Colì family has been creating beautiful ceramics for more than two centuries in Cutrofiano, a small speck of a town on the very edge of the Salento south of Lecce. Today, the workshop is one of the oldest and largest in the town, no small feat considering that when master codimaro (clay worker) Antonio Colì originally decided to move the family's generational studio from the country to town to increase production and give more artisanal quality of the traditional craft "everyone thought he was crazy", tells Gigi Greco, representative for Fratelli Colì.
Colì's move was a great choice and today, the artisanal techniques and handcraft traditions that have been passed down from father to son since 1650 are now part of an internationally recognized ceramics company. They continue to produce handcraft, hand painted and hand enameled pieces and the entire production is 100% Italian and 100% natural, with no lead.
At the seat of the pottery's wheel is the latest generation of Colì – Giuseppe, recognised as one of the best (if not the best) torniante in the world. A master thrower and ceramicist, Giuseppe funnels two centuries of tradition into pitchers, vases, amphorae and more.
Cutrofiano
One of twelve municipalities that make up the Grecia Salentina, Cutrofiano gets its name for the word cutrubbi or cutra (Greek for vase) and is considered the "Italian city of ceramics" for its centuries of production from the Middle Ages forward. In the mid-1700s, the city registered 31 bottegas and 46 specialist craftsmen – codimari, piattari and pignatari – whose techniques and decorative motifs are used to this day.
Cutrofiano is also home to the Museo della Ceramiche, a gorgeous collection of the town and region's terracotta tradition, from the Neolithic to the last century, and divided into four sections: archaeology finds from Cutrofiano environs), technology (tools and instruments used), history (painted ceramics and majolica representing Puglia and southern Italy) and anthropology (everyday objects).
Grottaglie
Where as Cutrofiano is a town with historic botteghe, the near mythological Grottaglie (near Taranto on the Ionic coast), is famous for its canyons and ravines (grottaglie), valleys and caves, and, above all, its neighbourhood entirely devoted to traditional ceramics. The Quartiere delle Ceramiche (ceramics quarter) is lined with botteghe and more than 50 expert ceramics artisans.
Grottaglie has the proud distinction of being Puglia's singular city listed in the 28 Italian cities as DOC for original ceramic art. What sets Grottaglie ceramics apart from the rest is the individual handcraft for every phase of production, techniques which have been passed on through generations.
Explore Grottaglie's products:bianchi,luxurious white wares named for the use of white glaze, and caposanara, amphorae, kitchen utensils and everyday objects. And of course, you'll find decorative pieces like the portafortuna(good luck) pumo, a monochromatic glazed cone you'll find at every Pugliese home.
Laterza and Rutigliano, Terlizzi
If on a ceramiche pugliesi road trip, consider heading north. An hour's drive north from Taranto is Laterza, creating delicate, hand-painted majolica vases on record since the 16th century. Another hour's drive north east towards Bari is Rutigliano, a village devoted to pottery and whose name derives from the Latin word rutilius (red or reddish) in reference to the colour of the local clay. Rutigliano is famous for its ceramics and probably even more so for the fischietto, functional terracotta whistles most emblematically in the form of a rooster. Explore the Museo di Fischietto in Terracotta.
Rounding out the research is a 30-minute drive north from Bari to Terlizzi. Though lesser known, Terlizzi's ceramics cultural heritage goes back more than 1500 years. There are centuries-old kilns, which worked until a few decades ago, along with historic families who have passed down the tradition from generation to generation and continue to work to this day.
For Italian ceramics tradition, explore Deruta, Umbria with ISSIMO.