Italy's design movement of the 1960s
Picture it: Florence in the 1960s. Five twenty-something avant-garde architects, inspired by political risings, American science-fiction novels and a distaste for Modernism, came together to form Italy's ground-breaking radical architecture movement. The name: Superstudio. The mission: reimagine life on earth by embracing the future and developing an anthropological re-foundation of architecture.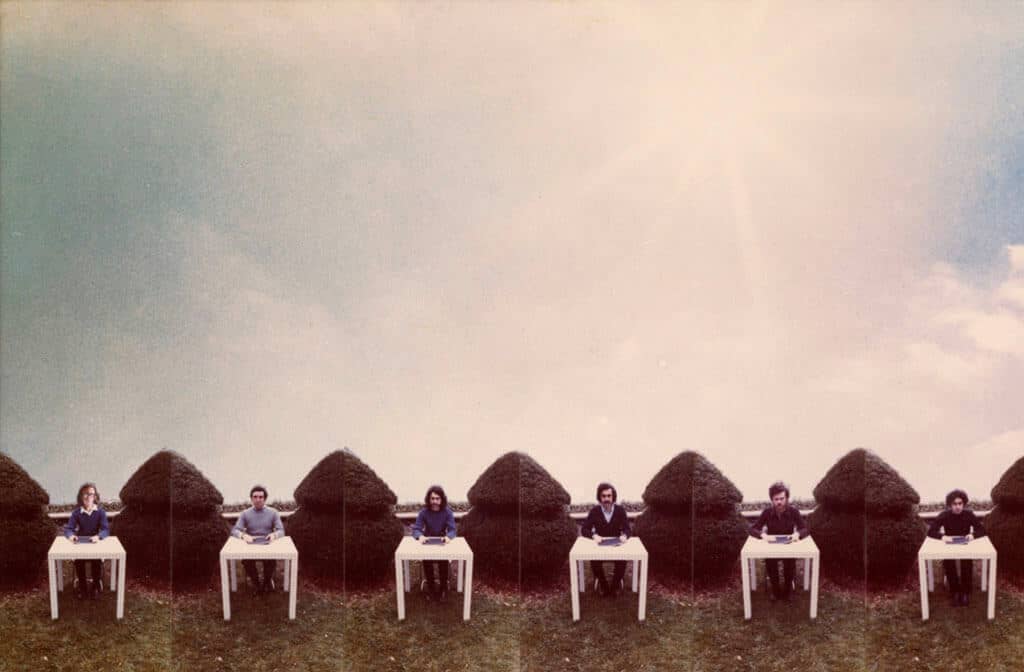 The Radicals
The Tuscany-based design group was co-founded in 1966 by Pisotoia-born Adolfo Natalini and Cristiano Toraldo di Francia. As the initiators of "Radical Architecture", they, together with Roberto Magris, Gian Piero Frassinelli, Alessandro Magris and later, Alessandro Poli declared in their group manifesto that "Superarchitettura is the architecture of superproduction, of superconsumption, of superinduction to superconsumption, of the supermarket, of superman and super­petrol." The influential group were the futurists of the 70s, the anti-architects who never once actually finished a building (just a train!) but whose heady psychedelic visions still inspire today.
Known for the powerful impact and extreme variety of their output, including mind-bending dystopian renderings, installations, objects, graphic works and photographs, Superstudio's work, at its core, evaded clear, identifiable labels. During the group's 12-year span, they aimed to "show that design and architecture could be philosophical, theoretical activities and provoke a new consciousness," according to Natalini. Their radical ideas included enormous buildings overtaking cities, giant golden pyramids and flying silver pods invading the serene countryside.
Their historic 1966 exhibition in Pistoia, Italy, "Superarchitettura I," which launched in conjunction with Archizoom, another collective from Florence, is considered to be the group's ground-breaking moment. An abstract tour de force with bright sculptural lamps and boldly colourful seating, "Superachitettura I" was a total refutation of the established Modernist credo that form should follow function.
In the years following, the group pushed the edge even more with "Twelve Ideal Cities" in 1971 by reimagining, through a series of twelve critical designs, the individual aspects of contemporary planning (zoning, uniformity, minimum existence, transparency, building industrialisation, climate, etc.) In each design, "the city is no longer a fixed place but a condition," according to Toraldo di Francia and the inefficiencies that occur as a result of problems and complexities in the ever-changing City are emphasised.
---
---
Pushing the limits
The group's most trippy work "Continuous ­Monument: an Architectural Model for Total Urbanisation," is also perhaps its best known. Superstudio wished to dispel the idea of homogenous modern architecture and instead proposed vast, gridded megastructures which spanned the earth, stretched across world capitals and pristine natural landscapes, reaching outer space. Among the most famous images is a striking view of Lower Manhattan enveloped by a horizontal monolith. Inspired by Issac Asimov, Philip K. Dick and J.G. Ballard, the group's design piece is a metaphor, revealing the very real possibilities of globalisation's destruction.
Superstudio's electric train, Circumvesuviana, which debuted in 1971, is one of the few design projects the group was able to officially bring to fruition. Envisioned by industrial designer, Roberto Magris, in collaboration with Ferroviaria Breda Pistoiesi, the electro-train's fiery Ferrari red fibreglass construct was revolutionary. Designed to allow for maximum capacity and ease of entry and exit, the train still operates successfully today, connecting the Amalfi Coast to Naples thanks to a regional network of train lines. 
With the 1972 piece "Supersurface", the group even imagined a planet without architecture. Objects and buildings were replaced with a flat, featureless grid representing an internet-like matrix which people could plug into – an eerie premonition into our present-day Wi-Fi instagram lives. Freed from the hierarchies of power and violence along with capitalistic notions, people were able to liberally lead a nomadic lifestyle. The group romantically proclaimed that with this newfound silence, one could "….listen to our own bodies…our hearts and our breathing. We'll watch ourselves living."
At their peak, Superstudio exhibited everywhere from MOMA to Minneapolis' Walker Art Center and were frequently published in the influential design magazine Domus, as well as featured in the progressive Italian monthly Casabella and Casa Vogue. Contemporary architects including Rem Koolhaas, Steven Holl and Bjarke Ingels continue to pay homage to the radical architects and since 1970, Zanotta continues to produce their Quaderna series of rectilinear tables overlaid with a black-and-white grid pattern (based on the group's theories for the ultimate rationalist solution, reducing architecture to a single template that could be endlessly scaled).
Though the group dispersed in 1978 after just twelve short years together, its members continued to develop their ideas independently through academia, architectural practice and other design projects including Natalini's design for the Museo dell'Opera del Duomo in Florence. Supernatural, eccentric, transverse and indescribable, Superstudio still, to this day, remains the most influential group in Italian radical architecture.