Italy's most famous butcher
Whether behind the chopping block or in front, Dario Cecchini is a poet and an actor where the small piazza of Panzano in Chianti is his stage. For more than four decades, Cecchini has captivated the world with his ability to transmit his passion for carne and butchery into an experience.
First of all, you need to understand Panzano in Chianti. The hilltop village, approximately a 40 minute drive south from Florence on the way to Siena, is tiny. Maybe 1100 in habitants.  And they all know each other.  The location is beautiful, a medieval village surrounded by rolling green of the Tuscany countryside. Panzano's medieval borgo centre around its historic castle, the entire town is a time piece or better yet, a film backdrop ready for a Wes Anderson close up. And the Cecchini family dynasty has reigned as Panzano's butcher for eight generations.
"We've been in this piazza for more than 200 years and I don't need anything more."

Dario Cecchini
Eight generations of butchery
Describing himself as a "butcher from head to tail", Cecchini started in the family business at age 20 after a few years studying veterinary medicine.  "I was orphaned and returning to the shop was the only way to survive. I spent years researching and recovering the traditions of my family and inventing some of my own."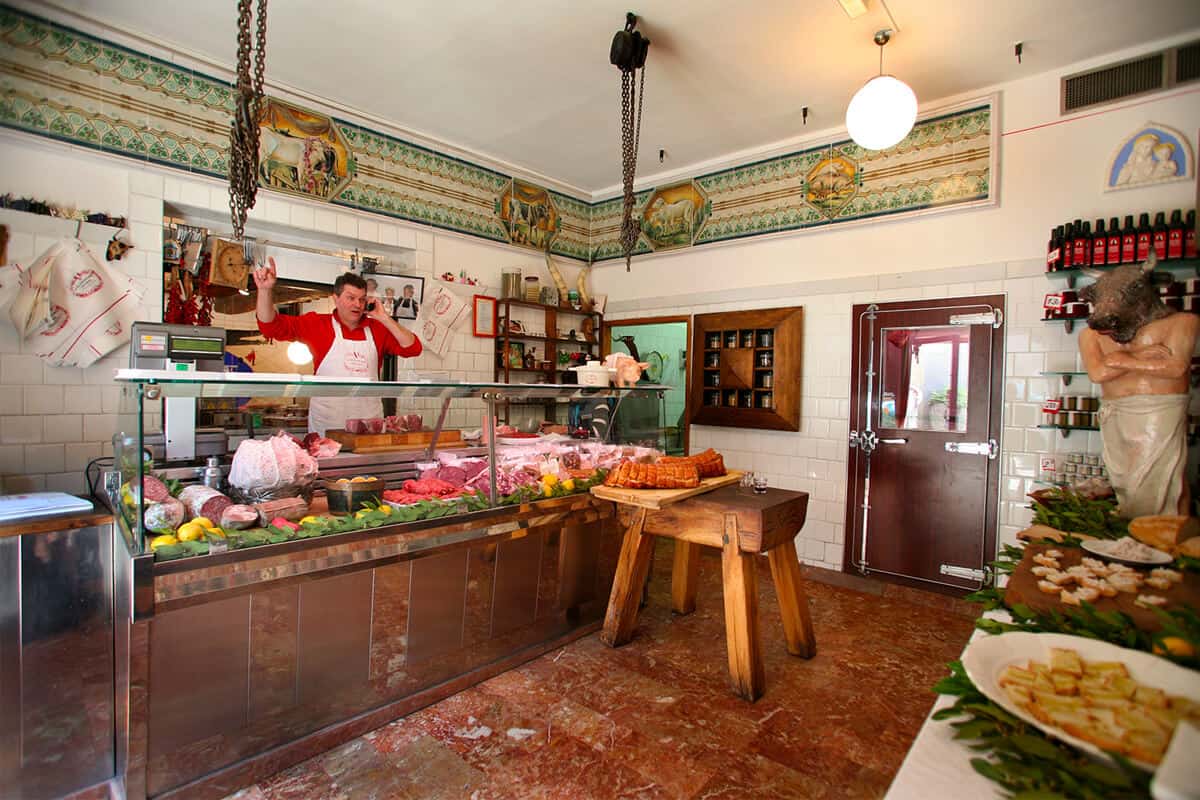 Inventing he did. Today, Antica Macelleria Cecchini is synonymous with beef and bistecca alla fiorentina, the unforgettable florentine steak cut. People from all over the world flock to Panzano for his cuts and to dine at any of his three restaurants – Officina della Bistecca, SoloCiccia and Dario Doc where the ever-present Cecchini dominates his forum with personality and poetry (we'll get to that later).
They are not just coming for the beef, but for a taste of Cecchini's mentality, his spiritual investment in life and work.   For Cecchini, butchery is about seeing more than beef, seeing the animal as a whole where respect is fundamental.
"Usare tutto bene. Use everything – all of the animal – well, this is the philosophy of my family," Cecchini explains. "I use everything with conscience and try to give honour to the animal. And it's an economic concept."

Dario Cecchini
Culinary traditions
Tuscany culinary traditions eschew waste, instead focusing on gastronomic efficiency, in other words, making the most of what you have you have. From nose to tail, every cut and section has its value and the butcher must share more than the cut and recipe, but the why. "We need to break free from chains from cibo di tendenza (quick fix and trendy food). We must be responsible carnivores using food well and return to the essential."
Cecchini has made it his mission to protect the future of butcher.  In the piazza and around the world including an dedicated episode in  Season 6 of Chef's Table, a galvanising presentation at MAD Symposium  and a chat on BBC Radio's Food Programme, Cecchini lives and promotes butchery as both mestiere e arte, craft and artistry. "We are artisans and we must maintain those values."
Dario and Dante
Back to Dante.  As an artist and a Tuscan one at that, Cecchini finds time each day to read a canto from Dante Alighieri's La Divina Commedia, the masterpiece trilogy of life, love and afterlife.
"In our way of living in Tuscany working from day to night, you need time for pensiero libero (free thought) and we find the time for a glass of wine, talk to friends, read a book. I adore reading and reciting Dante."
Whether catching up on cantos at home or reciting them in front of his guests, Cecchini is always infusing his surroundings  with Dante whenever he has the opportunity.  He's known for taking centre stage and reciting more than just a few cantos.  In fact, Cecchini recalls a fabulous evening at La Posta Vecchia in the late 1990s.
"Roberto Scìo always had the most beautiful parties, and one time I was invited to cook for what would be an incredible evening. On the way to the party, I rode with Nicola Bulgari holding a small work of art by Benevuto Cellini, the first time ever out it had ever been away from the Bulgari caveau. I cooked with Heinz Beck and at the end of the evening, I stood on the table to recite Dante. Roberto shouted "Dario, this is an antique" to which I responded – it's lucky that it is. It's perfect for Dante…."
A side note for vegetarians that is definitely a full meal and not a side dish: Cecchini's philosophy isn't just about meat. It is about appreciating and valuing all farmers and all produce. Dedicated and complete vegetarian menus featuring Tuscany recipes pappa al pomodoro and buglione di vedure are featured in each of his restaurants.