We dive into the origins of the typical Italian Easter bread
If Christmas in Italy isn't Christmas without panettone and pandoro, Easter is all about colomba. Also known as 'colomba pasquale' the rich and fluffy sweet bread has been a traditional part of Easter celebrations in the Bel Paese for over a century, and, just like its winter counterparts, it's something Italians tend to buy, rather than make at home – nonnas included!
Dove-shaped – hence the name, as colomba means dove in Italian – colomba is classically made with high-quality flour, eggs, butter and natural yeast (plus sugar of course). After rising for at least 30 hours, the dough is then baked into the iconic bird form, and topped with pearl sugar and almonds, although different regions and bakers like to add their own twists to it, from IGP hazelnuts in Piemonte to amarena cherries in Emilia-Romagna.
Just like Easter eggs, colomba is something that never misses on the table at Easter lunch – and before and after the holiday too, as it makes the perfect breakfast food, afternoon snack and post-dinner treat for a lot of Italians from the time it starts popping up at the supermarket.
Ready to dig into this delicious pleasure? Here's all you need to know about it. Read on, try not to let your mouth water, then pre-order our very own ISSIMO x Soul Cake Colomba.
From the Middles Ages to the modern era
There are different legends surrounding the origins of colomba, though all of them place its birthplace in Lombardy, the region we also have to thank for panettone.
One tale traces the cake back to the 6th century, when Saint Colombano, an Irish monk, established a monastery in Italy. Here, as it goes, he had a vision of a dove descending from the heavens, and this inspired him to bake a cake in the shape of the bird to celebrate Easter.
In another version, colomba was inspired by the Lombardian victory over the Emperor Frederick Barbarossa in 1176, when two doves miraculously appeared on the battleground. Another story still credits its creation to the people of Pavia who, in 572, attempted to pacify the wretched King Albion of the Lombard tribe who was attacking their city by offering him a sweet bread in the shape of a dove. The barbarian ruler loved the treat so much that he decided to spare Pavia and set the Pavesi free.
Over the centuries, colomba continued to be a mainstay of the Easter culinary in the northern Italian region, although it wasn't until the 1930s that the version we know and love today was popularised across the country. To thank for that was the Milanese pastry company Motta (also behind the commercialisation of panettone!) and Mantuan artist and advertiser Dino Villani, who came up with the idea of ​​using the same machinery that Motta used for panettone to recreate the Easter cake with a very similar recipe. Once on the market, the sweet bread turned into an immediate hit, going on to become a quintessential Easter food from north to south.
In the 1940s the recipe was taken up by Angelo Vergani who founded Milan's Vergani company – perhaps one of the most iconic colomba makers there are.
So what exactly is the difference between colomba and panettone, you ask? While the dough for colomba is produced in a similar way to the Christmas cake, in its most traditional iteration the dove-shaped sweet bread contains only candied peel orange and no raisins – unlike panettone, which comes with mixed candied fruits. And then there's the shape, of course: Another distinguishing factor is that colomba has a sugary almond coating and is topped with sugar pearls. Lastly, while panettone is dome-shaped, the dove format of colomba is a symbol of peace, hope and rebirth meant to represent the Holy Spirit, which is very much Easter's main message.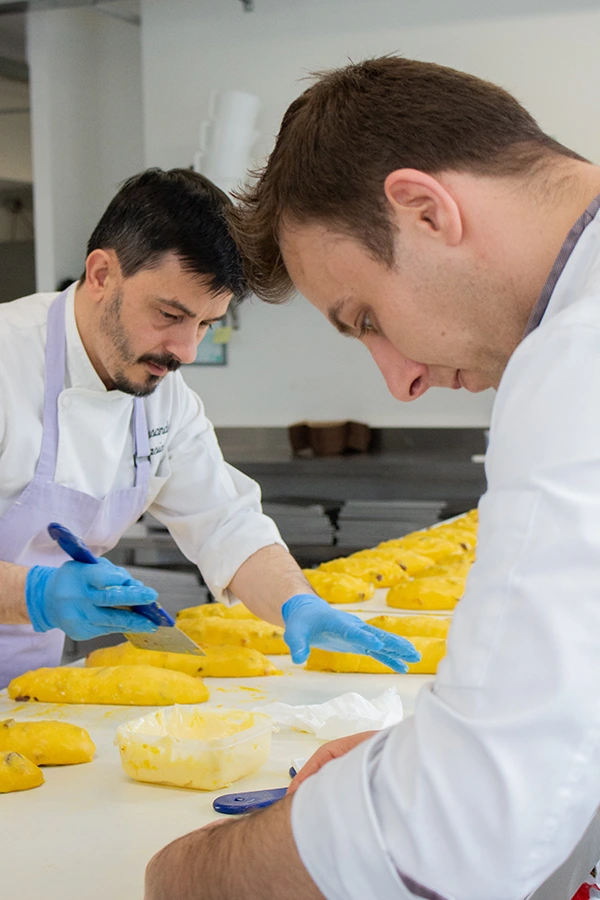 Rich, buttery and not too sweet, colomba comes in different versions around Italy, with many bakeries starting to make it weeks before Easter – and selling out quickly, too.
Most pastry experts – including beloved bakery Soul Cake – still use traditional methods and ingredients to craft the cake, which has helped preserve its authenticity, but today you'll also find plenty of riffs on the classic. There are colombe filled with peach jam or pistachio cream, covered in a hazelnut glaze or drizzled with luscious chocolate. The most delicious versions, though, always feature a perfect balance between its buttery richness and its slightly sharp taste from the candied oranges – just like the ISSIMO x Soul Cake one we've been preparing for Easter 2023.
Want to go extra sweet with your treats? Then don't forget another staple of Easter celebrations: chocolate eggs. We've got mini versions of those, too – courtesy of ISSIMO x Perayno this time. Ready to indulge?