The 101801 Light JerseyCoat, featured in the Resort '22 Collection presentation at Mezzatorre.
How do you bridge winter and spring? With chicISSIMO outerwear of course. From a stunning presentation of their full 2022 Spring season shown at our own Mezzatorre Hotel, Marie Louise has selected her very favourite Max Mara piece: the 101801 light edition, in yellow. The 101801 coat from Max Mara is a classic for a reason. Worn by supermodels and the cultural set alike, its indisputable lines and perfect fit have made it a timeless go-to. You can bridge the seasons and shop the classic right here on ISSIMO.
If you thought yellow was an unusual coat colour… we're afraid you'd be incorrect! It is a statement and a signature, here in Italy and all over the world. Before you know it, you'll realize just how many famously renowned renditions of yellow outerwear have slipped into our collective subconscious. Here are just a few famous Yellow Coats.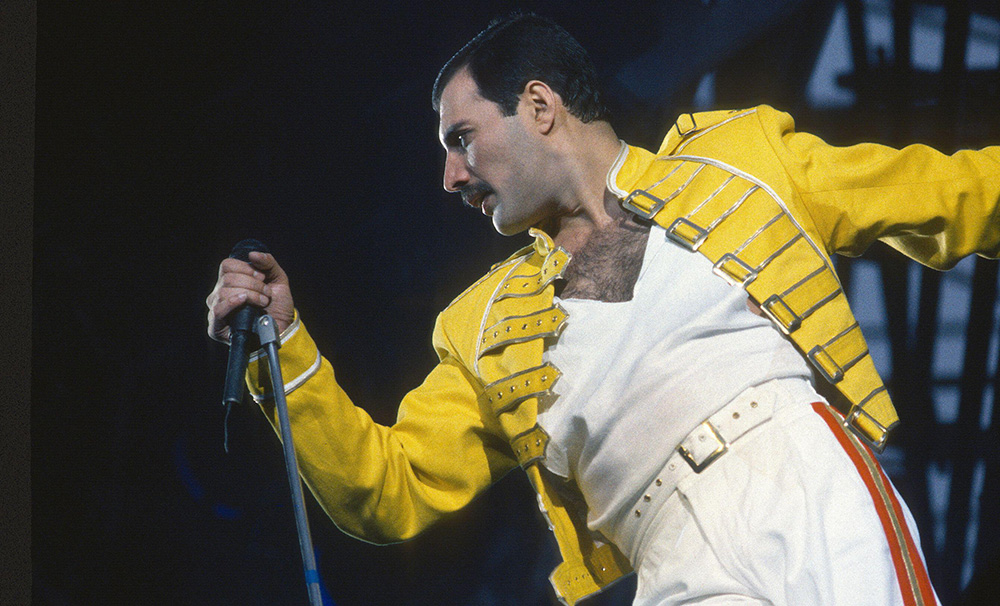 Freddie Mercury's yellow jacket, designed by Diana Moseley.
If not one of the most iconic yellow jackets of all time, this look is certainly one of its wearer's most iconic ensembles. In 1986 Freddie Mercury wore a leather jacket on stage to perform at the sold-out Wembley Stadium. It had accompanied him throughout Queen's tour that year which tragically was Mercury's last. Created by costume designer Diana Moseley, the military look featured gold buckles and the yellow hue made it a perfect performance piece, visible from all around the arena. Almost twenty years ago it went up for auction and fetched over €35, 000. If you think of Freddie and Queen, chances are you think of this famous yellow fashion moment as well. 
This Oscar-winning film was the first nominated from Italy in fifteen years when it scooped the prize for Best Foreign Film in 2013. It is Director Paolo Sorrentino's love letter to our hometown of Rome, full of beauty and existentialism, a hedonistic and beautiful ode to the Italian experience. This film does not just captivate from its opening moments but captures your attention from its poster. Here, the character Jep Gambardella (played by Toni Servillo) sits alongside an outsize sculpture of Marforio, a marble sculpture from 1 AD of a reclining water god. The sculpture currently resides in Rome's Capitoline Museums within the famed Piazza del Campidoglio. And what does Jep wear to grab our attention? A perfectly tailored, statement-making, yellow coat. 
Movie poster for Sorrentino's La Grande Bellezza, Jep with the epic Marforio.
Gene Kelly and Debbie Reynolds in their iconic yellow raincoats in Singing in the Rain.
Like Mercury's sold-out-stadium strategy, raincoats are traditionally yellow for visibility, a rationale that dates back hundreds of years to practical fishermen. One of Hollywood's great cinematic moments belongs to the legendary Gene Kelly, tap dancing through puddles and onto the silver screen. Shoulder to shoulder with Debbie Reynolds, these golden age stars are best remembered wearing their yellow rain slickers, dancing in their most beloved film. Ironically, Kelly wasn't wearing yellow in the most famous scene. But how do you make your main character stand out in a line-up? What do you put him in for the poster? A yellow jacket. 
In this master work by Vincent Van Gogh, the artist turned his brushes to his neighbour in Arles, France. The seventeen year old sitter is Armand Roulin and in the summer of 1888, Van Gogh captured a moment between youth and adulthood. A very chic moment, thanks to the pop of yellow against the green background: another statement-making yellow coat. In art, and attire, yellow often denotes happiness and hope. 
Portrait of Armand Roulin, Vincent Van Gogh
David Bowie captured by Terry O'Neill.
In 1974 photographer Terry O'Neill captured the rock legend in a famous yellow suit jacket – and trousers. David Bowie was on tour with his Diamond Dogs album when the image was shot in Los Angeles. Sometime between performing renditions of 'Rebel Rebel' to wild audiences, O'Neill met up with the singer to capture this picture. Bowie styled himself in the mustard-yellow suit, choosing this colour himself. 
From artists to musicians, cinema and fashion, yellow coats have claimed a place in our memories, whether you realize it or not! And with good reason: this stand-out shade lends its wearer main-character energy while traversing the seasons with comfort. Add this statement to your wardrobe when you shop Max Mara's 10801.