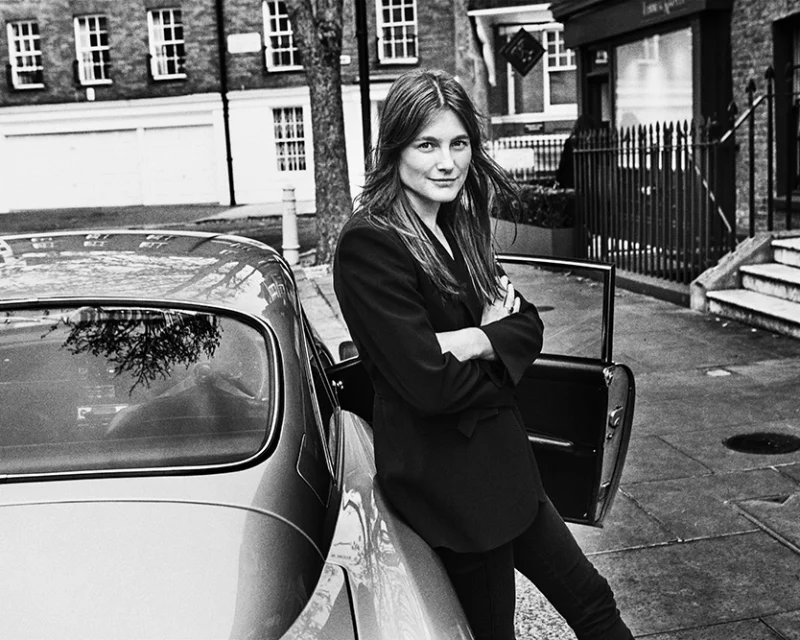 British tastemaker Tabitha Simmons is a bit of a polymath. Stylist, magazine editor, footwear designer, she's been breathing fashion since she was a teenager (she started at 14, working in a shoe store in the UK), quickly becoming one of the most recognised names in the industry.
It was no surprise, then, that in 2020 she was appointed creative director of London-based heritage leather goods brand, Tanner Krolle – one of the oldest British luxury brands, founded in 1856 in the UK capital.
Tasked with bringing "innovation and novelty" to the house, Simmons has been quietly refreshing some of its most classic styles, like the Annabel vanity case, a crossbody "jewel box" bag inspired by the original style carried by Princess Diana.
Over the summer, our founder Marie Louise joined forces with Tabitha to recreate the bag in a whole new vibrant colour – our beloved Il Pellicano yellow.
The result? A purse that's ChicISSIMO, versatile, and impeccably crafted. We called up Tabitha to talk about the ISSIMO x Tanner Krolle collab, and hear her thoughts about the perfect bag(s).
Tell us about the ISSIMO x Tanner Krolle Annabel bag. How do you think it reflects both brands?
I think it's such a good collaboration because it combines two brands that equally value Made in Italy and craftsmanship. Despite being thoroughly British, Tanner Krolle makes everything in your beautiful country. ISSIMO, on the other hand, is part of the Pellicano Hotels Group and the all-Italian world it represents. It's the coming together of two great minds, in a way.
What is it about 'Made in Italy'? And why do you think it's important to work with artisans?
True 'Made in Italy' gives you quality you can't find anywhere else. It's real craftsmanship. As for the artisans we collaborate with – I just love that we know the names of the people that make our bags, and that they've been handed down their skills from generation to generation. It's special, and rare – and the results are fabulous.
The Annabel is a bit of a cult classic. Why do you think it has stood the test of time?
Versatility, to begin with. The Annabel is a bag that you can almost wear for 24 hours straight. That's a big plus for a lot of women, myself included. I've used it during the day, I've taken it out for dinner, or on a night out. I have dressed it up and down, sported it with jeans or evening feathers. You can really roll with it whatever the outfit. It's a great little multitasker.
Is there a particular ensemble you like to wear it with?
I love wearing it with this Dolce & Gabbana suit I have. Mixing the feminine with the masculine is one of my favourite things when it comes to style.
How has the Annabel been updated for the modern-day wearer?
We've reduced it in size and added a leather strap so that it can be worn as a crossbody bag. We've also added a mirror, so that you can easily apply your makeup on the go. And with ISSIMO, we've given it an extra joyful spin, of course.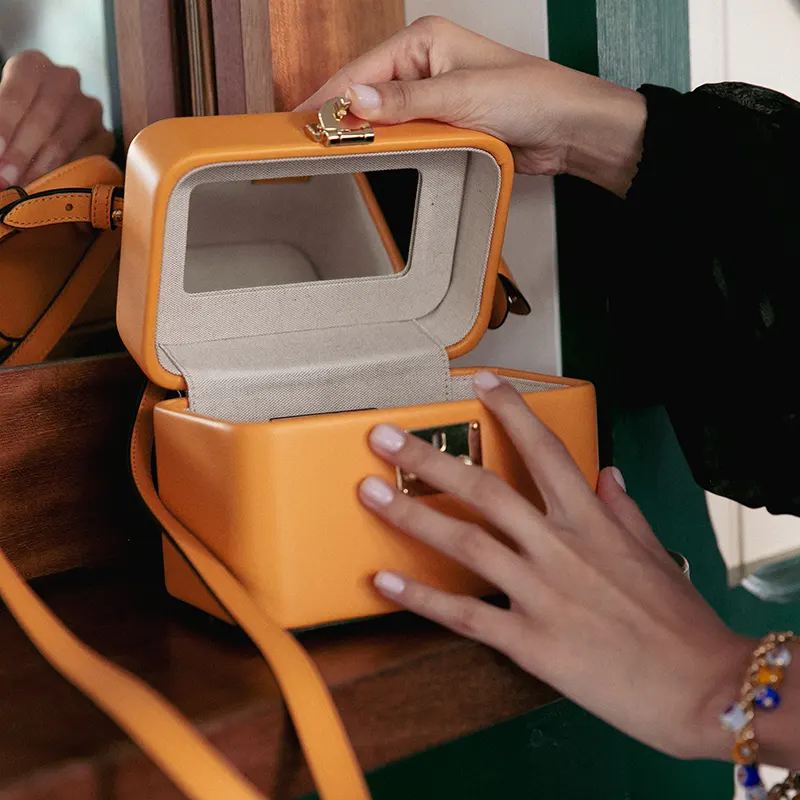 ISSIMO x Tanner Krolle Annabel Vanity Bag
Absolutely! How did you and Marie Louise select the colour Il Pellicano yellow?
It just came to us! Both the colour and the hotel are so iconic, and we wanted the Annabel to channel that. Plus, I've got a really soft spot for Il Pellicano, as I spent my honeymoon there. It's this impossibly stunning place. I love that a small part of it is now on a Tanner Krolle bag.
Describe the ISSIMO x Tanner Krolle collab in three words.
Luxurious, feminine, timeless.
Which bag do you always pack in your suitcase?
Tanner Krolle's Cadogan Tote, because it's squishy and easily storable, and the Annabel, because it sort of serves as an extra suitcase inside my suitcase, and I can fill it with things. Pretty smart, right?
What kind of bag do you think works for all seasons?
Not to repeat myself but…The Annabel! It's trend-less, goes with most things in the wardrobe, and it's easy to carry. I can't think of better attributes for a bag.
Speaking of which…What do you think makes a great bag?
Timelessness. Great bags are those that you can wear season after season – that's what slow luxury is all about. I've seen it first-hand as an editor: all those 'bags of the moment' we were presented with [at Vogue] often used to be the first to end up at the back of the closet. I prefer totes that you can and will use for a long, long time.