---
Every time I think of you
I feel shot right through with a bolt of blue

Bizarre Love Triangle

(New Order, 1986)
---
Padova's Starry Night
Walk into the Cappella degli Scrovegni in Padova and look up at eternally starry night of Giotto di Bodone. The jewel-box, early Renaissance chapel is Giotto's capolavoro, a masterpiece mega-fresco series capped with a gorgeous, star-studded ceiling painted in a rich lapis lazuli.
Ever since its 1305 debut, Giotto's fathomless ultramarine celestial sea has mesmerised. Poets have penned tales of it, painters have tried to mimic its rich colour and art pilgrimages have returned time and again to take in its unforgettable blues.
Follow the stars
Giotto must have been born under a lucky star, like the many he would paint into the Scrovegni sky. Born in a small Florentine town of Vespignano in 1276, the son of a shepherd was doodling in the fields when Cimabue (another great master) stumbled across him. According famed art historian Giorgio Vasari, Giotto was "drawing a sheep from nature upon a smooth and solid rock with a pointed stone, having never learnt from any one but nature. Cimabue, marvelling at him, stopped and asked him if he would go and be with him".
---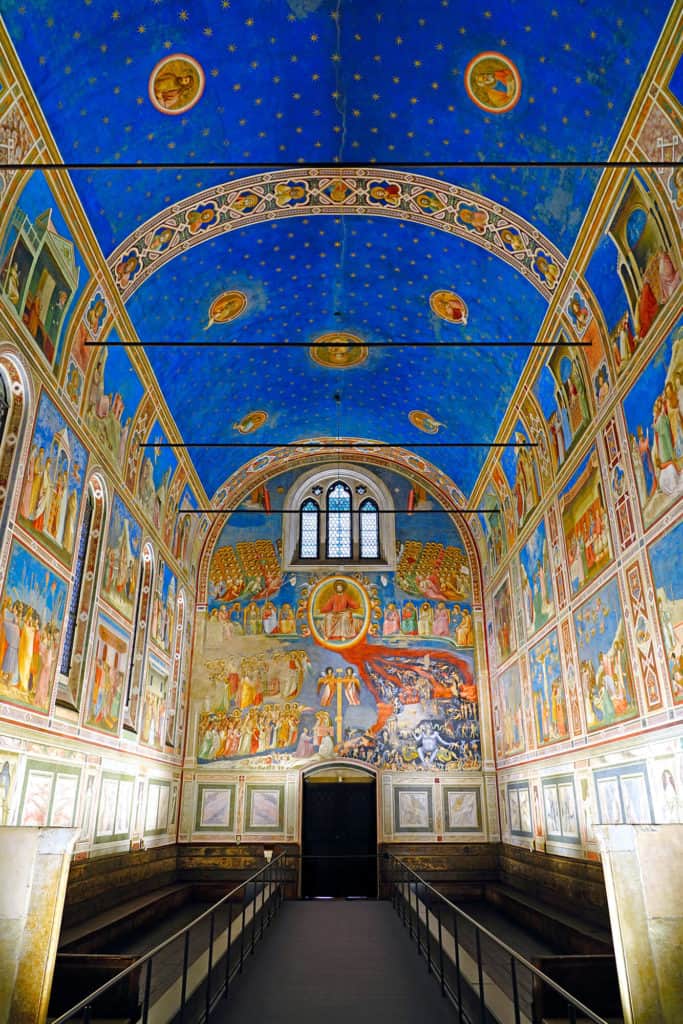 Of course, Giotto headed to Florence, worked in Cimbabue's bottega, and eventually rivalled and surpassed his master. He was not just the poster boy of early Renaissance painting, he was it's pioneer, pre-empting those amazing masters by 70 years with a preternatural figurative painting. And his peers knew it. Giotto's rolodex of friendships reads like a Who's Who of the 14th century and included none other than Dante Alighieri, Pope Benedict XI, Roberto d'Angìo, and Giovanni Bocaccio.
---
So faithful did he remain to Nature…that whatever he depicted had the appearance, not of a reproduction, but of the thing itself, so that one very often finds, with the works of Giotto, that people's eyes are deceived and they mistake the picture for the real thing.

Giovanni Boccaccio,

Il Decameron
---
Building a chapel
It's the turn of the century, and wealthy Padova banker Enrico Scrovegni decides he needs to make up for his family's history of usury on the grand scale. He commissions Giotto, whose reputation has reached Kardashian levels, to Padova to decorate the family chapel, and Giotto lets loose.
With its nave 20.88 metres long, 8.41 metres wide and 12.65 metres high, and an apse composed of a square area (4.49 meters deep and 4.31 meters wide) and a pentagonal area (2.57 meters deep), the chapel, even without decoration, is dramatic. Giotto chooses to envelope its walls in colourful and extensive narrative depicting the life of the Madonna, the life of Jesus, and then some.
On the chapel's lateral walls are three registers meant to be read chronologically and horizontally – like a comic book – showcasing the life cycle of the Madonna (top), Jesus (middle) and the Passions (bottom).  To give the mind a rest (and also remind the viewer of the values of life), Giotto paints the Vices and Virtues in grisaille eye-level panels under the Passions.  On the rear wall and over the entrance, he concludes the story with his Last Judgement and a guest appearance by none other than patron Scrovegni gifted the Madonna a model of the church. By Erica Firpo.
---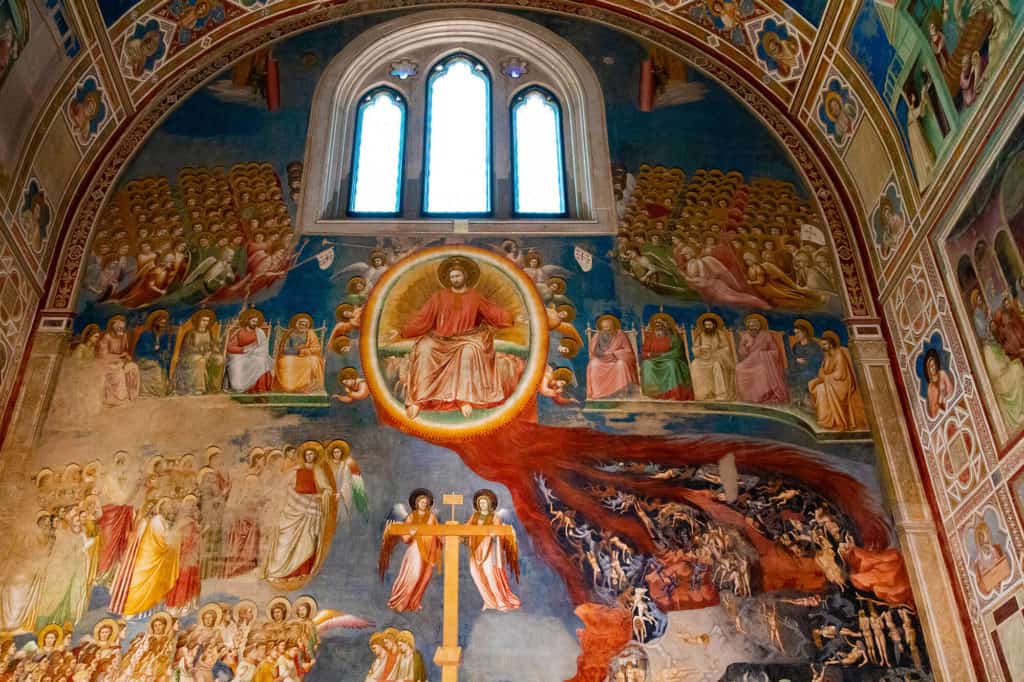 ---
A noble colour, beautiful, the most perfect of all colours

Cennino Cennini,

Book of The Arts
---
Visits to the Capella degli Scrovegni are time and last 30 minutes, which includes a 15-minute didactic video in the air-conditioned waiting room and a maximum 15 minutes in the chapel itself. Visitors must book online reservations at least 24 hours in advance. Only 25 guests are admitted per visit.
ISSIMO x Villeroy & Boch captures Giotto's immortal starry ceiling in a made-to-order homeware collaboration of teapot and tea set, espresso set, and flatware.