Italy is about chichISSIMO fashion from head to toe – but it is the toes we're talking about today. Italian craftsmanship turned historically functional footwear into sartorial splendor but each region of the country has its own style. Join us as we journey around Italy  to explore some famous locations by following in the footsteps of chichISSIMO shoe designs.
It's not often you can trace a fashion trend from ancient to modern times but Italy is superlative even in her consistency! Historians agree that Emperor Tiberius was among the first to don sandals when exploring the islands in the gulf of Naples. Thanks to an intuitive design that combined rigid soles with secure straps, they protected from the dusty, uneven terrain while accommodating the warm weather. Many centuries later, Jackie Onassis popularized the local design when she made them part of her island uniform, sharing a sartorial secret that Italians have long known: the bespoke footwear designed on Ischia and Capri are the most chicISSIMO sandals in the world!
This summer we're helping continue the tradition by collaborating with Mario D'Ischia. The Unisex Ugo Black Sandals are a signature, artisinal shoe that is designed to flatter the feet of both men and women and take you from the beach and bathing suit to elegant attire. From their decades-old workshop located in Lacco Ameno, a tiny fishing village alongside Monte Epomeo in Ischia, Mario D'Ischia creates each meticulous pair of sandali by hand! Step out on Ischia in your statement sandals:
Where to Wear your Sandals on Ischia
There is no shortage of
beautiful beaches
on an island like Ischia. In the town of Forio, near Mario D'Ischia's Lacco Ameno workshop you'll discover some spectacular spots to swim. Tucked into the topography,
Citara Beach
is a long strip of sand where the road ends. Picture turquoise waters under a verdant, mountainous curve. Closer to
Mezzatorre Hotel and Thermal Spa,
you'll discover the
Baia di San Montano
, a tranquil inlet with a sand and pebble beach enclosed by the Bay. One of Ischia's most loved thermal bath spas,
Negombo
, is located perched atop the hills overlooking San Montano.
Between the two swimming spots is the perfect day trip to don your ISSIMO x Mario D'Ischia sandals:
Giardini La Mortella
. Amidst the green island of Ischia is a manicured
garden that features tropical and mediterranean
plants, flowers and trees. Called
one of the most beautiful private gardens in Europe
, in addition to the many bellISSIMO plant varieties you'll find waterfalls, pools, sculptures and a Greek Theatre where classical concerts are given. And after a day of swimming and exploring, you will undoubtedly have worked up an appetite for buonISSIMO regional cuisine! Pair your sandals with an evening look and discover the delicious restaurants of Ischia. We recommend the Michelin-starred restaurant
Dani Maison
located in Chef Nino di Costanzo's family home and the tasting menu at
Castello Aragonese
where you'll dine on ancient ramparts and look out over the water. Or meet us at
Mezzatorre Hotel
where
Chef Giuseppe D'Abundo
combines the freshest ingredients from land and sea. 
Discover more ItalianISSIMO Ischia recommendations here.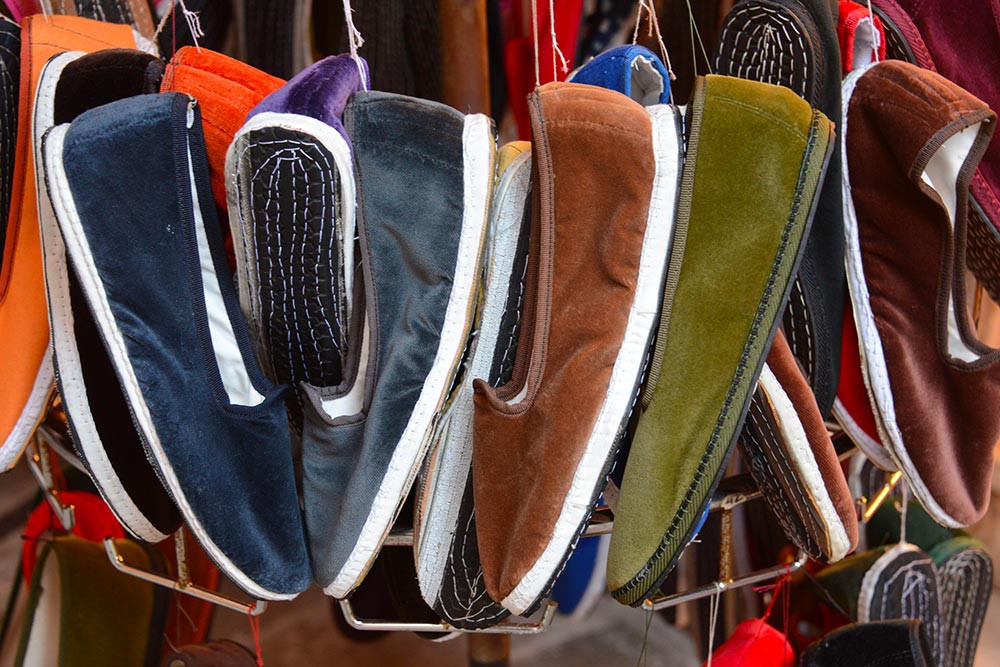 Artisanal shoes handmade in Venice. The Friulane
Journeying back to the mainland requires a shoe of an entirely different sort. Just as Emperor Tiberius' sandals spoke to the necessities of the local landscape, the Venetian loafer met the footwear needs of the Floating Island. Friulane are Venetian loafers that are similarly handcrafted by artisans. Fashioned with rubber soles that are made from old bicycle tires, the friulane were immediately claimed by the city's gondoliers for the practicality of their firm grip (which allowed them to balance while rowing) and the fact that these multi-functional loafers were both water-proof and did not tarnish the beautiful black varnish of their gondolas.
The ISSIMO x Allagiulia Friuliana loafer is unisex and features the historical reinforced sole but adds our typical chicISSIMO twist: emboridery representing the "coins" of Neapolitan playing cards. Don your Venetian loafers for days exploring the city and nights enjoying aperitivi in Venice's lively piazze.
Where to Wear your Loafers in Venice
The Canal Grande Venice, Italy
A shoe to put the Dolce Far Niente on your feet
After exciting exploration there is great pleasure in coming home.  After Ischia and Venice, we return to Hotel Il Pelicano and Monte Argentario, one of the utmost locations to enjoy Il Dolce Far Niente. When international footwear brand Birkenstock sought out the sweetness of doing nothing, we transported them straight to the hotel for a legendary shoe collaboration that allows you to take some of that sweetness with you when you depart. Designed by Marie-Louise Sciò, only a few final pairs of the ISSIMO x Birkenstock collaboration are available now. The classic Arizona model is featured in Pelli-coloured yellow suede.
Where to Wear your Birks in Monte Argentario 
Salvatore Ferragamo's story starts with humble beginnings in Campania before moving to Hollywood in the 1920s. He outfitted the starlets of the Silver Screen in his incredible Creations, including Marilyn Monroe who wore Ferragamos in 'Some Like It Hot' and Judy Garland who inspired the acclaimed Rainbow platform: a sky-high wooden platform in multicolored hues. Having cemented his name and brand on the heels of the most exciting women of the era, Ferragamo returned to Italy and set up his flagship boutique in Florence. Over the years – and alongside his wife Wanda and later their children – the Ferragamo name came to stand for chicISSIMO styles, designed to make a woman feel, well, superlative. In our modern era, the artisan brand connects us to their history with the Creations line, refashioning historical designs from their archive in limited editions. The beauty of this footwear is also individual to the woman wearing it: each Creation is numbered like the piece of art it was!
Where to Wear your Ferragamo in Firenze
There is no shortage of locations for aperitivi in Florence and a shoe of this sophistication demands an equally buonISSIMO cocktail! Eschewing the beloved spritz for the time being, we turn to some of the
hippest spots for cocktail culture
in the city. At
Manifattura
, opposite the
Marino Marini Museum
, the bar is
stocked solely with Italian liquors
and lead bartender Sarah creates inspired drinks. To enjoy decor
as unique as your footwear
, head to restaurant, florist and concept space
La Ménagère
which boasts a great cocktail list or
Locale
, who matches their decor with a
molecular gastronomy cocktail list
.
Discover more ItalianISSIMO Florence recommendations
here.
No products were found matching your selection.