From Rome to Bolzano, here are the Bel Paese' most beautiful festive markets
Vendors selling roasted cones of steaming chestnuts; Christmas spirit-stirring music in the air; and festive handicrafts wherever you turn: there's something quite special about a Christmas market.
Started in Germany in the late Middle Ages (one of the oldest, in Dresden, dates back to 1434), Christmas bazaars can now be found all over Europe.
Italy is no exception. From north to south, the number of markets taking over public squares and old city centres has grown over the decades, bringing a sprinkle of yuletide cheer to big towns and small borghi alike.
We've picked five we think really have Christmas all wrapped up – make sure to visit them if you're travelling around the Bel Paese this time of year.
Il Magico Paese di Natale
DATES: November 12 – December 18
BEST FOR: Christmas atmosphere and kid-friendly activities
Aptly called "Il Magico Paese di Natale" (Christmas' Magic Land), the Christmas market that takes place in the tiny Piedmont's village of Govone is a true festive wonderland, not to mention one of Italy's most important Christmas events.
For its entire duration, the town turns into a cavalcade of bustling market stalls selling wooden toys, Christmas decorations and glasses of spicy mulled wine (we're in northern Italy, after all). It also hosts Santa Claus himself – his house is here! – and a school where kids can 'train' to become elves. Don't miss the special performances, concerts and live nativity play, as well as the fantastic food on offer, of course: roasted chestnuts, freshly baked pretzels, and nougat for days.
DATES: November 25 – Jan 6
BEST FOR: Fairy lights and Christmas delights
Being so close to Austria (the queen of Christmas markets), it's no wonder Bolzano, in Trentino-Alto Adige, takes its own yuletide market very seriously. A plethora of meticulously decorated wooden huts sell a wide array of culinary wonders, while stands touting handmade wooden toys, crafts and decorations keeps visitors busy for hours, as the crispy air fills with the aroma of cinnamon and spices.
Keep an eye out for the Christmas carollers, before tucking into a mug of hot chocolate, mulled beer or aromatic mulled wine.
Piazza Navona Christmas Market
DATES: December 1 to January 6, 2023
BEST FOR: Celebrations in historical settings
Piazza Navona's Christmas market is Rome's oldest and most beloved. Also known as the Mercato della Befana, it's been around ever since the local food market that used to occupy the square was moved to Campo de' Fiori in the second half of the 19th century, and it has become synonymous with the holidays, tradition, and Rome at Christmas time. After a three-year hiatus, the market is back in full swing this year, making it an unmissable stop if you're in town.
Expect plenty of food stalls with typical gastronomic delights, the inevitable nativity scenes, hand-made toys for children, handicrafts and even books and prints to cater to the whole family. To add to the magic of it all are the many decorations festooning the square, and a grand tree right in the centre of it all.
Why is it called Mercato della Befana? 
Glad you asked! For generations of Romans, Epiphany (on January 6), not Christmas, was the main day for receiving gifts. To dispense them was the Befana, a broom-riding old hag who would fill your stockings with nice things if you'd been good, or coal if you'd been bad. 
The Piazza Navona market was created to mark this celebration – hence its nickname as Mercato della Befana. 
In Rome – and the rest of Italy – she's still a big deal, as is choosing the right stockings to leave at the end of the bed for her to fill with (hopefully pleasing) presents. 
Want in on the tradition? This box of ISSIMO x Schostal socks is perfect for the occasion.
https://issimoissimo.com/prodotto/issimo-x-schostal-unisex-socks-box/
Igniting the Christmas atmosphere in chic Milan is the Christmas market in Piazza Duomo. The city's largest, it features some 60 tiny chalets spread around the cathedral, each peddling gift ideas, decorations, baubles and stockings for the Befana.
The setting is magnificent: on one side, the spires of the Duomo; on the other, the dazzling Galleria Vittorio Emanuele, one of the world's oldest shopping emporiums.
DATES: December 1 to January 6, 2023
BEST FOR: A glittering pool of seasonal cheer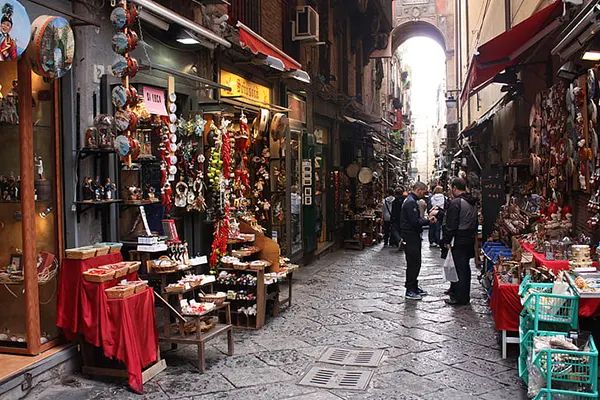 DATES: All-year round, though the real Christmas action kicks off on December 1
BEST FOR Quirky festivities
Naples might not have the snowy factor of Northern Italy, but it still knows how to put up a show when it comes to Christmas. Besides the many elaborate nativity scenes that populate its churches, the festive wonder that is via San Gregorio Armeno – also known as la via dei presepi – is the perfect place to fully savour the spirit and magic of the holiday. Head here to see artisans at work as they create elaborate scenography sets for their presepi, which often include unorthodox figurines like Maradona and the late Italian comedy legend Totò next to baby Jesus; then browse the many stands selling anything from food to Christmas decorations.