Happy 2022! Here are a few of our favourite and funniest traditions that are guaranteed to welcome the New Year with a lot of love and laughter.
Every January 1 morning for the past 33 years, Mr. Ok, a 70s-something lifeguard from Ostia plunges into the New Year with a dive from Rome's Ponte Cavour, a tradition that began with in 1946 by a fully dressed man . Mr. Ok is such a local celebrity that director Paolo Sorrentino immortalized him in his Rome love letter "The Great Beauty".
In Venice's Lido, the ibernisti veneziani (Venice's historic polar bear club, ibernisti.com) dance a Viennese waltz and then strip down to nearly bare for a subzero dip in the sea followed by a glass of wine and a plate of lentils and cotecchino. It's freezing cold and insane, and a Lido tradition.
Fireworks over the Venice Canal, in the color of Italian New Years: lucky red.
New Year's Eve, or San Silvestro, is the day to get rid of the old – like housewares and clothing – and open yourself up to the new.  And that's why in Napoli and any Sicilian town, the New Year kicks off loud by throwing old pottery shards (and in some cases, random appliances and ceramics) out the window and lighting up a few sparklers.  Legend has it that the tradition began in ancient Roman times as a means to frighten away evil spirits for the new year with loud noises.
In Bologna and several towns in Italy's north, the old is cast off with a fire ritual. Il faló del vecchione (bonfires) are set up and typically a large straw figure, aka the vecchione (old man), is set aflame.
Everyone wants love and prosperity, but how to get it? Well, in Italy, we wear (and gift) mutandine rosse (red underwear) on San Silvestro to guarantee good fortune and success for the upcoming year.  Whether you're partial to hipsters, boy shorts or something a little more cheeky, it doesn't matter.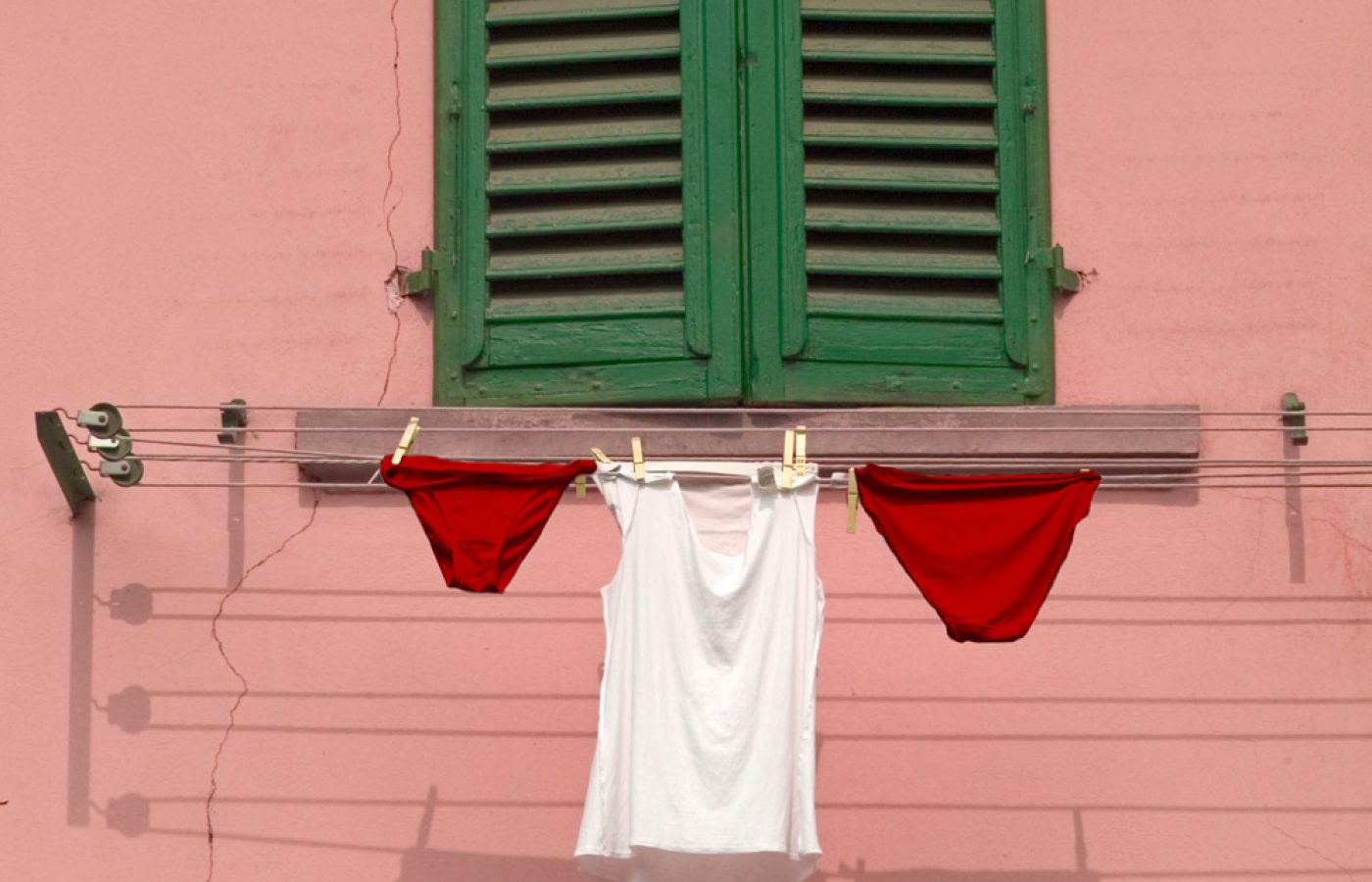 Italians of all ages where red underwear to ring in the New Year with good luck. 
To truly celebrate capodanno, slip into red underpants like ISSIMO x Schostal Red boxers  and our eco-fabric Red Slip! And remember to throw them out on January 1st so that you are guaranteed a year full of love and prosperity.
Some say that if you throw your slippers behind you at midnight, you'll get a ring in the New Year.  Women in Bormio, Lombardy, would take it up a notch by throwing a slipper at the front door on the early morning of January first. If the toe of the slipper faced outward, guess what, she was getting hitched that year!
Eating is key to ring in the New Year with good fortune. And everyone knows that it begins with the auspicious traditional dish of lenticchie e cotechino (lentils with sausage) or zampone (hoof) followed by a lucky melograno (pomegranate). Pork is a symbol of prosperity and wealth.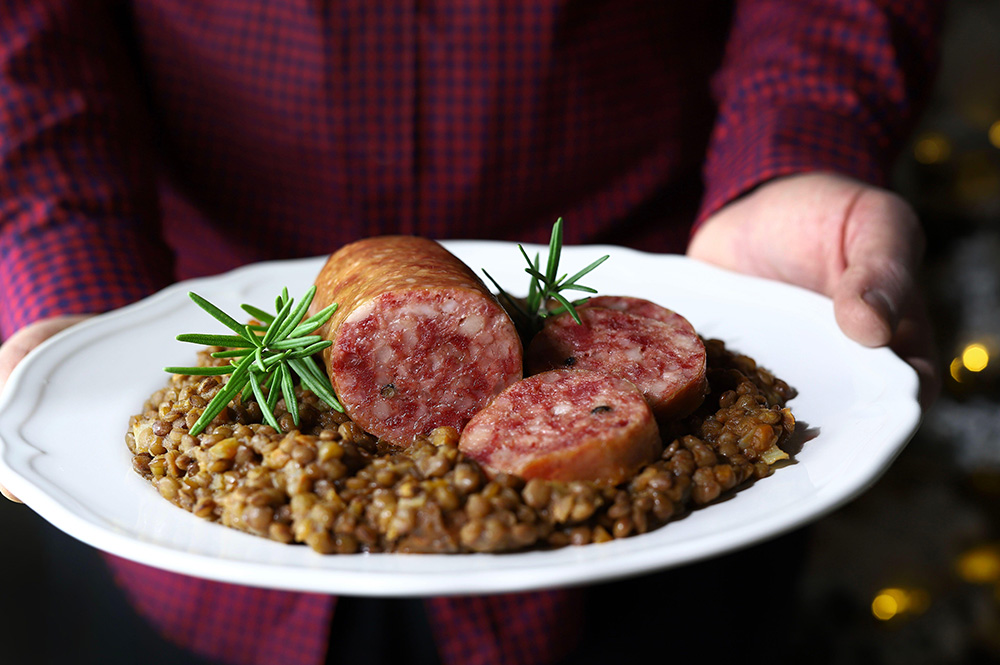 Lentils and sausage, the classic Italian New Years dish.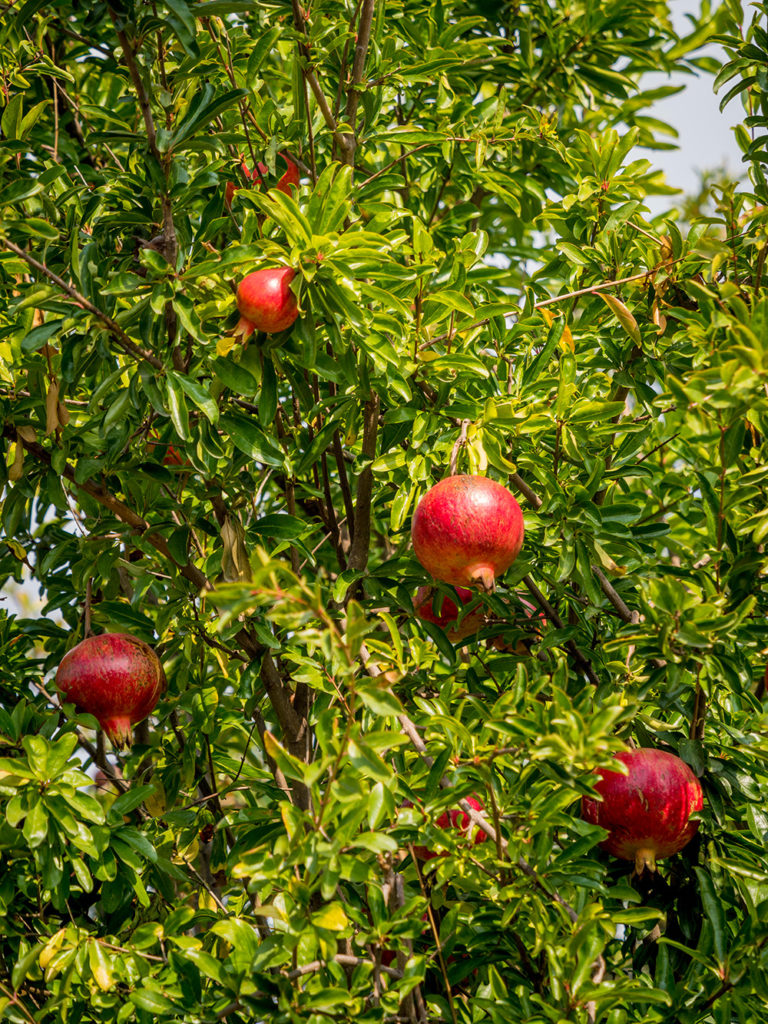 The lucky melograno, a ruby red fruit served on New Years. 
A glass of champagne to brindare (toast) is a must (though some say beer brings even better luck). Nonne advise eating a carrot to welcome in good fortune, or better yet, one grape for every stroke of midnight to ensure good luck.
"Mangiare uva il primo dell'anno, vuol dire assicurarsi denaro per tutto l'anno" 
(Eat a grape on the first of the year guarantees wealth for the entire year)
Scarmanzie, superstitions and rituals
There are always some great superstitious rituals to follow for good luck in the new year.  In the region of Romagna, boys used to go from home to home to bring New Year's wishes because it was thought to be bad luck if the first person to cross the threshold in the new year was a woman!
Remember to put your finger in some bubbly, and then pass it under your ear or the ear of someone you wish good fortune for the upcoming year.  At midnight, close your eyes, cross your fingers and make three wishes – legend has it they'll all come true in the New Year. If you're with your beloved, a kiss under the mistletoe at midnight cannot be missed. 
On January 1, as soon as you wake up, leave the house with small change in your pocket.  If you encounter an elderly person, you're guaranteed a year of good fortune and longevity.   Give your friends small bags of salt to cast away negativity and always alway always throw your shoe at the door!