Five Events to Look Forward To In Italy In 2023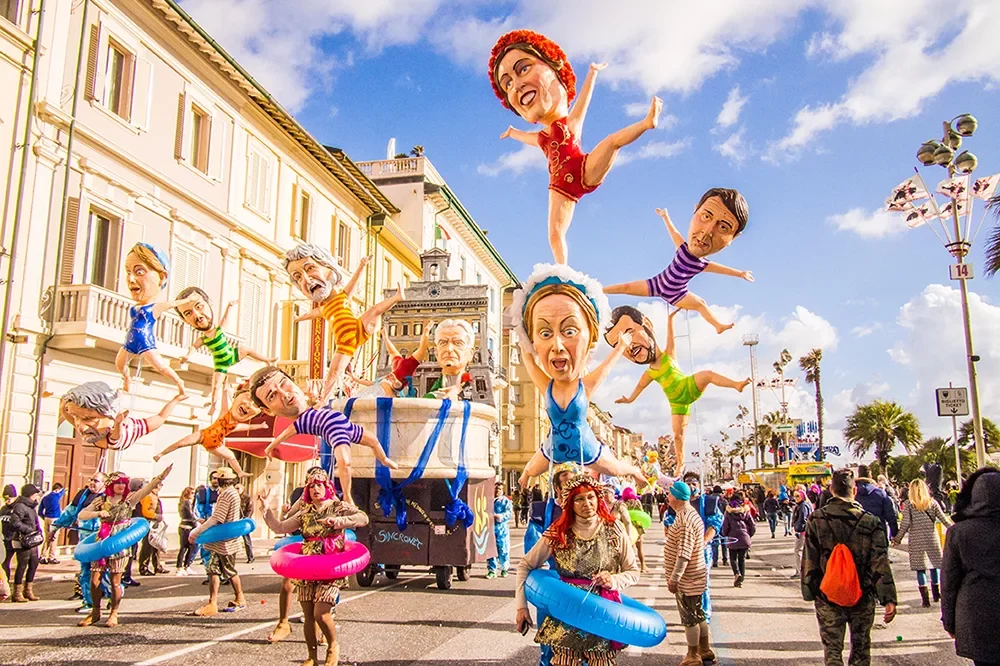 Add these all-Italian happenings to your calendar for the year ahead
Whether you're planning to visit Italy this summer – see you at one of our hotels?— or are thinking of making a trip earlier this year, one thing is certain: you'll be in for a fabulous time. With its romantic towns and cities, dramatic natural beauty and millennia of history, the boot-shaped country can keep anyone entertained for days, inspiring and thrilling you in equal measure.
But that's just half the story. From north to south, the Bel Paese is in fact also filled with festivals, exhibitions and unmissable events all-year around, meaning there's always something to see and do once you've finished marvelling at all the cultural landmarks and picture-perfect landscapes. Here's a round-up of a few happenings we are particularly looking forward to in 2023.
This year marks the 150th anniversary of the Viareggio Carnival, meaning one thing: things are going to be wilder than ever. The festival will in fact return for the occasion with a real extravaganza of whimsical costumes, fantastic floats, masked balls and festooned carriages set to wow audiences, and turn the Tuscan city into a real wonderland for the entire week. Just for reference: this is one of Italy's most spectacular street events – so all Italophiles out there, book your trip right now
WHERE: Viareggio
WHEN: February 4 to 25
BEST FOR: Party people
"Il meglio maestro d'Italia. Perugino nel suo tempo"
Perugino has long been considered one of the greatest representatives of the Italian Renaissance, as well as the most iconic exponent of 15th century Umbrian painting. To mark the fifth centenary of his death, the National Gallery of Umbria in Perugia is celebrating the artist (born Pietro Vannucci) with a major exhibition spanning over 70 works from international museums and private collections, to showcase the fundamental passages of his career. Expect extraordinary portraits and monumental altarpieces, in what's going to be an ambitious, one-of-a-kind retrospective.
WHERE: Perugia
WHEN: March 4 to June 11
BEST FOR: Art History Enthusiasts
Returning to its traditional spring dates for the first time in three years, Salone del Mobile (Milan Design Week) is set to revolutionise its fair model in 2023 through a new concept, as well as the return of its biennial light event, Euroluce. What we're most excited about, though, is the Fuorisalone – the sprawling network of gallery and showroom exhibitions, pop-up installations, independent satellite fairs and Instagram-worthy brand activations that takes over the city during the weeklong event. A full program has yet to be announced, but rest assured there'll be a slew of cool, out of the ordinary, and often free-to-the-public events we can't wait to be part of.
WHERE: Milan
WHEN: April 18-23
BEST FOR: Design buffs
Venice Architecture Biennale
For the first time in its 42-year history, the Venice Architecture Biennale will showcase Africa as its main focus, under the theme "The Laboratory of the Future." Curated by Ghanaian Scottish architect and academic Lesley Lokko, the exhibitions will delve into how the world's youngest and fastest urbanising continent is becoming a testing ground for innovative solutions to global issues such as climate change, equity, and resource management.
WHERE: Venice
WHEN: May 20 to November 26
BEST FOR: The Architecture-Obsessed
100th Arena di Verona Opera Festival 2023
In 2023 the season of the Arena di Verona is turning 100 years old. To celebrate, the iconic amphitheatre will be presenting the most successful works performed during the past 100 seasons since its beginnings in 1913. That means a total of 50 unrepeatable performances in under three months, from eight operas (including a completely new Aida) to five gala and music performances. Tickets are already on sale, so snap yours today.
WHERE: Verona
WHEN: June 16 to September 9
BEST FOR: Opera connoisseurs