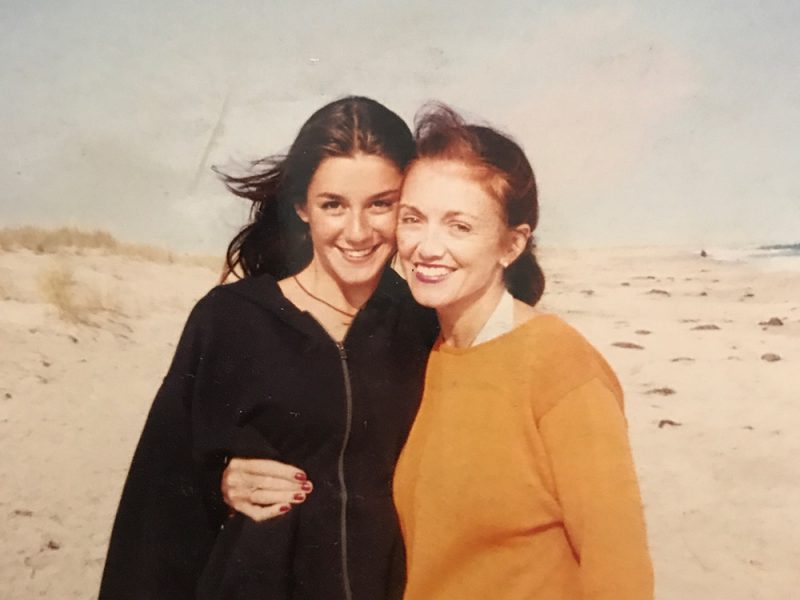 Marie-Louise Brulatour Mills and her daughter, our CEO and Creative Director Marie-Louise Sciò!  
Culture and colour reverberate through every story Marie Louise Brulatour-Mills tells. Arriving for our interview decked out in a joyful, chicISSIMO outfit of fuschia suit, wide brimmed hat and patterned scarf – the legendary muse of Slim Aarons, retired Fashion Editor of Harper's Bazaar Spain and mother to ISSIMO's own Marie Louise Sciò has many tales to share.
We sat down with Signora Mills to discover more about an exceptional Italian life and motherhood in Rome: experiences that came to inspire the ISSIMO x LGR La Mamma Sun shades. In honour of Festa della Mamma, the conversation was scored by coltISSIMO Italian tunes about mothers.  
"If you want to do something, just do it."
Mills-Brulatour exudes self-possession. None of the contemporary slogans about female independence, balancing career and motherhood or entrepreneurship are directly referenced but throughout our conversation it becomes clear that she was living those mantras decades before they became Instagram hashtags.
Brought up in New York on 78th and Park, Mills-Brulatour had a very stern Yankee father who, "being the person he was, teaching lessons always", refused his daughter's request for a loan to get her own apartment on 64th, between Park and Madison. The apartment was Mills-Brulatour's ideal, a 19th Century home and so, after studying at Parsons School of Design, the divorced mother-of-two went to work (less common at the time.) Taking a position as Fashion Director at the iconic department store Bonwit Teller & Co. and then a simultaneous job dressing windows for another store while balancing both with motherhood, Mills-Brulatour didn't get much sleep. But she did propel herself towards a career in modeling and then journalism. "I organized fashion shows. And when the model didn't show… I was the model."
"What women need to go through."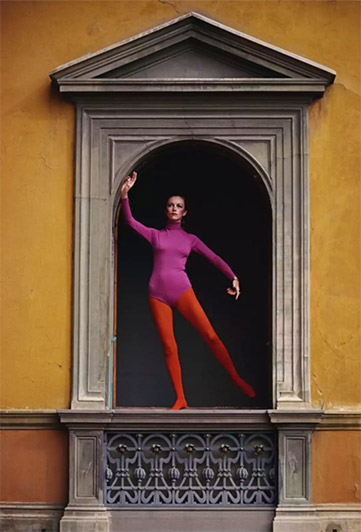 Landing in the Eternal City, Marie Louise immediately began balancing Roman motherhood with the career in journalism that was taking off. 
When I first came to Rome with my two young children, the school bus dropped them in the wrong place and I couldn't find them. I was a ruin, all I could say in Italian at the time was 'No' – which was a significant phrase for a single woman to have! But there was a police station down the street and just by repeating the word 'bambini', things came right. That was our initiation to life in Rome.
While the chaos and confusion of Italy drove the American crazy at times, Signora Mills explains that it was the Roman people who were a "beautiful cushion", a confirmation that you could always depend on them to make everything ok. 
"That is why Italy works."
No stranger to dual jobs, Mills-Brulatour was first picked up by UPI, the United Press, as their feature writer. Getting in the door with fashion stories she quickly began writing about opera, dance and different cultural arenas as well. 
As was typical of the era, these stories went out to a couple of thousand newspapers which translated them into various languages. She was sent clippings by friends of her work in Greek and Spanish. At the same time, Ms. Mills took a job as Fashion Editor for the Spanish edition of Harper's Bazaar, doing both the writing and photography for her articles. 
As she explains, there was a strategy here! After consistently encountering an attitude that said 'If you're attractive and look decent, you can't be good', Mary Louise thought, "the hell with them. I'm going to do a 'mule' job, working for a big international wire service as well as the more glamourous Bazaar, to prove them wrong." She says this is another affirmation of what women needed to go through, especially in the 70s, 80s and 90s.
Highlights of her journalistic career included traveling to Paris to interview acclaimed artist and designer Erté who reminded Mary Louise of her French piano teacher. Seeing him turn over a little table to reveal the signatures of all of his illustrious friends, she adopted this tradition in her own home, eventually gifting the table to her daughter Mary Louise Sciò.
During this era, Mills-Brulatour also interviewed her friend, the Ecuadorian painter Eduoardo Sola who hosted and sketched "the most magical parties in Paris in the thirties and forties" and the Founder of the National Ballet of Cuba, Alicia Alonso, who eventually became a subject of one of Mary Louise's watercolours (she is an acclaimed painter too!) A great animal lover who devotes her time to charities supporting greyhounds, Ms. Mills worked prolifically on a series in order to overcome nerves while awaiting eye surgery. Alonso was cast as one of the inspirational people (both dear friends and admired strangers) Mills-Brulatour captured as dogs. 
And then Mary Louise met Slim Aarons.
"Of course I wore the bathing suit."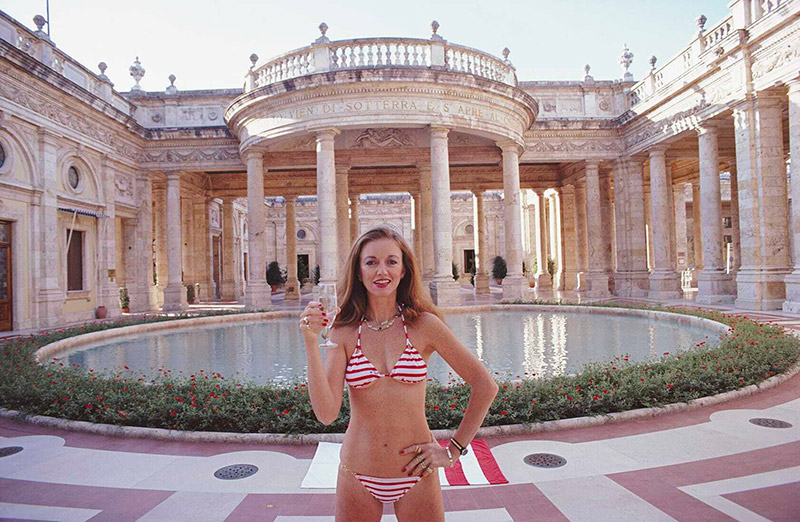 First encountering the legendary photographer during her stint as Bazaar Editor, Mary Louise and Slim's circles overlapped during the 70s in Italy. They had mutual friends and Aarons holidayed at Hotel Il Pellicano repeatedly, capturing the iconic hotel's Dolce Far Niente.  She describes Slim calling her up one day asking; "I'd like to photograph you, are you busy next week?". Mary Louise said sure, and the rest is the stuff of photographic history. 
Posing for Aarons in Montecatini Terme,  Mills-Brulatour particularly cherishes the shots that exude her colourful style and love of animals. Referencing an image in which she wore a fuschia leotard and orange tights – an echo of today's colour combination – Ms. Mills is framed by a window in a pose she invented, a cross between the Tai Chi she practiced and ballet. In another shot, she describes running with horses. "I was a champion equestrian on a trotter's track in a purple leotard with fuchsia tights this time, my hair was blowing and I loved the running, the animals."
"Style is something that comes from a combination of educated thought and sensitivity."
Though she visits Italy often, Mary Louise now resides in Edinburgh, Scotland. From a coltISSIMO lifetime immersed in culture and a chicISSIMO proclivity for joyful print and bright colour, Mills-Brulatour passes down her lessons on style to her children, and especially her daughters:
Style is something that comes from a combination of educated thought and sensitivity. I love colours and putting things together that most people won't. Be your individual self! For me, being a painter, this manifests in colours. What colour do I feel today? If it's a rainy day in Edinburgh, I wear colour and people stop me in the street and say 'you look great!'
She relayed this to her daughters while raising them and explains that her girls are not afraid to be bold in their style,
which is certainly evident today!
Mary Louise Mills-Brulatour is an absolute treasure trove of vivid anecdotes. We begged for one last one, asking for her thoughts on Italian motherhood. Signora Mills graciously obliges:
As a mother in Italy, you're revered, justifiably so. But it's difficult to be on that reverential plane. I'm not the typical mother. When I was on television with my daughter Yvonne (she had a program on RAI for Mother's Day) I went with her to the studio and we were both interviewed. I was repeatedly asked for my favourite dish to cook for my children but – I hate to cook. I used to tell Yvonne to imagine her favourite dessert. I explained that mine was 'wind pudding and air sauce'. But that was impossible to translate into Italian! 
There was music and dancing in the studio and when I returned home via the Foro Romano, a policeman stopped me, lowered his sunglasses and said 'I just saw you on television, you're a great dancer'. I told him he should be working, not watching TV. 
Wishing her (and all of you) a happy Festa della Mamma, Ms. Mills-Brulatour departs with a smile.