Bellini Travel's

founder Emily FitzRoy curates her city guide to Rome.
Artistically, Rome is the most fascinating city in Europe. Even if everything about the city seems to be chaotic, try to keep your cool. The Romans still dream of ruling the world and every taxi driver thinks he is Julius Caesar. Nothing you can do will make them change their minds.
The key to enjoying Rome is to relax and not to end up with terminal cultural indigestion. There are so many artistic masterpieces that you must be selective. Whether your preference is Emperors or Popes, you can spend a lifetime getting to grips with Rome's history. Every building is an architectural palimpsest.
Eat & Drink
Caffes & Panini
Whether you prefer espresso, cappuccino, macchiato, latte, ristretto or corretto, Italians frequently come to blows over which city makes the best ice cream and coffee. We feel that Rome might be the winner on both counts. 
Pretty much most Roman cafés will provide you with a decent coffee but there are some stalwarts we adore: Caffe Sant'Eustachio for its pre-sugared secret service alla napoletana; Ciampini for its chic position on Piazza San Lorenzo in Lucina ideal pre- or post-shopping; Antico Caffe Greco for sheer history, being Keats and Shelley's breakfast haunt; Museo Canova Tadolini, with its oversized, surreal plaster casts of sculptures by Canova and his favourite pupil Adamo Tadolini.
Gelateria
There are more gelaterias per capita in the centro storico of Rome than anywhere else in the world: Gelateria Giolitti, Rome's most famous gelateria has been in business since 1900 (we can now arrange private ice cream making classes); and Gelateria Alberto Pica makes the best ricotta with Morello cherries and pastiera napoletana scented with rosewater. Gelateria al Teatro, is perfectly placed near Piazza Navona and many of the vast array of flavours note their provenance and all – in our experience – are exceptional. 
Romans love to pile whipped cream on top of already groaning cones. And it's perfectly acceptable to go for gelato at midnight after a good dinner even in the depths of winter.
Aperitivo & Digestivo
From 7pm, Romans take to the bars and piazzas of the city for a pre-dinner aperitivo. Traditionally these are Campari-based and include the infamous Negroni, Americano and Spritz. However, Martinis and Mojitos are also making an appearance these days. Campo de' Fiori and nearby Piazza Farnese are fun early evening but tend to get rowdy later on, especially during the weekend.
We prefer the more civilised hotel scene including the rooftop bars at the Hotel Raphael and Grand Hotel de la Minerva where you could almost tap your breadstick on the roof of the Pantheon. The pool and disco scene at Palazzo Dama and the ever kookie Hotel Locarno whose barmen keep winning awards for the best negroni in town are both good for an aperitivo or a nightcap. The Hotel de Ricci on our favourite street Via Monserrato has a very good cocktail bar and cigar rooms and is perfect for a digestivo after dinner at Pierluigi.
Il Goccetto
Instantly recognisable by the Vino Olio sign outside and the crowds of people spilling into the street until midnight most evenings. Don't be deterred, push through and be prepared to be hemmed in by intelligent looking Romans, enjoying the vast list of wines by the glass. There could not be a better atmosphere for an aperitivo in the city.
Jerry Thomas Project
A late night spot which you need to book in advance and be prepared to pay the small membership fee on arrival. Hidden away on Vicolo Cellini you need to ring the bell and give your name.
Pizza al Taglio
Rome is blessed with the marvellous culture of pizza al taglio. You'll smell it before you see it – windows on street corners boasting trays of pizza groaning under a variety of toppings. Point, pay by weight and your slice will be folded up for you to munch on immediately.    
Favourites include: Pizzarium Bonci for its dough prepared by master baker Gabriele Bonci and some pretty wild toppings; Il Forno Roscioli, Trastevere's Forno La Renella and Forno Campo de' Fiori, especially for their light, crispy tomato-only version.
Don't forget supplì (deep-fried risotto rice balls) especially at Supplizio, where every flavour known to a Roman has been considered.
Restaurants
Pianostrada
The all-female crew at Pianostrada have recently moved premises from Trastevere to a much bigger and much prettier space in the centro storico replete with a flower filled garden. We prefer the tables at the bar where we can watch and admire the team at work.
Roscioli
Bellini Travel's favourite delicatessen in Italy with more than 300 cheeses, 150 hams and sala-mis and an astounding array of wines. If there are only two of you, sit at one of the small ta-bles at the front where you are sandwiched between a bank of charcuterie and an amazing se-lection of wine There are larger tables beyond the bar and a cosy wine cellar downstairs.
Enoteca Corsi
Hidden away in a small alley behind the Piazza della Minerva, this feels like a real discovery. The wine shop next door closes at lunch time to allow for trestle tables to be set up amidst the bottles and barrels. The rest of the enoteca is great fun, with a noisy and lively atmos-phere, and filled with all types of Romani. The food is simple but good, with a choice of three dishes for each course.
Al Moro
Hidden down an alley by the Trevi Fountain, this very old-fashioned Roman haunt is perfect for a rainy day. The pistacchio green-jacketed waiters have looked after the great and good throughout its long history. A favourite amongst many such as Fellini who cast the current owner Andrea's grandfather in one of his films. The Al Moro special spaghetti al Moro (carbonara) is sensational (be warned if you ask for black pepper you'll be chucked out) and we have been known to have two rounds of it in one sitting.
Al Pompiere
Situated in the old Jewish Ghetto on the piano nobile of a palazzo yet neither Jewish or Ko-sher. Al Pompiere is famed for its excellent carciofi all giudia and other Roman classics in-cluding a generous selection of offal and many a fried morsel. Keep an eye out for fettucine al limone, and the spatchcocked gallett. Reassuringly old school, with waiters who are as old as the frescoes you dine under and just as impressive.
Shopping
Schostal for pyjamas, boxer shorts and knitted ties. Gammarelli for Papal socks (ideal for tennis) Cardinal (red) and Bishop's (purple) attire. They make the best presents.
Go to Degli Effetti for under the radar menswear labels, Albertelli for handmade shirts and Battistoni for ties and Monocle with its wonderful array of Italian sunglasses and spectacles, as well as German and international manufacturers. Ask for Carmen, a fun Texan/Roman. 
We love the cobbled Via Monserrato (near Campo de' Fiori) for smart independent shops including Fabrizio Canto with his extraordinary collection of picture frames, Fabio Salini and his beautiful jewellery and Chez Dede, perfection for presents, art and oddities, and Soledad Twombly for her one-of-a-kind designs such as velvet coats with antique Persian embroidered collars, modern jewellery and skirts made from ancient ikat fabrics. Every item is unique and all embody her distinctive fusion of Oriental and European influences alongside very clever tailoring.
Visit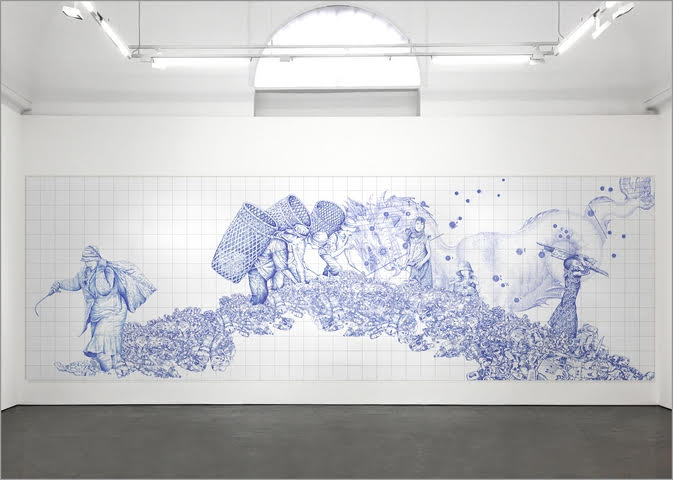 Art
For contemporary brilliance go to the Galleria Lorcan O'Neill near Largo Argentario. It is a stunning space and there is nearly always something clever on show. Or the better known Gagosian.
Read & Watch