Tuscany isn't just known for its incredibly beautiful rolling hills and fantastic wine, food plays a major role in the region's enjoyments.
---
While Florence offers a fabulous number of osteria, trattoria and restaurants, some of the most memorable meals can be found just outside the region's capital.
Simple ingredients, farm-to-table traditions, and authentic flavours are the backbone of Tuscan cooking. La cucina Toscana is known as la cucina povera, drawing its origins from generations of peasant cooking. But foodies should have no fear, as there is nothing "poor" about the dishes.
With a focus on locally sourced vegetables, meticulously aged and cured meats, and farm-fresh cheeses, Tuscan cooking is considered some of the best – if not the best, but hey we may be partial – in the world. Here are our top foodie spots outside of Florence.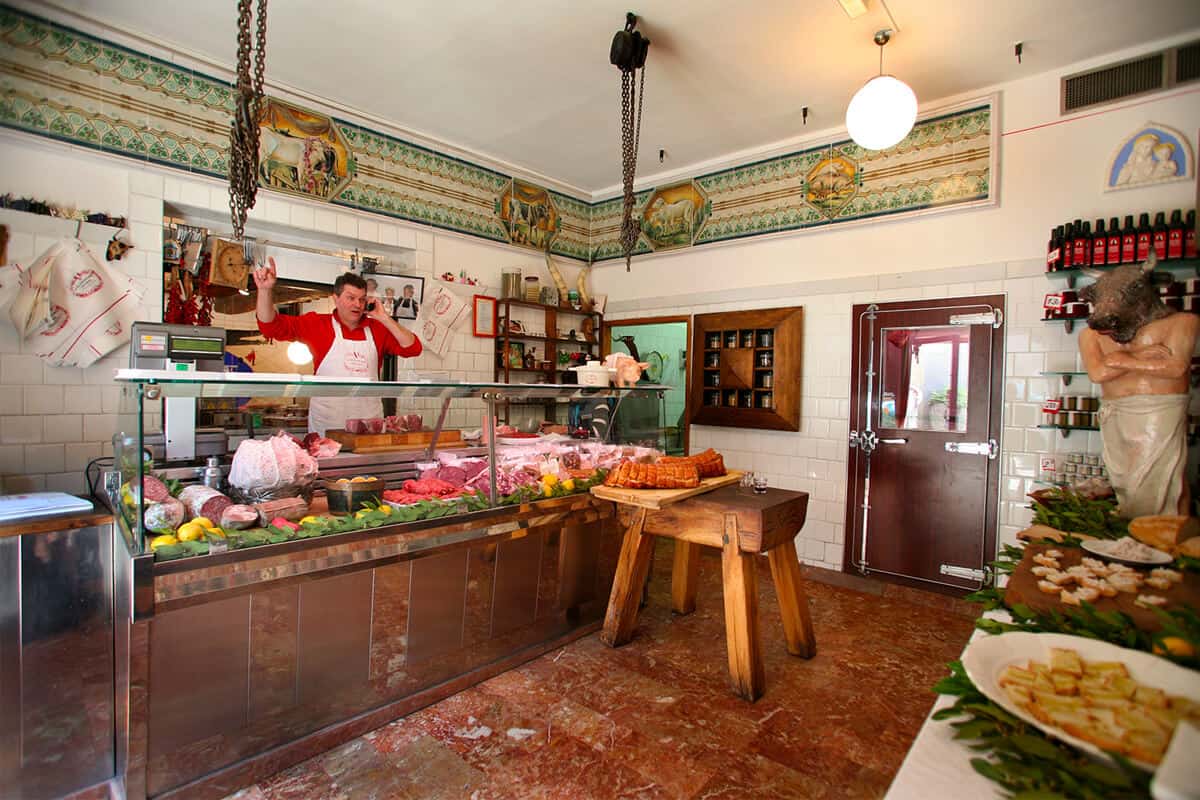 Macelleria Cecchini
Curious as to where to find the best Fiorentina ever? Head south through the Chianti countryside for a stop in Panzano in Chianti. For the most memorable lunch of your life, ask for Dario at Macelleria Cecchini. Cecchini's family have been butchers for 8 generations and Dario is certainly a curious and extravagant character. Whether he's reciting poems or playing the trumpet to accompany meals, he's most famous for his "To BEEF or not to beef? That is the question!" and "Carne Diem" one-liners.
Cantinetta di Rignana
Chianti is not only about the vino. Take a day to wander the surrounding hills of Greve in Chianti and stop for lunch at the exquisite Cantinetta di Rignana, which serves traditional dishes integrating ingredients from the area such as pappardelle with cinghiale (wild boar), egg with fresh truffle and osso buco alla chiantigiana (Osso Buco Chianti style).
Badia a Passignano
Tuscany also has its fair share of stars. Enjoy a Michelin-starred meal at Badia a Passignano in an ancient monastery dating back to 395 AD, when it was established by the archbishop of Florence. Today, monks of the Vallombrosian Order continue to inhabit the monastery as guardians of this cultural and historical treasure.
Villa le Corti
But enough with the food, it's finally time for some vino! Drive south of Florence for a wine tour amongst some of Tuscany's (and Italy's for that matter) best wineries including the world-renowned Marchesa Antinori vineyards in Bargino, stunning Villa le Corti which has been in the Corsini family for centuries, located near San Casciano in Val di Pesa or Castello di Ama further south in Radda in Chianti.
Fattoria di Maiano
Need to burn a few calories before dinner? Take an energetic stroll up the hills of Fiesole for an unforgettable meal at Fattoria di Maiano, where sustainable farm-to-table practices take centre stage. Relax with a glass of vino taking in the magnificent views of the surrounding olive groves and Florence below.
Bar dell'Orso
The absolute not-to-be-missed Tuscan hot spot, Bar dell'Orso, has had a cult-like following for years. Known for their Tuscan salumi, local cheese varieties (insider tip – get the pecorino semi-stagionato), and sott'oli (preserved vegetables), make sure to end the meal with a coffee prepared in the traditional Bar dell'Orso style.
Giotto a Chiesanuova
Florentines, and Italians in general, not only know how to eat well, they know how to snack well! Legendary bakery, Giotto a Chiesanuova serves the very best schiacciata, a typical Florentine white pizza that locals love to munch on anytime of day.