An icon in architect
High on a rocky promontory, a topless Bridget Bardot sunbathes on a burnt reddish platform terrace which stretches towards the nearby sea. Like every good siren, BB beckons you to join her at Casa Malaparte, the iconic setting for Le Mèpris (Contempt), Jean Luc Godard's 1963 film. 
Casa Malaparte itself is an alluring enchantress and a temple to one of the most beautiful examples of Italian architecture of the 1930s and 40s. Visiting Capri it's impossible not to notice the reddish rectilinear villa lining the clifftop near the Faraglioni. A bit odd and out of place, it's the exact sentiment that Curzio Malaparte, creator of Casa Malaparte wanted to achieve with his island domus.
---
---
"Casa come me – dura, strana, schietta"

a house just like me, hard, strange and blunt.
---
Designing an oasis
Born Curt Erich Suckert, Curzio Malaparte was a famed author and intellect who supposedly chose the name Malaparte (meaning "evil side") as a play on Napoleon's last name Bonaparte, ("good side"). The eccentric aesthete passionately courted whatever political power was in favour, but in 1933 Malaparte dramatically fell out with the Fascist party and was banished from Rome. Exiled to Capri, ever the opportunist Malaparte contacted party-favourite architect Adalberto Libera to build a new home to meet his every whim and fancy.
Malaparte's choice of Libera isn't surprising. A top Italian rationalist architect of the 1930s and 40s, Libera was known for creating beautiful buildings of austere symmetry and metaphysical language, like EUR's Palazzo dei Congressi and the Palazzo della Posta in Ostiense. But his design of Casa Malaparte was something else entirely. It wasn't rationalist, it was almost surreal.
---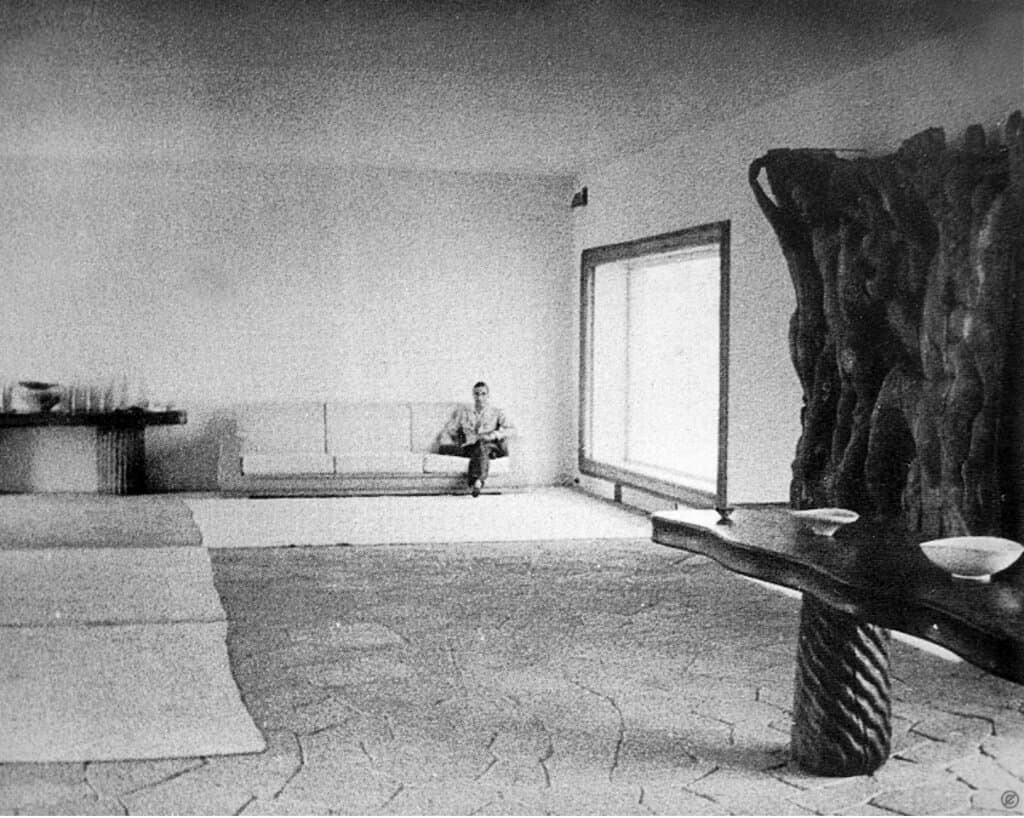 ---
Built between 1938 and 1942, Casa Malaparte is an elongated Pompeian red masonry box  structure, contrasting with the warm greys of Capri's natural limestone and the cool azure of the Tyrrhenian Sea while perfecting integrated in the natural landscape. Subtly jutting out from the very top of Capo Massullo, a perilous cliff on the eastern side of the island, its flat roof beckons as sundeck and outdoor theatre – because of course, even though resolutely solitary, Malaparte wanted his epynomous Casa to be seen by all.   An Incan-inspired pyramid staircase tapers into the natural landscape of the rock, reaffirming the property's perfect paradox –  a completely modern concrete building that seamlessly fits into nature, a timeless temple that anachronistically occupies primordial space, and a provocative setting for a melodramatic life.
Melodramatic is the very definition of Casa Malaparte, inside and out, which is why Godard set Le Mepris's most telling scene in Malaparte's large living room.  A wide-open space painted a neutral cream with a grey basalt floor – stone deliberately chosen to mirror the showmanship of Ancient Rome – and the living room is illuminated by natural light from five panoramic windows opening out to the sea, including one at the base of a fireplace.   It's here where the film's protagonist Jeremy, a proto-Weinsteinian film producer played by Jack Palance, flirts with Bardot's Camille while her husband Paul, a struggling playwright played by Michel Piccoli, passively looks on. 
As expected, Camille abandons Paul for Jeremy, and eventually Casa Malaparte is deserted as well.  In the 1980s, Malaparte's descendants picked up the crumbs and turned the mysterious villa into a private foundation with very limited public access.  Today the villa stands defiantly alone, just like Malaparte wanted, ever timeless and alluring.