is for Nocciola in our ItalianISSIMO Alphabet!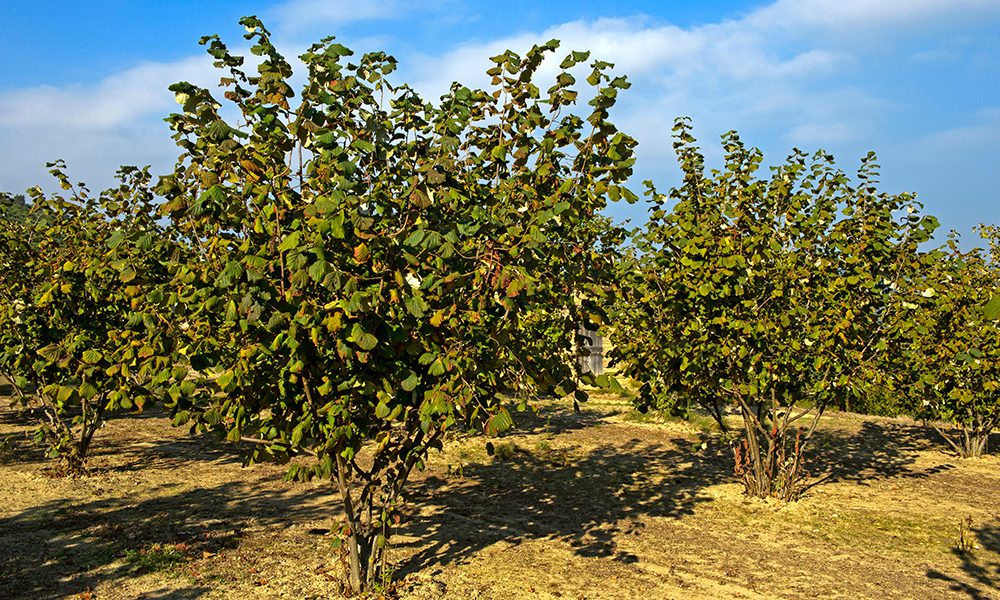 A nocciola orchard in Cuneo, Piemonte.
Journeying to Italy's Northern province of Piemonte will yield a delicious discovery. The second largest region in the country, Piemonte translates to 'at the foot of the mountain' and is made up of several smaller provinces and one very important agricultural region: the Langhe region in the province of Cuneo, about ninety minutes south of Peimonte's capital city of Torino. Full of cultural and gastronomic history, it was in Torino that the Tramazzino sandwich was invented and there is a vast tradition of chocolate makers including our friends at Peyrano Torino. But there's an ingredient that can both be spread on bread (the renowned Gianduja spread was also created in Torino), encased in chocolate as well as used in many different Italian and international dishes. The Piemontese hazelnut might just be the crown jewel of the province. This delectable nut has shaped the gastronomy and the confectionery history of not just Torino and Piemonte, but all of Italy. 
"Tonda Gentile del Piemonte", round Piemontese hazelnuts.
The most distinguished variety of hazelnut, the 'tonda gentile del Piemonte' has been awarded the European Protected Geographical Indication (PGI), a classification that confirms the relationship between a product, the nocciola, and the geographic region it hails from. 'Tonda' means perfectly round. 'Gentile' means friendly. And of course, Piemonte is the beautiful location these friendly, round hazelnuts hail from. Their PGI status means local production is meticulously overseen by European agricultural officials and these hazelnuts go through rigorous standards of preparation and production. Or, more simply, a PGI status confirms the consistent high quality of the Piemontese nocciole. 
Hazel trees grow year-round in orchards across the province. In winter the male species of trees flower and the off-season blossoms are called 'gatin' in the local Piemontese dialect. They produce pollen that yields buds in the spring. Flowers follow and then the fruit: the hazelnut begins growing in summertime, maturing until harvest season in August. And the harvest is extensive! In only one of Piemonte's provinces, Cuneo, almost 90% of the land is devoted to hazelnut cultivation and accounts for 85% of all of Piemonte's production. This roughly translates to 7000 hectares of Hazel trees and as these numbers suggest, it is the primary agricultural product in the region, making it an important economic part of the province as well as a delicious one. This crop is so important to the Langhe region that there is a Dipartimento di Colture Arboree (a department of trees) at the University of Torino. They work with local farmers to ensure the healthy cultivation of Piemonte's prized tree and nut. 
Delicious Gianduja spread, made from hazelnut and chocolate, invented in Torino.
No products were found matching your selection.
The ISSIMO X Peyrano chocolate box featuring gianduja hazelnut cream. Made with love in Torino.
Don't underestimate the value of this nut. Its nutritional composition helps lower cholesterol, it contains antioxidant and anti-inflammatory properties, and is rich in amino acids and vitamin E. You can quite safely consume 20 hazelnuts daily! The nocciola can be eaten freshly harvested (raw) but the vast majority are shelled and roasted whole. From there, they are destined for many famous Torino delicacies: torrone (a mouth-watering nougat), the famed hazelnut chocolate spreads, as a renowned gelato flavour and in the famous Gianduiotti: a type of Piemontese chocolate. 
This month, Marie-Louise celebrated this incredible ingredient in an ISSIMO collaboration with Peyrano Torino. Our box of chocolates from the master chocolatiers spotlights Piemontese hazelnuts in a variety of flavour combinations. You'll sample two buonISSIMO hearts named for a pair of Shakespearean lovers: Romeo and Giulietta. One heart features dark chocolate and gianduja. Gianduja is a dense and delectable hazelnut and chocolate cream, a famous Italian flavour combination that relies on Piemonte's PGI hazelnuts to deliver its deliciousness. The other heart is milk chocolate with crunchy almonds and a hazelnut cream; here the hazelnut filling is captured in its purest form. When you savour the nocciola, you are sampling the pride of Piemonte and ItalianISSIMO culinary expertise.