Exploring the green island
Ischia's natural landscape is sexy, mysterious and literally legendary. The island is overlapping curves that Ischitani will tell you are the sleeping form of Tifone (Typhon), the youngest son of Gaea and Tartarus, who body was buried under Ischia after losing cataclysmic battle with Zeus. And thanks to the grumbly sleep Tifone, Ischia is volcanic and a supernatural healer. Inland hikes around Mount Epomeo to La Grotta del Fiore and all around  fuming craters show off Typhon's angst, while hiding in its underground are 100 natural thermal springs and therapeutic waters making the island Europe's spa capital and history's best-loved vacation remedy.
Look around and not only, can yo see Typhon's discarded body, the island is named after them with areas like Panza (belly), Ciglio (eyelash) and Testaccio (head), but thankfully, Ischia makes it easier by breaking down the island into six comuni (boroughs). A gorgeous landscape, a crazy mythology, and a fabulous real life history as the best self-care getaway in Italy, ISSIMO lines up what we love and what we love to do in Ischia through our pocket-sized neighbourhood guide.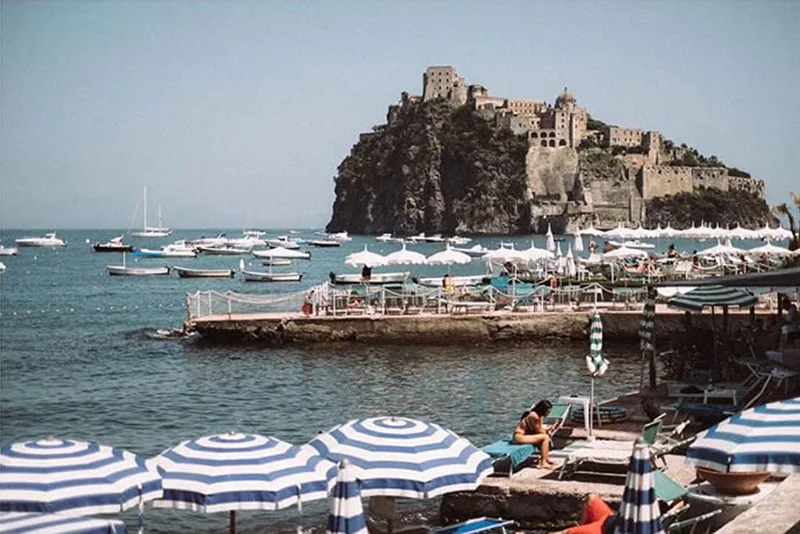 Divided into two areas- the historic Ischia Ponte and modern Ischia Port – Ischia is the foremost borough on the island and main destination for ferries to and from the mainlaind. Ischia Porto's Piazzetta dei Pini is the hub of the neighbourhood's nightlife.  ISSIMO loves Ischia Ponte with its charming old town vibes, sumptuous Saracen side streets and incredible Castello Aragonese.  And we recommend reserving a table at Danì Maison, a two Michelin-star restaurant helmed by chef Nino di Costanzo's and located in his family's ancient Ischia home.
West of Ischia Porto & Ischia Ponte, Barano is the literally head of Typhon with town Testaccio as starting point for a great hiking route to Monte Cotto and the Sanctuary of Madonna dello Schiappone, while Buonopane, a typical Ischitana town, known for Fonte dei Nitrodi, a thermal bath dating back to Ancient Rome.
Not to miss are churches San Sebastiano, San Rocco and San Giovanni Battista, and Torre dei Saraceni (an early Renaissance tower and look-out point). For a seaside lunch, ISSIMO suggests Il Nido del Falco while or explore the hillside for the rustic  La Vigna del Alberto.
Casamicciola, on the island's northern coast is home a bevy of tiny villages (Perrone, Castiglione, Piazza Bagni, La Rita, La Sentinella) and best known for its thermal baths, including Piazza Marina. And everyone loves coming here for invigorating nature walks to La Maddalena forest and Mount Epomeo.
ISSIMO recommends a stop at the 500-year-old pottery makers Ceramiche Mennella to peruse through its backyard "cemetery" of unfinished ceramics. You may spy Mezzatorre ceramics, too! And for the green thumb wannabes, head to Vivai Cosentino– Mr. Cosentino is a floral living legend!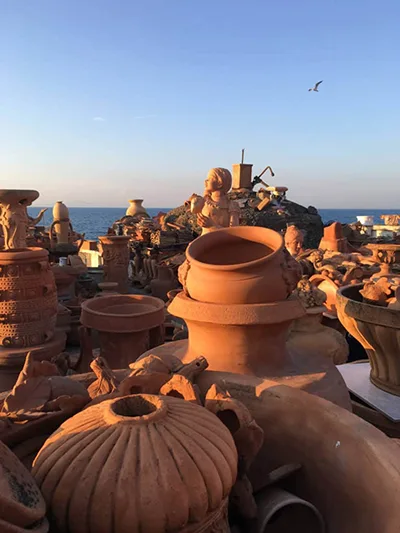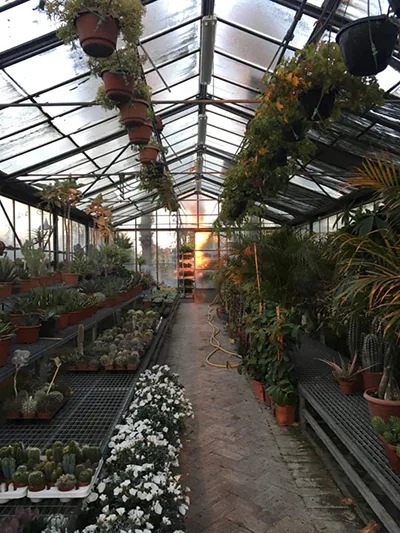 Connectd to Casamicciola by the Allume path, Lacco Ameno is the smallest comune on the island and the most charming, with a lovely marina and Il Fungo, the mushroom-shaped rock doubling as Lacco Ameno symbol.  Literally, a seafront strip of shops, Lacco Ameno also is the hub of the island's history.  The promontory Monte Vico was the island's ancient acropolis, so for a lesson in Ischia history ISSIMO recommends a visit to Pithecusae Archaeological Museum at Villa Arbusto, and then visit Museo di Santa Restituta, an ancient paleochristian crypt. and now museum in the underground of sanctuary Basilica Santa Restituta. 
Immediately west of Lacco Ameno, Forio is Ischia's second biggest borough and town, best known for the island's beautiful beaches Citara and Baia di Sorgeto, and of course Mezzatorre. Old town Forio is a picturesque patchwork of charming shops, piazzas palaces and churches. Chiesa del Soccorso is one of the most beautiful churches on the island. The looming Torrione is Forio's ancient guard post and now museum.   
ISSIMO loves a walk around hike through the woods to prophetic Madonna di Zaro pilgrimage site, with a stop at Luchino Visconti's hedonistic Villa La Colombaia, and then a botanical spin through Giardini La Mortella and succulent specialist Giardini Ravino. Restaurant reccies include Il Saturnino, a favourite of Cinecitta's best and brightest, as well as Marie Louise's father Roberto, and the ever romantic  Trattoria da Peppina di Renato.
The southern most part of Ischia – Typhon's eyelash- is a beautiful borough of towns
Serrara, Fontana, Sant'Angelo, Ciglio, Succhivo, Calimera and Noia
. ISSIMO's loves Sant'Angelo, a
pedestrian fishing village
and considered a sort of island within the island and its famous Le Fumareole beach, where steam jets out of the sand, and we recommend tasting the island's famous Biancolella, Forestera and Pèr e Palummo at
Enoteca La Stradera
and a beachside evening at the dreamy
Casa Celestino
.
Getting to Ischia
High-speed ferries run direct several times daily from Naples Modo Beverello to Ischia- Ischia Porto, Casamicciola, Forio