Exploring Italy's Sweet Artistry
Amidst its charming cobblestone streets and rolling vineyards, Italy harbours a delightful secret: A passionate love affair with chocolate.
True, chocolate was not invented by the Italians but by the Mayans, the Toltecs, or the Aztecs (depending on which records you turn to), but in the centuries since it was brought over – it was after the mid-19th century that the first Italian chocolate factories were established – the Bel Paese mastered the art of making the luscious treat.
From Caffarel to Pernigotti, Novi to Perugina, Streglio and Ferrero, chocolate companies turned Italy into a chocolate haven, always accompanied of course by smaller producers such as Amedei, Domori, Guido Gobino and others, who experimented – and still do today – with the best cocoa beans from around the world.
Is your mouth watering yet? Below, we unwrap the sweet traditions, diverse production regions, and captivating artistry that define the world of chocolate in Italy.
Chocolate holds a special place in Italy's heart, with a history dating back to the early days of cocoa's arrival from the New World. Over the centuries, Italy has moulded chocolate into a diverse array of indulgences, blending tradition with innovation.
In Piedmont, cocoa beans were turned into gianduja, a velvety fusion of chocolate and hazelnuts that is meant to be spread on fresh bread and enjoyed with your eyes closed, to get lost not just in its pure bliss, but the essence of Piedmont itself.
Also in Piedmont, you'll find Turin, the epicentre of Italy's chocolate scene, teeming with historic chocolate cafes like the timeless Caffè Al Bicerin, which have been serving artisanal hot chocolate for generations. A bicerin, a heavenly blend of espresso, chocolate, and whipped cream, is not just a beverage; it's a tradition.
Chocolate is an art form in Tuscany, too. Here, chocolatiers craft everything from delicate pralines to luscious chocolate spreads – best exemplified by the splendid works of Vestri or Roberto Catinari in Florence.  Their concoctions and chocolate truffles, elegantly rich and beguilingly decadent, are a testament to Tuscan artistry.
Just a short ride over, in Umbria, Perugia draws yearly visitors to its famous Eurochocolate Festival, a celebration of all things cocoa. The town is also the birthplace of Baci, those delightful chocolate-covered hazelnut kisses with romantic messages enclosed that are classics of Valentine's Day, and taste just as sweet as the phrases they hold.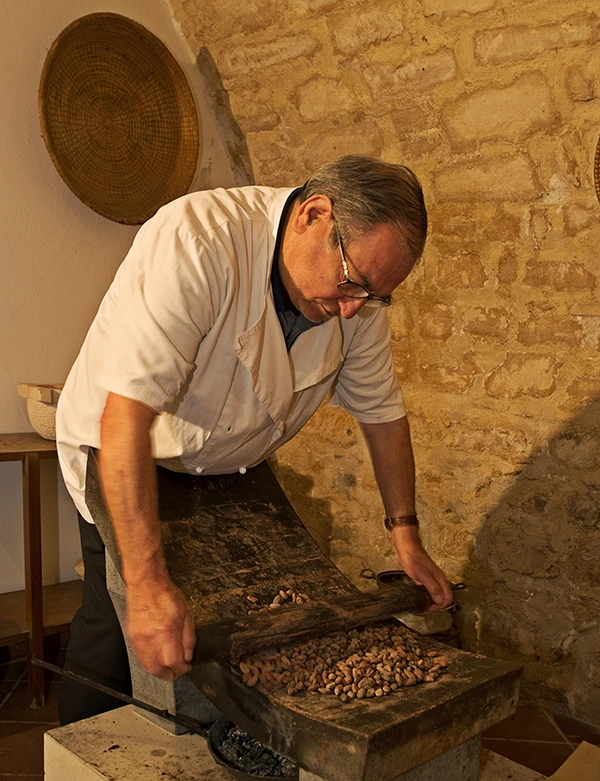 Lastly, Sicily, where Arab influence has woven chocolate into local traditions. Sicilians take chocolate seriously, infusing it into cannoli, granitas, and even savoury dishes – though you'll find the very best in Modica, where the brown bars are made according to an ancient and original recipe that uses manual grinding, giving the chocolate a peculiar grainy texture and aromatic flavour.
The Art of Italian Chocolate Making
Italian chocolate makers, or cioccolatieri, are masterful artisans. Their commitment to quality, ingredient selection, and painstaking techniques are the foundation of Italian chocolate craftsmanship, which is why so many embrace the "bean-to-bar" approach to the treat, sourcing cacao beans from exotic corners of the world. This ensures that the beans are sustainably and ethically grown, maintaining a commitment to quality from the very start.
Chocolatiers also delight in creating visually stunning chocolates here – gems that are not just treats for the taste buds; but a feast for the senses, adorned with edible gold leaf, vibrant colours, and intricate designs. The best example is perhaps the praline, essentially a miniature work of art. Every bite is a rich, velvety melt-in-your-mouth experience, as well as an orchestration of flavours and textures.
But that's not all. Beyond creating delectable treats, Italian chocolate artisans often venture in fact into the realm of sculpture. They mold intricate figures, architectural marvels, and even life-sized masterpieces entirely from chocolate. These edible works of art not only showcase the talent of the artisans but also elevate chocolate to a form of creative expression.
That is all to say that as you savor the flavours of Italy's artisanal chocolates, you're not just indulging in a sweet treat; you're partaking in a tradition that has been lovingly passed down through generations. Italian chocolate-making reflects the country's commitment to quality, craftsmanship, and an innate ability to transform humble ingredients into sublime pleasures.