Abruzzo's stellar chef Niko Romito
Abruzzo is in every fiber of Niko Romito. Born and raised in Rivisondoli, a small village nestled within the hilly wilderness of Abruzzo, Romito is one of Italy's top chefs whose small town background and innate culinary skills vaulted him (and consequently Abruzzo) to one of the world's highest culinary constellations – the coveted Michelin three stars . . . in a world-record seven years.
A self-taught chef, Romito's dishes are deeply infused with his own sense of culture and identity. His innate skills are a result of years immersing himself in traditional culinary methods and absorbing anything he could get his hands (and mouth!) on about Italian cuisine. Initially, Romito had no intentions of entering the restaurant world even though his father ran a local trattoria in his hometown. After graduating high school, Romito took off to study business and economics in Rome and only returned to Rivisondoli upon his father's death when he took over the family restaurant Reale together with Cristiana Romito, general manager.
The Rise of Romito
"I didn't even know what this world was at that time. The best thing that happened to me was being able to work on a seasonal level in a very simple place," tells Romito. "I had no expectations and goals … those came later . . . for me, the most important thing those first few years was being able to do something simple and to do it well, for the general public and the usual tourists coming to visit Abruzzo's mountains."
Romito was evolving and year after year, it became stellar, receiving its first Michelin star in 2007. Eventually in 2011, the brother/sister duo would relocate the now Michelin starred restaurant to the nearby hamlet Castel de Sangro and move Reale in the 16th century monastery Casadonna, awarded his third star in 2013. Initially relying on a heritage of very traditional Abruzzese cuisine techniques that are "very simple, very domestic", using basic, inexpensive and most importantly, local ingredients including vegetables, beans and meats, Romito carved out a culinary identity intensely rooted in taste and culture and focused on humble ingredients that evolve into dishes of dignity.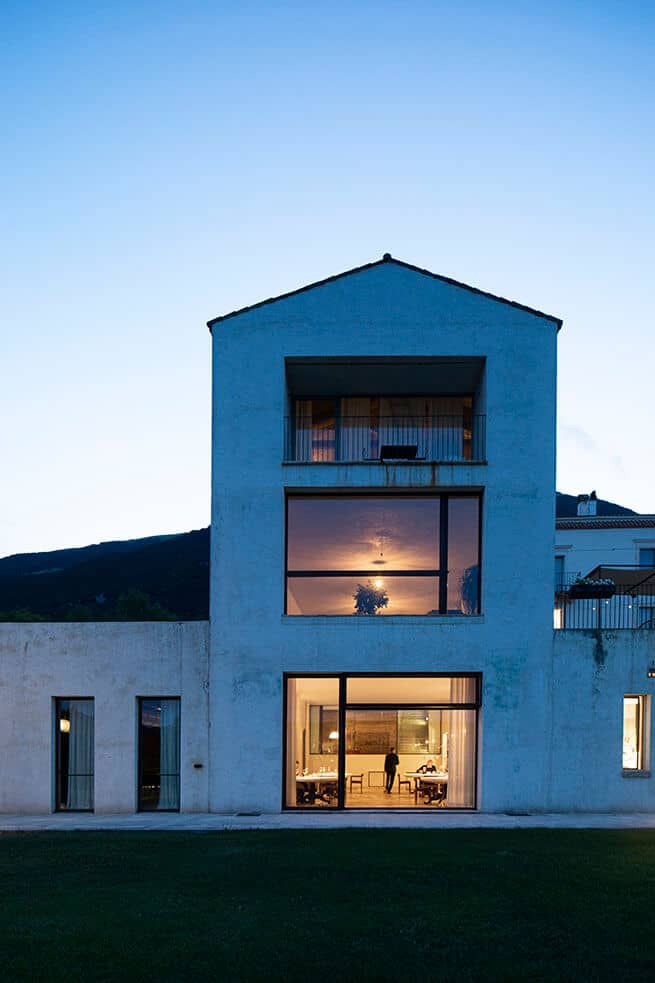 "What I look for in creating a particular dish is its tastiness, balance and distinctiveness: by "distinctiveness," I mean that my dishes come across in a straightforward manner, they do not need to be interpreted or spelled out obsessively. I aim for clear-cut, light fare, where layers of flavour build up and gradually unfold in a blaze of focused intensity."
Romito's Universe
"Not everybody understands my food … often people think it's just simplistic", wrote Romito in his 2015 book 10 Lezioni di Cucina. The irony is not lost. His "simplistic" style would be modeled by so many chefs – Italian and otherwise- in years to follow. Simple in presentation and description is perhaps the best way to define any dish by Romito, but upon first bite, there is no doubt a well-studied thoughtfulness in his selection and preparation.
"My kitchen is a concept of Italian cuisine that follows a personal path assembled from my studies, learned techniques, and new applications with the idea of ​​putting the pure, original and true taste of the raw material back at the center of the table."
Romito's gastronomic background of simple mountain flavors and home-cooking cuisine (one that all Italians inherit), has subsequently defined every aspect of the Niko Romito empire. Origins are fundamental to Romito, whose world is not just a single restaurant in a tiny mountain town but a global kingdom. Romito transformed the Casadonna monastery into a triple threat – the throne is Reale, the three Michelin star restaurant lcoated within Casadonna, the former monastery restored to a boutique hotel on whose grounds you'll also find Accademia considered one of the world's best culinary academies. Nearby and soon to come will be Campus, a 3,700 square meter complex set to open in 2022 where Romito expands his dedication to teaching to educating "industrial" kitchens on how to serve good, quality food, collective catering and a range of academic offers.
Accademia is the launching pad for nearly all of Romito's projects. Here he ideated the concept of Alt, an upgraded service station located on a nearby local highway (with intentions of expanding throughout Italy) which features high quality food products made and run by Accademida students, and Spazio – an haute-cuisine bistrot concept in casual dining format which originally started in Rivisondoli (in the original Reale, where it was and still run exclusively by Accademia students, under tutelage of Romito's chefs) and now locations in Milano and Rome.
Within Accademia,the avant-garde Laboratorio Niko Romito, a laboratory for research and development of new bakery and pastry products and projects. Laboratorio has subsequently created its own brand of packaged products including biscuit and baked goods, jams, spreads and nectars – all certified organic and vegan, as well as bread on its own PANE label. Romito's gastronomic think tank also created Unforketable, a video-based encyclopedia on contemporary Italian cuisine.
Lavoro in Purezza
Romito considers his projects all un lavoro in purezza – completely undistilled and totally dedicated work "which embodies values, symbols and places of memory. The good things of the past, strengthened by the strong value linking food, health and well-being."
Throughout it all, Romito has never forgotten where he comes from, physically and metaphysically. His Bomba creation is a new look at an old favourite, a street food pastry that his father, Antonio Romito, expertly made in his pasticceria. [For those who have never tried a Bomba, the closest description is a deep-fried, cream-filled donut.]
"In the seventies, the unmistakable scent of Bomba invaded my father's pastry shop, making it his most beloved pastry. I grew up breathing its sweet filled air." Romito researched and enhanced the family dessert, studying and experimenting on dough, leavening and frying techniques. "I started to create a Bomba street food project, first of all to fulfill a memory of something to which I am very attached. Second, because I realized that the Bomba could become the beginning of the creation of a new model. Start from something traditional and then create something that respects tradition as much as possible but improves the production process and enhances the final taste. " Romito reintroduced the Bomba by revising the traditional recipe and showcasing it in both sweet and savoury versions.
Romito around Italy and the World
Tradition drives Romito and it is limitless. In a partnership with Bulgari, Romito has brought "the canon of Italian" cooking to Beijing, Dubai, Shanghai, Milan and soon Moscow and Paris in a restaurant that is modeled after the "Italian table" – from Richard Ginori flatware to a layered menu structure to iconic regional dishes.
"In my opinion, a very unique thing that Italy has to offer is the diversity of gastronomic experiences, culinary models and a biodiversity of ingredients. Italy was born from an almost communal cuisine, a local cuisine, a regional cuisine. We have regional cuisines that are different from each other. This diversity, this heterogeneity of traditions means that Italian cuisine cannot be catalogued in a single model but can be catalogued in many single, well-made models that create the Italian model". And for Romito, the Italian model is based on traditional domestic cuisines, with the values of the Mediterranean diet. Vegetables are star players, carbohydrates are a "well-managed" supporting cast, and "good" fats (like olive oil) take on guest roles, all thanks to a country whose geographical conformation is a cornucopia of biodiversity and raw materials.
Recently, Romito has bottled up the cornucopia as part of his Laboratorio projects, and ISSIMO is proud to share a very special Niko Romito Box which includes two organic spreads – Strawberry and Peach – that capture and preserve the fruits' authentic flavours, colors and scents, as well as all nutritional properties. For the chocolate lover, there is a delicious and very spreadable hazelnut and chocolate cream, where purezza prevails, and Romito's Biscotti Gran Cioccolato, light and crumbly organic cookie biscuits made with oat milk and chocolate.
Written by Erica Firpo.