If you asked us to name the shoe that most represents Italy, Superga would be it. Not a towering heel, a suede loafer, or a Capri-style sandal, but a sneaker. Usually white – though these days it comes in a plethora of colours – with a solid rubber sole and a casual silhouette, Superga has been part of our wardrobes for over a century, worn by just about anyone from kids to grown-ups, no matter their personal style.
It's, in a way, an Italian staple – and the epitome of summer footwear. Which is why we're slipping into our very own pair this month, and adding some new ones to our closet.
Light, understated, and above all comfortable, Superga are made for sunny days and beachy walks, Italian holidays and easy living. Plus they somehow go with almost any outfit (and when they don't, they can easily be stowed away in your tote and traded for a pair of chic satin flats).
But what's the story behind this ItalianISSIMO brand? Glad you asked. Below, we've delved into the origins of our favourite shoe, and picked up a few looks we think would be perfect with them. Ready to know more and shop some: we have some pretty neat Superga on ISSIMO. Read on.
Named after the Superga Hill in Turin, the Superga story begins in 1911, when local shoemaker Walter Martiny began producing rubber-soled footwear for local farmers. It wasn't until 1925, though, when Martiny married a tennis enthusiast, that the brand really took off. Inspired by his wife's passion, the entrepreneur set out to design a canvas shoe that could work on the tennis field, eventually creating the "2750" model, which featured a grippy, vulcanised rubber sole.
After a halt in production during World War II, Superga restarted operations in 1951, merging with the Pirelli Tire Company (those rubber soles didn't make themselves) and increasing their output. In the span of a few years, they became the footwear of choice for generations of Italians, who liked their affordability, clean lines, and unlined, breathable cotton (before the war, Superga's motto had been "the shoe that breathes").
Shoe factory Superga, Torino and Superga 90's poster (Credit to Vanity Fair) 
Superga's fortunes only grew stronger in the 1960s—thanks, partly, to legendary Italian graphic designer Albe Steiner, who in 1962 was tasked with updating the brand's logo in a way that would encapsulate minimalism and simplicity. The creative obliged, coming up with an uppercase Helvetica 'S' enclosed within an oval that's still iconic today, and making the brand immediately recognisable among shoppers everywhere.
But it was Superga's foray into sports, from tennis to basketball and yachting that really helped forge its reputation as the perfect outdoor (aka summer) shoe. If athletes and jetsetters wore it, this simple plimsole had to be good. Besides, it looked good (and everyone needs a pair of white sneakers).
By the seventies and eighties, the "2750s" had become a hit both in Italy and abroad, and the company began to branch out into more styles, alongside proper sportswear.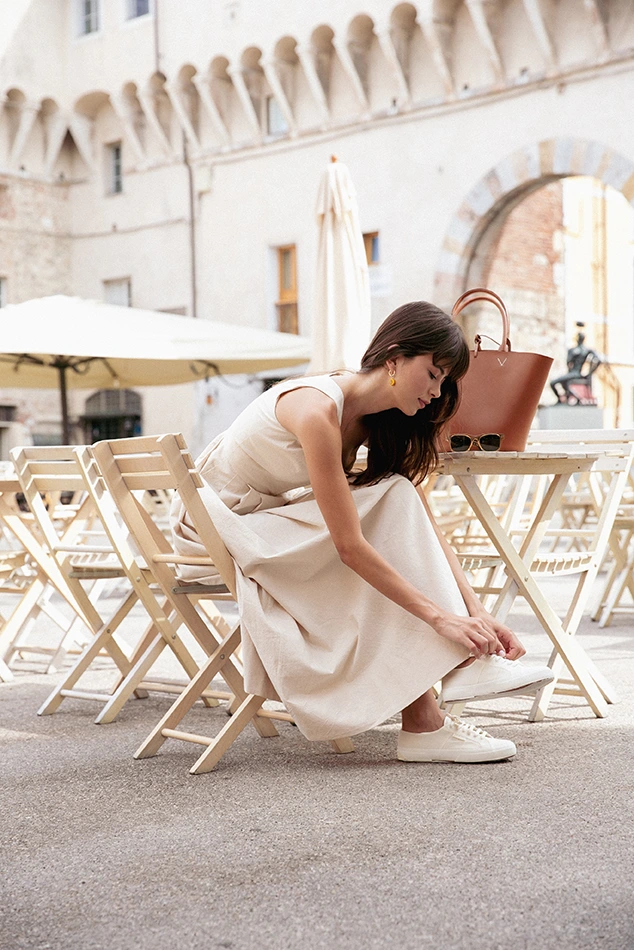 The everyday sneaker
The Superga brand changed ownership in the early-2000s (it now belongs to another Italian company, BasicNet) and, over the past few decades, has inspired flatforms and mid-tops, adapted to all weathers, and partnered up with fashion labels and A-listers – from Versus Versace to Haley Bieber – to launch a series of fresh new collections.
But its Italian soul has remained unchanged—and its appeal is as timeless as ever. 
This is the sneaker you wear to go from the city to the seaside, on a day-trip or a weeklong vacation, for a hilly walk or a night spent gazing at stars on the beach. No wonder Italians still love it so much: reliable, stylish and versatile, Superga ticks all the boxes of what defines Italian class.