---
80s Style Revival
Flashback: 1980s Milano at Bar Al Panino. Groups of stylised teens hanging out in puffer jackets, Timberland boots, rolled up jeans and those unforgettable Invicta backpacks. It's incredible that a local sandwich bar gave rise to Italy's beloved subculture phenomena – the Paninari.
Think of the Paninari as Italy's response to heavy politics and hedonistic Hippie culture.  Coming on the heels of bell bottoms, disco music and the most problematic years of  anni di piombo, the proto-Paninari were private school kids who just wanted to have fun, listen to synth music and cast off tradition as fast as they could.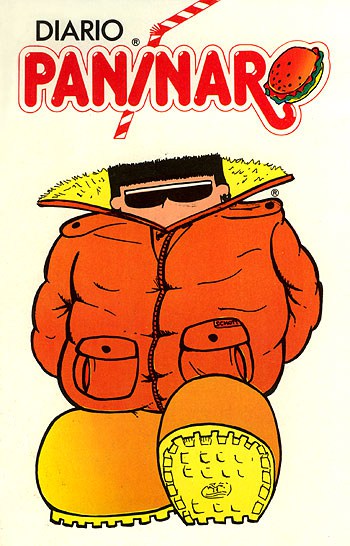 "For us, it was a cultural belonging, a group who recognised one another by music and style, we were having fun" explain sisters Capric Selvaggia Bruno and Karin Chantal Bruno, founders of sartorial atelier Sorelle Collezioni Private. "From head to toe, we were part of something."
The Brands
Avirex, Henri Loyld, Moncler, Timberland, Durangos, Nike, Vans, Naj Oleari, Burlington, Invicta, Stone Island, Best Company, and Levis. The brands that the Paninari loved ipotimised the 1980s care free cool – a playful nod to the easy breezy Americana postmodernism. Decked out with very visible labels, paninari were walking status symbols, and behind the scenes the curated look of effortless consumerism was tenaciously researched and sourced costing hundreds of lire. Yes, you could call it cliche, but really it was peak Paninaro. 
---
Peak Paninari
Jacket: a brightly coloured Moncler puffer
Sweat: Stone Island, of course!
Socks: Heavy weight, striped Burlingtons
Jeans: high-waisted, pressed Americanini (or Stone Island or Levis 501) jeans, rolled at the cuffs and held up with an El Charro belt buckle
Shoes: Timberlands, i Timber
And of course, the must have accessory was the Invicta Minisac, an unmistakable striped backpack or the Invicta Jolly, a gorgeous celebration of primary colours. The Invicta backpack was more than an accessory. It was the cherry on the Paninari layered cake of coveted brand. The Invicta Jolly was the 1980s incarnate and on your shoulders. It completed the look which millions upon millions of Italian kids have knowingly and unlocking mimicked for the past four decades.
---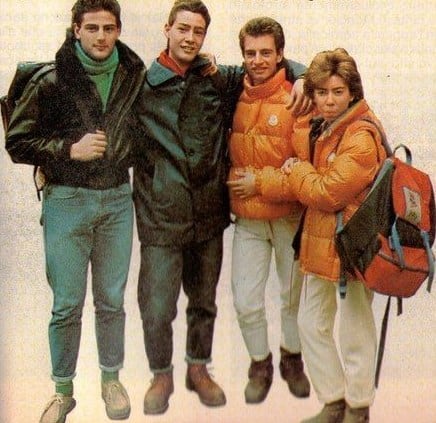 ---
Che calfort stai dicendo?
Listen closely. Paninaro subculture dominated the 1980s, flooded the streets and slang of Italy. Everyone knew them and knew their slang made up of invented words mixed up with a few from English. Spanish and more – like sapiens (parents), grano (money), kissettoni (big kiss), cucador (macho guy), and sfitinzia (a hot paninara). Even today we're still using cifra, giusto and sballo. 
Paninari peak was 1986, when Brit Pop's super synth group Pet Shop Boys immortalised them in vinyl and on MTV in a video shot at Porta Venezia and the Duomo.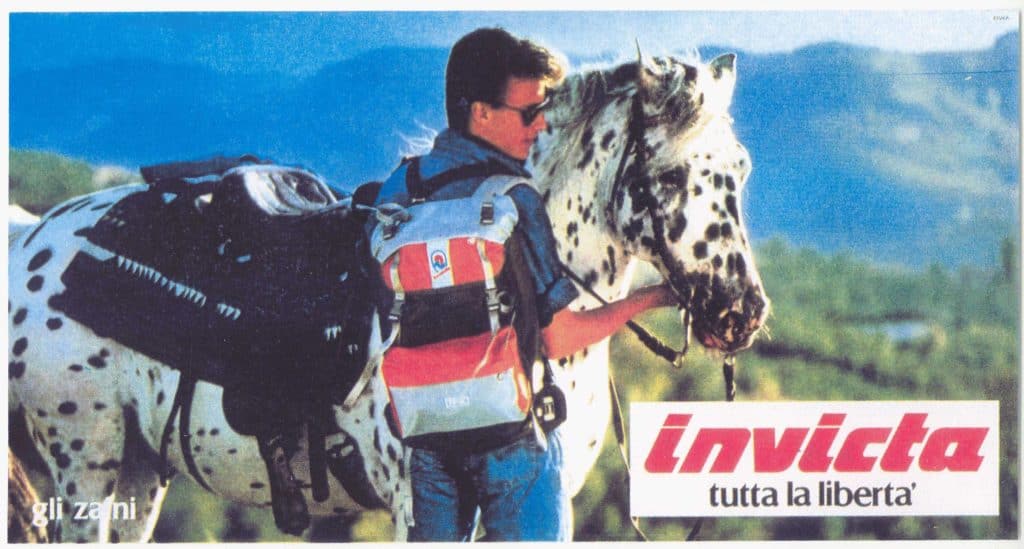 "We first saw the paninari on the streets of Milan in 1986. We liked that it was a youth cult that was mainstream, as opposed to the more underground Goths. They wore their jeans at ankle length, yachting shoes or Timberlands and Emporio Armani tops it was very fashion.' Being big in Italy was a glamorous fantasy for us", explained Pet Shop Boys, Neil Tennant (New York Times).
---
Girls, boys, arts, pleasure
Food, cars, travel, food, cars, travel, travel
New York, New York, New York
Armani, Armani A-A-Armani, Versace, Cinque

Pet Shop Boys, Suburbia B-side, 1986
---
What ever happened to the Paninari? Don't worry, the 1990s tidal wave of Tangentopoli, grunge and the closure of Burghy may have bookmarked the end of an era, but we're bringing the vibe back. ISSIMO brings back the Paninari must-have accessory. Slide into the Invicta Minisac, with our stand out yellow and white stripes, and catch up with the vintage vibe- we've personalized Invicta Jolly with fighissimo patches. And keep an eye out: we're bringing back more Paninari style on ISSIMO coming soon!