Our latest partnership is summer's most inspired collection
Summer fashion is all about effortless style, colours, and capturing the season's sunny atmosphere through clothes. While trends come and go, one timeless motif continues to bloom with perennial appeal for the hottest months: Nature-inspired prints.
Think about it. Blooming florals and verdant foliage capture the essence of summer like few other prints, evoking simple, humble beauty, and an inherent connection to the natural world. It's no wonder that, year after year, green patterns have become a staple of warm-weather dressing.
The latest entry to this vibrant tapestry? Our ISSIMO x Loretta Caponi capsule collection.
As pretty and breezy as it gets, the line sets aside classic flowers and dainty shrubs to highlight an oft-unsung hero of the plant world: The prickly cactus. It also blends  Loretta Caponi's exquisite embroidery and handcrafted artistry with our very own take on the iconic brand's fabulous print that A-listers are known to queue for, the Tulum print. The result? A collection that's fun, joyful, and highly collectable – but also a homage, just as importantly, to our beloved  Ischia, home to Mezzatorre.
Celebrating the natural world was always the goal of our partnership with the iconic Florentine brand. But when it came to picking a specific motif to focus on, we had a very clear idea about what it would be.
The cactus is in fact the protagonist of one of our favourite places in Italy: Ischia. The island's Giardini Ravino, in particular, served as the jumping point to create the collection.
A botanical garden specialised in succulent plants and cacti, this one-of-a-kind,  6000-sq-metre wonderland is the brainchild of local botanist Giuseppe D'Ambra, who, since the 1960s,  has been populating it with all sorts of cacti varieties. Today, it holds Europe's largest and most varied collection of succulent plants, which is enriched every year with new specimens from all over the world, while those already acclimatised become more and more majestic. Indeed, the sea breeze and the west exposure of the garden allows an ideal setting and growth for exotic plants, while the sunset light enhances the sculptural forms and colour contrasts of more than 400 species.

Ravino is a quintessential part of Ischia, and both the capsule and the shoot we did there to present it are our homage to the splendid natural beauty of the Green Island.
Playing with the vibrant vibes and rich colours of Ravino cacti, the ISSIMO x Loretta Caponi line encapsulates the island's nature within five different pieces – one more summer-ready than the other.
Sculptural and striking, the spiky silhouettes of the cacti blend with a backdrop of vivid hues, lending an edgy and contemporary flair to the collection, and infusing every ensemble with a sense of adventure.
With a single glance, you're immediately transported to a whimsical garden, surrounded by a kaleidoscope of prickly plants under a sunny sky. It's what we call tropical fashion escapism – and the best way to embrace summer's laidback mood. 
Decoding the ISSIMO x Loretta Caponi capsule collection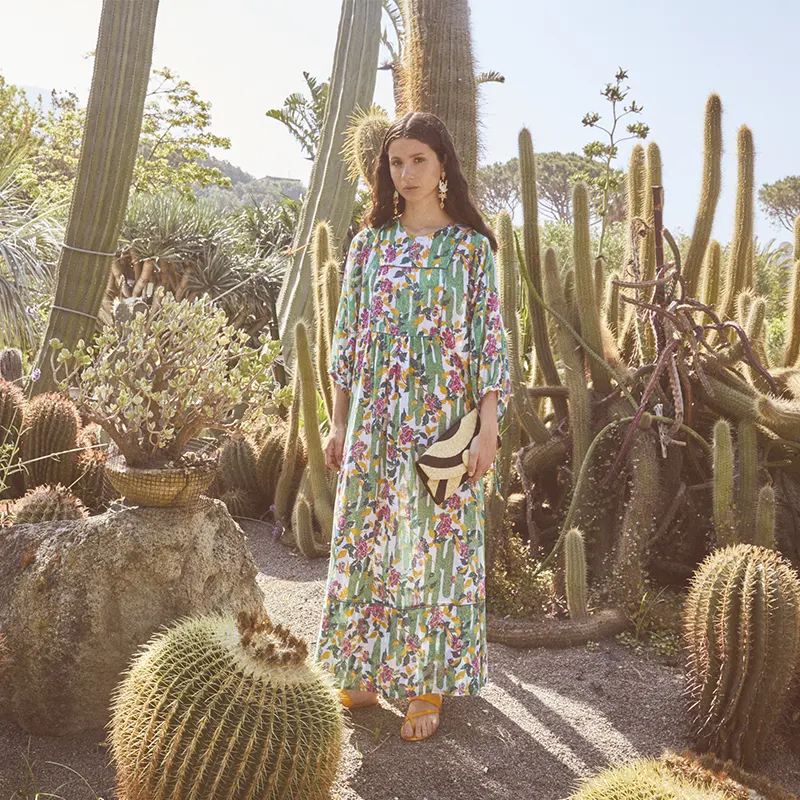 BEST FOR:
Sunny city walks, alfresco aperitivo
Midi-sleeved breezy Ariel turns a simple billowy shape into an elevated summer must-have for your wardrobe. Pair it with flat sandals – our Scholl x ISSIMO clogs are your best bet – and bouquet studs.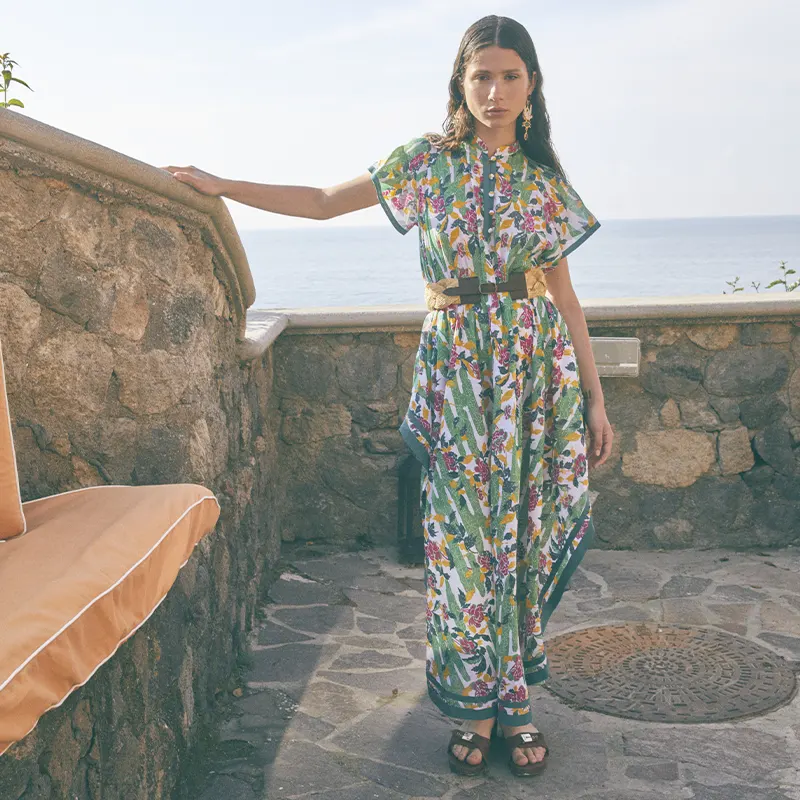 BEST FOR:
The beach, the pool, the villa
We love a kaftan, and Anouk might just be the dreamiest ever. Both dramatic and laidback, high-energy but low-effort, it screams ChicISSIMO without you having to extra accessorise. Perfection.
BEST FOR:
Urban breaks, Sunday brunch
Blending chilled sophistication and sunny glamour, Delfina is the perfect summer dress. It works both as a default holiday garb – pack it in your suitcase and you'll look the part wherever you go – and as a city-weekend-with-friends outfit. Effortless, practical and oh-so flattering.