In the world of fashion, where trends wax and wane like the phases of the moon, few garments have endured as steadfastly as the statement t-shirt. You know the one: A simple tee with a witty, meaningful, or just iconic slogan on it, to be worn with your favourite pair of jeans or a simple denim skirt.
These humble pieces of cotton, emblazoned with bold mottos, have transcended their casual origins to become powerful expressions of individuality and cultural commentary, adopted by designers and high street alike. From their rise in the rebellious 1970s to their current status as must-have items, statement t-shirts have undergone a metamorphosis, evolving into smart and sophisticated wardrobe staples that delight both wearers and onlookers.
The latest example? Our oh-so cool line of Bar Roberto, Ristorante La Baia and Italia Bella tees ​​– three retro-style numbers that make the perfect souvenir from Italy and encapsulate the Pelli world in sartorial form.
Italia Bella is a declaration of love for the Bel Paese, while the other two are dedicated to Hotel Il Pellicano's iconic Bar Roberto, from which one can admire the most beautiful sunsets in Porto Ercole while sipping Bar Manager Federico Morosi's tantalising cocktails; and Ristorante La Baia at Mezzatorre Hotel & Thermal Spa in Ischia, which overlooks the bay and is a must-try if you're visiting the Green Island for its delectable menu and stunning surroundings.
Stylish, relaxed, and ChicISSIMO, they're the easiest way to channel summer's sunny vibes – and look like a true Pelli fan wherever you are.
But how did the slogan tee originate? Keep reading to find out. 
Rebellious, edgy and darling
Born in an era of radical change and cultural upheaval, statement t-shirts found their footing in the 1970s. It was an era where self-expression was paramount, and slogans on t-shirts became a powerful vehicle for personal and political statements. Pioneering designers, such as Vivienne Westwood and Malcolm McLaren, seized this opportunity, infusing their designs with a spirited irreverence that captivated the masses. Westwood's iconic "Destroy" t-shirt, adorned with a jagged, anarchic lettering, became an emblem of punk rebellion, while McLaren's "Seditionaries" collection pushed boundaries with provocative slogans that challenged the status quo.
The 1980s witnessed the explosion of statement t-shirts as a mainstream fashion phenomenon. From Madonna's Oh-so fun (and very true) "Italians do it better" shirt to Katharine Hamnett's politically charged "Choose Life" slogan, these garments became symbols of pop culture and activism alike. The witty and sophisticated tone of the slogans expanded, reflecting the zeitgeist of the era. Designers such as Jean-Charles de Castelbajac and Moschino crafted clever wordplay, merging fashion and art in a delightful fusion. Castelbajac's iconic "I Am Expensive" shirt, adorned with a price tag, playfully satirised consumerism, while Moschino's "Couture is an Attitude" cleverly elevated the idea of fashion as a powerful means of self-expression.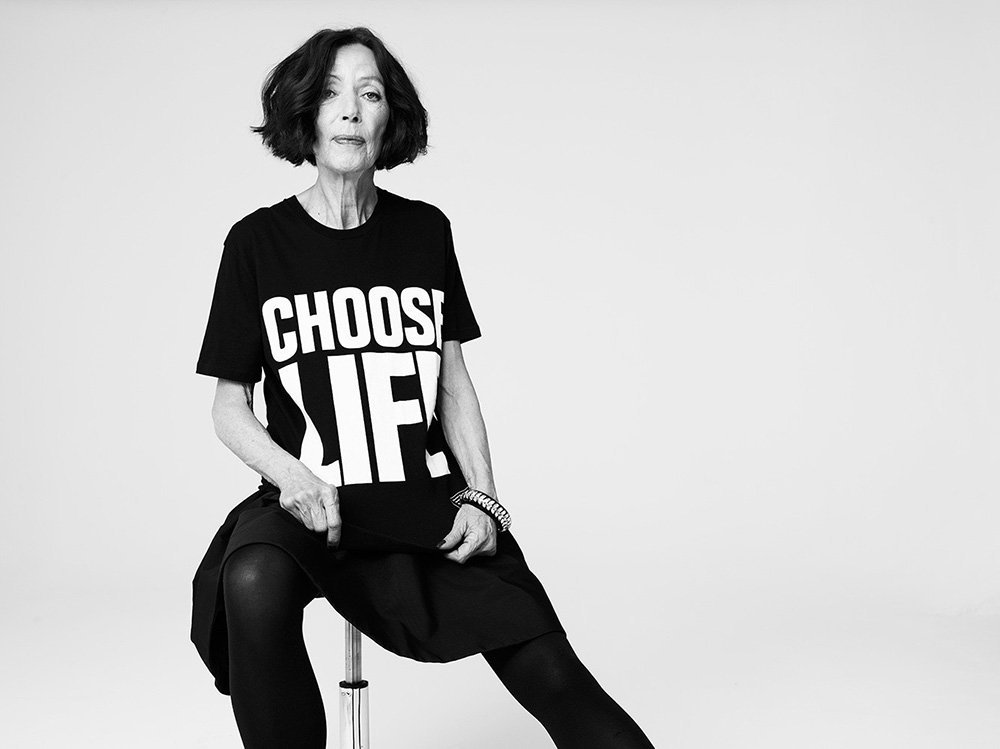 As the new millennium dawned, statement t-shirts underwent a renaissance, taking on new dimensions of subversiveness and satire. Designers like Katharine Hamnett and Henry Holland fearlessly merged fashion with politics, infusing their garments with bold messages that demanded attention. Hamnett's revival of her infamous "Choose Life" slogan in the wake of global turmoil sent a powerful message about the importance of peace and unity. Meanwhile, Holland's irreverent House of Holland brand paired catchy phrases with playful graphics, capturing the zeitgeist of a generation obsessed with social media and celebrity culture.
In the current landscape, statement t-shirts evolved into an integral part of the fashion vernacular, continuously reinventing themselves to reflect our ever-changing society. Demna Gvasalia at Balenciaga has embraced the power of irony, creating t-shirts that mimic corporate logos with provocative twists, ingeniously subverting traditional advertising tropes and challenging the notions of brand loyalty and consumerism. Similarly, streetwear brands such as Supreme and Off-White have garnered cult-like followings by combining bold graphics with thought-provoking slogans.
By transforming and reinventing itself, the statement T-shirt has taken on a role as a signifier and a symbol of cool, attitude and panache.  Read to wear yours?