They say every picture tells a story, in the case of Ferragamo's Creations, every shoe tells the incredible tale of a legendary Florentine legacy of craftsmanship, history and cinema. Ferragamo's Creations is an exclusive and innovative microcosm in the Ferragamo world – a line up of famed Salvatore and daughter Fiamma Ferragamo's most iconic shoe styles faithfully recreated in exclusive numbered editions.
Take the Rainbow, an out-of-this world platform sandal made for who else but the internationally-adored actress, Judy Garland. In 1938, Salvatore crafted a pair of platform sandals for the Hollywood star, outfitting the shoe stunner with gold kidskin straps and a multi-hue drainbow suede platform heel. As part of its 21st century collection, designers behind Ferragamo's Creations brought the fabled rainbow platform back from the archives in a limited edition with 2018's The Rainbow Future model, a chimera of organic crocheted cotton certified to Global Organic Textile Standard criteria covering a veritable wood heel.
Turn the shoe over, turn any shoe over and a story unfolds. Printed on the sole are the year the original shoe was created by Signore Ferragamo as well as the numbered edition, making every step in Ferragamo's Creations a tap dance of sculpture and performance.
"I have been blessed – or cursed, it depends on the way you look at it – with an incurably restless, probing mind and inordinate capacity for hard work"

Salvatore Ferragamo
Ferragamo's own story is an incredible tale of artistry, craft and unbridled inventiveness. One of fourteen siblings, Salvatore was born and raised in dead-end town, on the outskirts of a hamlet, a hundred kilometres from Naples. Hollywood wasn't even a glimmer in his eye. As a child, Ferragamo had preternatural skills in shoemaking, cobbling up communion shoes for his sisters when he was just seven. After finishing 3rd grade, Ferragamo apprenticed full-time in a local shoemaker's studio, eventually making his way to Napoli where the curious cobbler researched products, techniques, and materials. By age 16, he knew he wanted more and immigrated to the United States where he would meet up with his brothers in Santa Barbara, California to open a shoe repair shop which also dabbled in custom creations. By 1923, Ferragamo was ready for stardom.
The Hollywood Boot Shop was legendary, almost as much as his shoes, and even though he returned to Italy in 1927, starlets and divas swooned to be shod in Ferragamo. He continued to devotedly shape his star-studded toes from his shop in Firenze until his death in 1960, when his wife, Wanda, and children continued the business, building it into an international luxury fashion empire.
Slipper, 1955, An iconic evening shoe, Draped satin was one of Salvatore's most beloved materials.
Mary Pickford, Gloria Swanson, Mae West, Greta Garbo, Judy Garland, Claudette Colbert, Grace Kelly, Ava Gardner, Audrey Hepburn, Carmen Miranda, Marilyn Monroe, Sofia Loren, Anna Magnani, Ingrid Bergmann and Brigitte Bardot. From gorgeous heels to gamine boots like Lucenzia, velvet ankle boot designed for Bardot in 1966, Ferragamo created distinctly unique handcrafted shoes for each of his stunning Hollywood icons.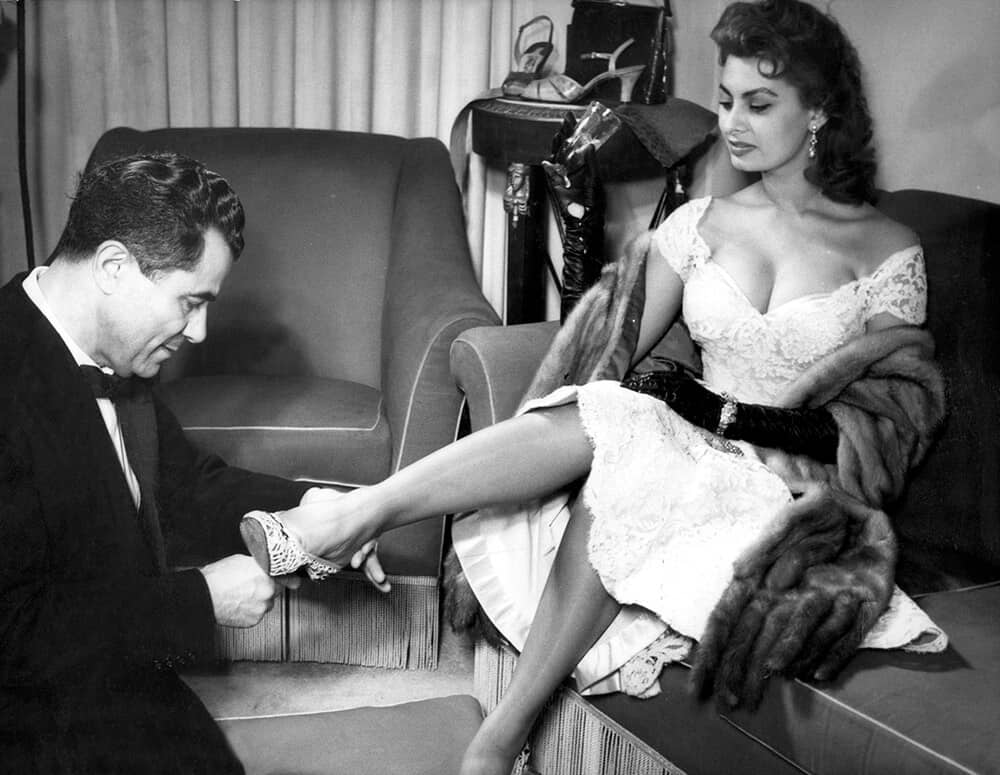 "When I have created a new style, it is for me once already old. There is always something more beautiful, more perfect, still to be created"

Salvatore Ferragamo
Shoe-aholic, art lover, fashionista, architect nerd, design fan, or your everyday Jane, you don't need a background in haute couture to "get" it. There is something about a Ferragamo shoe that crowns it a celestial, functional work of art. It could be the colours – always harmonic, though often surprising, the material – like that futuristic glass mosaic, the nylon monofilament. Or maybe it's the details like the stitching on the Patchwork or the handpainted flowers. Or simply the overall innovation that makes every pair a step out of the future.
The gloved arch, the shell-shaped sole, the cork wedge, the metal caged heel, the F-shaped tacco – from 1927 until four years after his death in 1964, Ferragamo logged at least 404 patents, playing with colour and contrasting unexpected materials while trying to invent and reinvent function.
Ferragamo patented the Wedge in 1937 –the first leather- lined cork wedge designed to be fashionably stable. For Mae West, he designed a wedge with ribbed gold kidskin and suede ankle straps, while for Carmen Miranda, he made disco magic in a gilded, mirror mosaic heel. Ferragamo increased the incline in a dizzying bohemian heel for eccentric arts patron Peggy Guggenheim. In 1947, Salvatore Ferragamo designed an upper made of one continuous thread, a transparent strand of nylon with a wedge or F-shaped heel. With The Invisible, Ferragamo won the Neiman Marcus Award, the Oscar of Fashion.
"We can all walk happily and be well shod, daintily shod, beautifully shod"

Salvatore Ferragamo
Ferragamo's Creations are not just a link to the past but a push to the future, an endeavor to extend Salvatore's legacy and be part of a story that has yet to be told. Ferragamo responded to wartime shortages of the 1930s and 40s with flair, by sourcing leather substitutes and upcycling untraditional materials to create models like the Colored Heel, a lace-up with a patchwork suede. Today the continuous experimentation of construction techniques and materials endures, along with a deliberate and concerted focus on sustainability, fundamental to every shoe design's reinterpretation. 
Ferragamo's Creations immortalise moments in time while continuing to push to the future with experimentation with styles, techniques, and materials whether in re-editions or reimagined interpretations. The Creations collection is both an archive to Ferragamo's iconic designs and a challenge to continue his innovative techniques by searching for more sustainable materials.