Calcio Storico Fiorentino: Florence's OG Football Game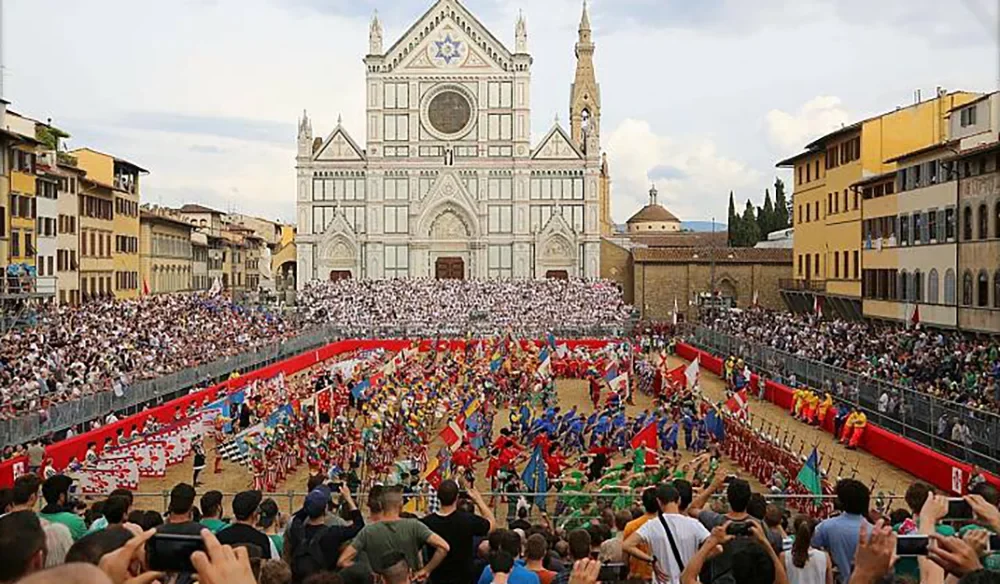 Visiting Florence in June? Then don't miss the city's biggest sport competition
Football might be one of the most quintessential Italian things there are. But did you know Florence has its very own version of it? And if you happen to visit the city this month, you might just be lucky enough to catch it.
In the heart of the Tuscan capital lies in fact Calcio Storico Fiorentino, or "Historical Florentine Football." A sport spectacle that fuses ancient traditions with modern athleticism, this unique form of football is the fiercest competition hitting the city every June, and a strong identity element for its citizens, as it celebrates history, community, and sportsmanship.
Ready to dig in?
An Early Form of Football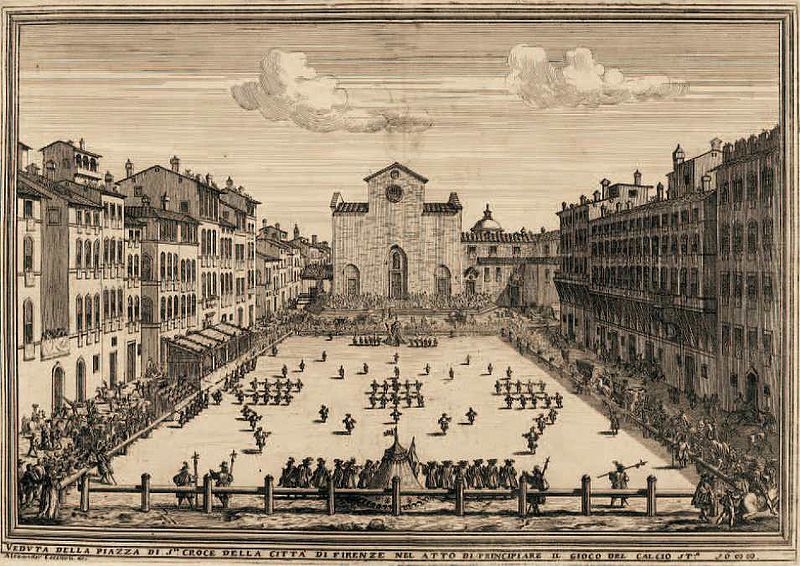 The roots of Calcio Storico Fiorentino can be traced back to ancient Roman times, where a game called "harpastum" was played. Harpastum involved a large ball, which players attempted to move across a designated area while grappling with opponents. This precursor laid the foundation for what would become the Florentine sport – though Calcio Fiorentino as we know it today didn't fully develop until the Middle Ages, when it was believed to have started in Piazza Santa Croce in Florence.
During the Renaissance, the game gained popularity as a form of civic celebration, turning not just into a widely watched sport, but also a symbolic representation of the city-state's values and traditions. The Medici family, known for their patronage of the arts and their influence in Florence, played a significant role in fostering the development of Calcio Storico Fiorentino, transforming each match into a grand show often played during festivals and important events. The game was mostly a "noble" one, meaning it was played only by distinguished soldiers, lords, aristocrats and princes, and it was one of them, count Giovanni de' Bardi, who recorded the first rules for it in 1580.
Interest in Calcio waned in the early 17th century, and it wasn't until the 1930s, under the helm of Benito Mussolini, that it returned to be played by amateurs in the streets and squares of Florence.
Today, four teams from the city's four historic districts –   Santa Croce (blue), Santo Spirito (white), Santa Maria Novella (red) and San Giovanni (green), all in costumes reflecting each neighbourhood – compete against each other, playing two opening games and a final to determine the winner. The last game always falls on June 24, the feast of San Giovanni, Patron Saint of Florence.
The Game and its Evolution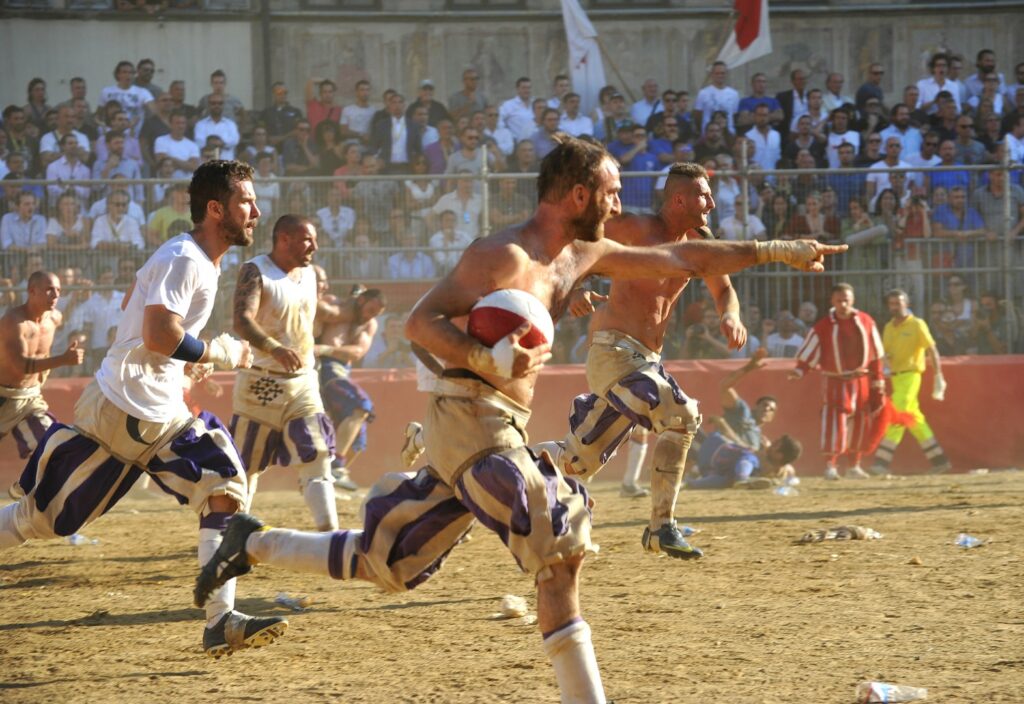 Calcio Storico Fiorentino is a fast-paced, physically demanding sport that combines elements of soccer, rugby, and wrestling. Played on a large sand-filled pitch, two teams of 27 players each compete to move the ball into the opposing team's net. The objective is simple: score more goals than the opposing team within the given time frame.
What sets Calcio Storico Fiorentino apart from other sports, however, is the absence of formal rules.
The game is characterised by its roughness and intensity, as players engage in fierce physical contact, often resulting in injuries. This raw, unyielding nature harks back to the sport's historical origins and, in a way, mirrors the resilient, warrior-like spirit deeply ingrained in Florentine culture.
Over time, its rules have evolved, incorporating some modern elements to ensure player safety. Protective gear, such as helmets and mouthguards, are now worn, and tackles from behind are forbidden. Nonetheless, the essence of Calcio Storico Fiorentino remains rooted in its historic brutality, capturing the imagination of both players and spectators alike.
A Cultural Symbol
In many ways, Calcio Storico Fiorentino is more than just a sport. Today, it stands as a testament to Florence's rich cultural heritage and serves as a unifying force for the local community. The game embodies the values of camaraderie, resilience, and unwavering passion that have characterised Florentine people for centuries, while also fostering a sense of belonging and identity that creates a deep bond among players and supporters. If you'll have a chance to witness it in person, you'll see what we mean: the atmosphere during a game of Calcio Storico is charged with excitement, sociability and team spirit, both on and off the pitch.
Ready to go show your support?
Going to the game? Then make sure to bring these outdoor essentials with you!