The acts and facts of Roman photographer Lorenzo Castore
Lorenzo Castore is kinetic and compulsive. Ever since he picked up a camera in 1992, Castore has been taking photos, diligently building up an archive that are more than images but are sweeping conversations on identity and space. An analogue photographer by passion and filmmaker, Castore has won a pantheon of awards including Leica European Publishers Award (2005), Camerimage International Film Festival (Best Short Documentary, 2012) and Mario Giacomelli Prize (2003), but it's Castore's relentless passion that keeps the shutter clicking.
"I had a strange path. I decided I wanted to be a specific kind of photographer, I didn't care about status. I wanted to try to create an identity. When you move a lot when you are a child, it frees your mind a bit but it's strange to understand where you belong."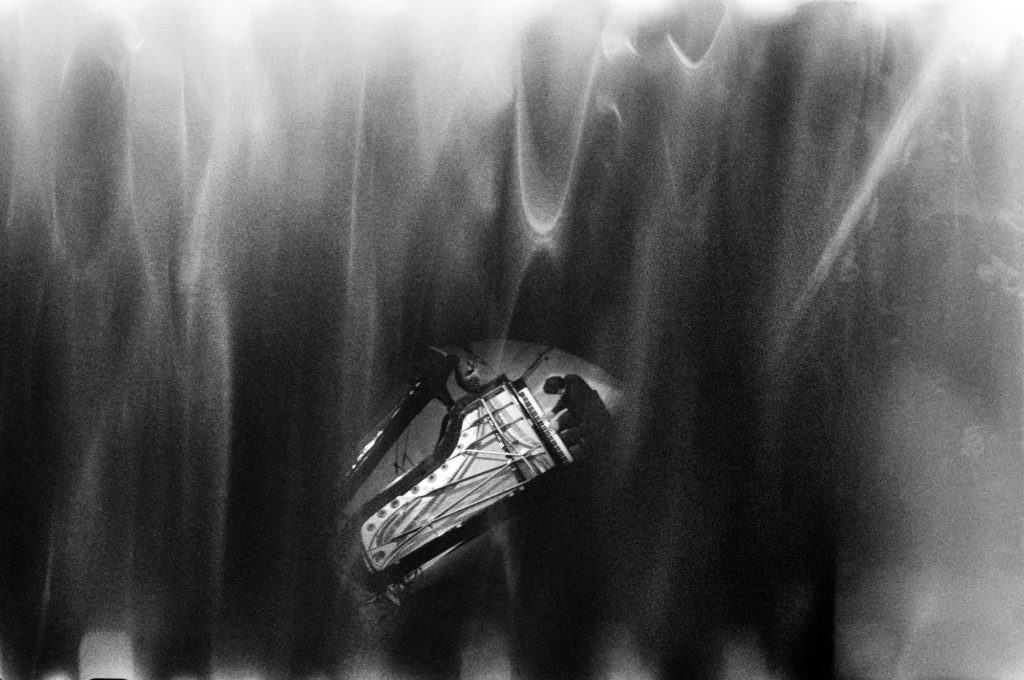 Castore is restless by nurture and nature. A bit of a boho background, Castore born in Florence in the early 1970s to a Florentine family with no patience for anything but tradition. Early on, his parents divorced and Castore lived with his mother to Otranto, Puglia in the Italian equivalent of Club Med and Florence, while catching up with his father in New York. Eventually, Castore would find himself in studying law in Rome, but a gap year in Manhattan while working as a PA in tv and film production found himself eschewing tradition and focusing on photography. Enlightenment happened when he saw a show by Czech photographer Joseph Koudelka. "I realized that I wanted to do this thing, something that shows not just reality, not just the facts but something you have inside, something much more complex. "
Castore's decades-long projects
Memory journey, mind palace, and puzzle is how Castore sees the world around him- intriguing puzzles that he has to keep piecing together in order to reveal the image. And it's not his life story but the story of life. In three decades, Castore had documented identity– people, places and situations. In Nero, Castore captures Carbonia, a coal-mining town in southwest Sardegna, built in 1938 during Fascist regime. "That industrial world of hard work and brotherhood vanished: the incredible strain daily requested was combined with a strong sense of identity", describes Castore who photographed the nearly forgotten town in black and white.
Ultimo Domicilio is Castore's memory palace in carne. A nine-year-project in the making Castore photographed seven homes, creating "family albums" that document the detriments of life lived – paintings hanging on walls, objects on bedside tables, and then the leftovers from when the homes are vacated.
"Places are witnesses of fragments of lives of individuals and families coming from different regions and stories that have nevertheless shared the course of History, cultural references, a common tradition and all the social consequences that times and historical facts have imprinted to the world we live in."
His series Ewa + Piotr follows an aged brother and sister through Castore's own photography, rescued family photos and a film created by Castore. "The story of a world in two rooms. Just a story."
His most ambitious and perhaps most Castore project is his own ongoing Book of Life, an encyclical volume of several books that document Castore's own identity through all of the photographs he has ever taken since 1994 and will continue to take for the rest of his life. "These photographs are my sentimental education, my battlefield, a source of warmth, the definition of a territory – not only geographically. These photographs are a jump in the unknown".
Starting with 1994-2001| A BEGINNING, each volume is a photographic autobiography bookended by life events, veritably boxing Castore into six books which he will continue to publish until his death. 2001-2007 | LONGING & LACKING, is due to be published in 2021.
Glitter Blues brings Castore back and back again to Catania's San Berillo where he documents a day in the life of what was once Europe's largest open brothel. Castore focused on the sensual nights of Havana in Paradiso, and it was his innovate use of colour that launched Castore globally.
W, Castore's latest project, was inspired by Thomas Mann's Death in Venice and loss, Castore's own personal relationship with the 2019 loss of his father. In June 2020, immediately post-lockdown, Castore returned to an empty Venice with dancer Alice Raffaeli to create a performance that will "translate to film (Super8), photography, performance and a book".
Compulsive, restless, and continuous, that is Castore.
"I bet on the thing that one day that people will recognise my work not for its form but for its energy."

Lorenzo Castore