Ischia has the oldest spa in the world
Burrowed in the small island of Ischia, located roughly 245 km from Rome, lies the oldest spa in the world. Yes, the oldest. Once a preferred destination of Ancient Greeks and Romans, Nitrodi, also known as Ninfe Nitrodi (Nymphs of Nitrodi), has been a wellness destination for more than two millennia. For thousands of years, Romans and Italians have journeyed to Ischia for both retreat and ritual.
Millennia of Therapeutic Healing
Taking the waters, in other words, harnessing the healing power of natural springs has been around for thousands of years. In ancient times, it was a great luxury. Natural hot springs, bursting through the earth, were often converted into public bath houses and the minerals, including the rather unpleasant smelling sulphur, were believed to provide pain relief, improve skin conditions and aid in healing other diseases and maladies. The Ancient Romans launched a cultural revolution in hydrothermal bathing, employing advanced technology and architectural fetes in their bathing approach. During the zenith of the Roman Empire, more than 960 public baths were made available to citizens in the city of Rome alone. Thanks to their ever-expanding geographical dominance, Ancient Romans soon discovered new hot spots all over the empire to experience true benessere (wellness).
Located in what is today the town of Buonopane, Nitrodiwas a preferred destination of Ancient Romans in search of healing and relaxation, but it's history has Greek origins. In fact, the isle is considered the oldest Greek settlement in the Western Mediterranean and the magical source of Ninfe Nitrodi was mentioned in classical Greek-Latin texts as far back as VIII BC, including those of Homer. The nymphs of Nitrodi were the keepers of these healing waters, with both Greeks and Romans paying homage to their spritely protectors through sacramental gifts. A temple to Apollo was built by the Greeks and local Ischian farmers uncovered ancient Roman marble reliefs in the mid-1700s further testifying to the sacred offerings. Today, those very reliefs can be found at the Archaeology Museum in Napoli.
The Rediscovery of Ischia's Restorative Waters
These pure restorative waters weren't always on the traveller's destination Hot List. Ischia remained a sleepy little-known island, the humble sister to flamboyant Capri, until the mid-20th century when publishing magnate and producer Angelo Rizzoli rolled into town with big ideas. Rizzoli envisioned building a multifaceted modern-day spa. Together with Professor Massimo Mancioli from Rome's La Sapienza university, they studied the curative springs of Nitrodi, proving what many had known for centuries: the waters were a distinct cure to many ailments including ulcers, gastritis, improving kidney function and clarifying skin. Much fanfare followed and Italians and international jetsetters flocked to the piccola isola (small island) to indulge in rejuvenating treatments and restorative holidays. The island soon entertained the likes of Brigitte Bardot, Elizabeth Taylor, Richard Burton, Charlie Chaplin, Sir Laurence Olivier, and Marlon Brando, along with many other luminaries, who frequented the curing springs and enjoyed all that the isoletta (little island) had to offer. Fast forward to the 21st century when Italy's Ministry of Health officially recognized Ischia's healing waters rich in natural hypothermic sulphate minerals.
Fonte delle Ninfe Nitrodi Today
Buonopane is a typical Ischitana hideaway, located in the hillside comune (borough) of Barano. From as early as March through October, seekers of soothing remedies come from all over Italy and the world to be invigorated by the nourishing baths and treatments available at the Fonte delle Ninfe Nitrodi spa. Its bucolic setting is unlike the others. Instead of multiple thermal pools, Fonte delle Niente is a series of hydrotherapy showers from the ancient natural spring with flowing pure water.
For many, the spa is an all day event. A typical day is spent taking in the waters, and many suggest also drinking the salutary water from the ever-flowing faucets to ensure maximum benefits. The spa complex houses a bio bar for wellness dining, an oasis where one can enjoy a relaxing sprawl beneath il sole mediterraneo (Mediterranean sun) letting all the water's healing properties sink in, and a bountiful garden offering many different healing plants, herbs and flowers which further adds to a guest's healing journey.
Since Antiquity, Ninfe Nitrodi has been famous for its therapeutic waters and wellness lifestyle. Fonte delle Ninfe Nitrodi taps into Ischia's natural healing properties and has packaged up wellness in a line of organic and biocompatible creams, soaps and oils rich in curative minerals.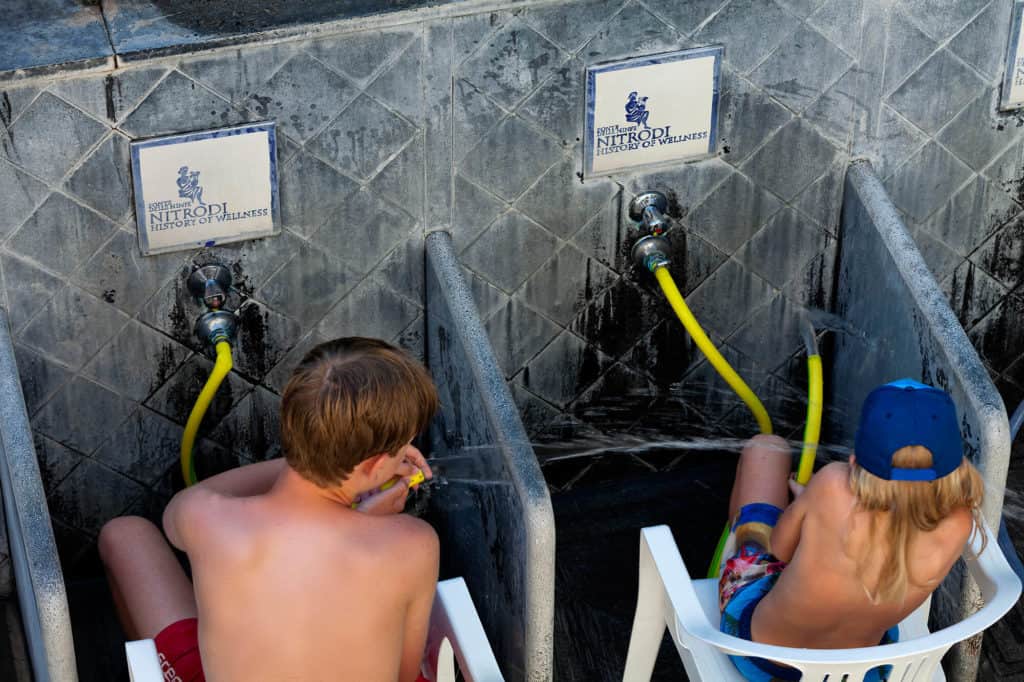 Restorative holidays in Ischia
Ischia is a wellness lifestyle and idyllic vacation spot, just as popular today as it was in antiquity. The isola verde offers travellers unbridled beauty from which to discover nature in perfect harmony. Along with the surrounding sea, which is a song to the soul, the island's abundantly lush gardens, rampant with fragrant lemon trees, rugged coastlines and secret woodlands continuously intrigue visitors. Visitors come to Ischia for days and even weeks for the ultimate recharge. Days are dedicated to wellness through formal and informal programs that include hours "taking the waters" (enjoying the variety of thermal experiences), nature walks, swimming experiences and healthy dining. Together with the healing springs located throughout the island getaway, Ischia is hard to beat as a wellness destination. We'll admit we are a bit partial to the isolotto verdissimo considering our beloved Mezzatorre and all the delicious spots where one can dine and muse.