A Journey through Art and Tradition
Discover Italy's ceramics through these five unmissable destinations
Italy's artistic prowess extends beyond canvases and sculptures; it's also found in its vibrant tradition of ceramic craftsmanship. Travel from north to south and you'll immediately see what we mean: Whether in Emilia-Romagna or Sicily, handmade ceramics dot homes and shops, beautiful boutiques and charming cafes.
You could almost map out a whole trip chasing the craft in the Bel Paese…And maybe you should?

Below, we've rounded-up five places where ceramics shine brightest. In each of them, ceramics aren't mere objects; they are living works of art that pay homage to the boot country's cultural legacy. Ready to explore?
Faenza: Majolica Masterpieces
Located in the heart of Emilia-Romagna, Faenza is a treasure trove of majolica ceramics. The city's signature "Faenza Majolica" is characterised by its dazzling hand-painted designs, often featuring cobalt blues and lush greens. Faenza has been perfecting this art for centuries – the origins of ceramic craftsmanship here trace back to the early centuries after 1000 AD – and the International Museum of Ceramics is a testament to the city's rich heritage, housing an extraordinary collection of artistic masterpieces.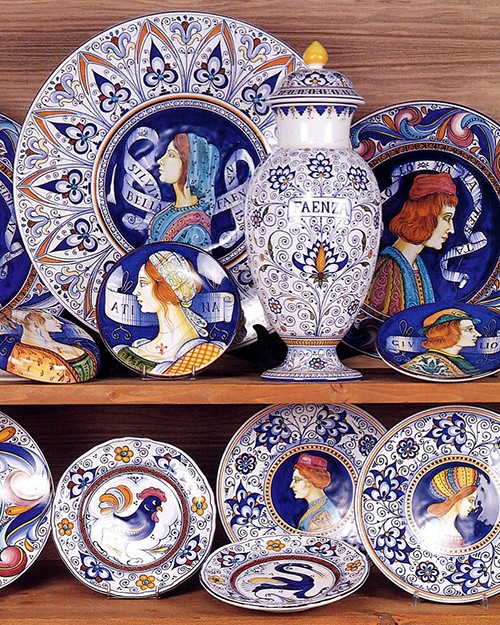 The art of ceramics in the Romagna territories. Credit to VisitRomagna
The remarkable array of colours and intricate decorations that make up much of the local style are influenced by Byzantine, Arab, and Eastern aesthetics dating back to the 15th century, although it wasn't until the early 16th century that Faenza's ceramics began featuring distinctive motifs like peacock-feather eyes, along with depictions of human figures (referred to as the "beautiful women" motif) and scenes from biblical and mythological tales. Then, in the latter half of the 16th century, the proliferation of Faenza's "white ceramics" solidified the city's status as one of Italy's ceramic capitals. This period marked the pinnacle of its technical mastery, with maiolica artisans crafting exquisite pieces that celebrated the elegance of simplicity, foregoing the bold experimentation with colours.
Grottaglie: Puglia''s Rustic Elegance
Ceramist at work. Apulia, Grottaglie Italy
In the sun-kissed region of Puglia, the town of Grottaglie boasts a ceramic tradition known for its earthy charm. Ever since the Middle Ages, the town's potters continue to create pieces adorned with warm, subdued glazes – think manganese brown, ochre, blue and yellowish-green – emphasising the region's rustic roots and seamlessly blending functional art and understated, authentic allure, so that each piece is eminently collectable.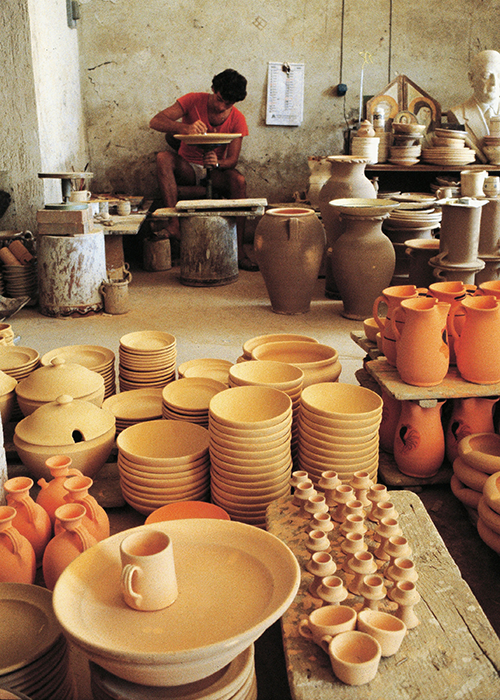 Puglia Ceramics Crafts. Grottaglie
Grottaglie is considered the region's capital of ceramics, and you could easily spend an entire day exploring it, walking in and out of its many workshops, admiring artisans at work, and purchasing anything from bowls to vases to your heart's content.
Deruta: Majestic Renaissance Charm
Perched in the Umbrian hills, Deruta is famed for its intricate ceramics adorned with Renaissance-inspired patterns. The town has been at it since the Middle Ages, thanks largely to the superb quality and the bountiful supply of the local clay, which lured ceramic artisans from the neighbouring regions.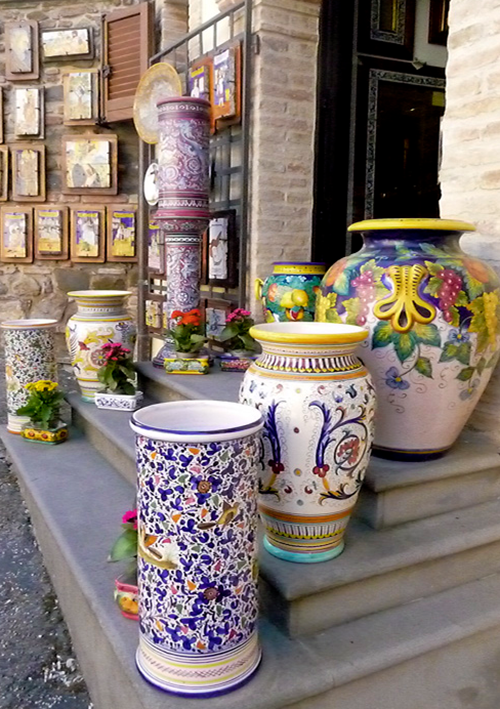 Deruda ceramics adorned with renaissance-inspired patterns
Given its central location and the close proximity to the epicentres of Renaissance artistry and craftsmanship, Deruta emerged as an ideal canvas for artists with a passion for ceramics and, in the late 15th to the early 16th century, bloomed into a centre for maiolicas, which are now esteemed by prestigious art institutions and collectors worldwide.
The quintessential Deruta style spans vivid hues of blue, yellow, and orange glaze next to sinuous, snake-like handles, intricate feet, and scalloped rims, adding an extra layer of elegance and sophistication.
Vietri sul Mare: Vibrant Coastal Beauty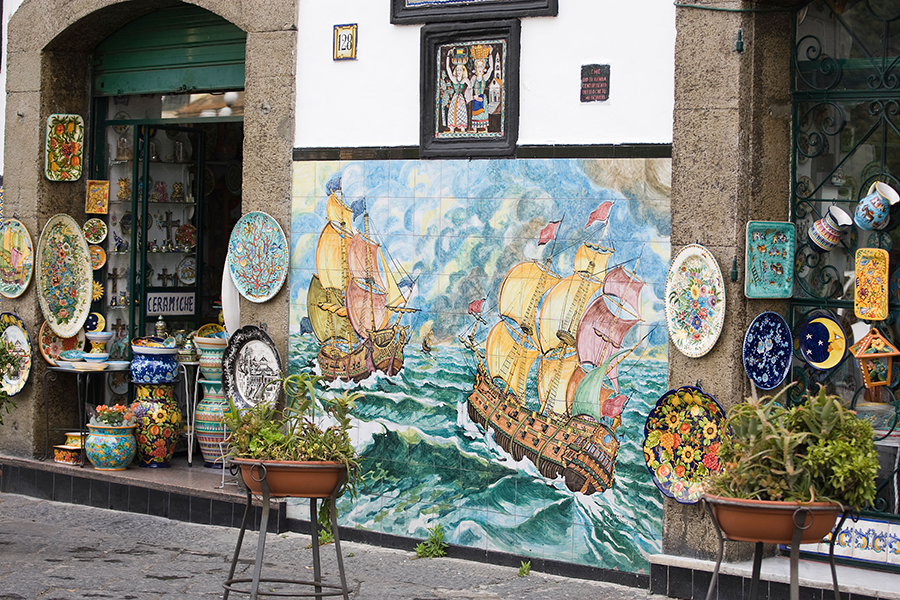 Hand-painted vases and tiles. Vietri sul mare, Amalfi coast.
On the enchanting Amalfi Coast, Vietri sul Mare stands out as a vibrant hub of ceramic artistry. Vietri's artisans have been capturing the essence of coastal living in their pottery for more than five centuries, from lively plates and vases to hand-painted tiles that radiate the charm of the Mediterranean.
The town became especially famous in the 16th and 17th centuries, when locally produced majolica became fashionable among Naples' aristocracy. In the following centuries, Vietri underwent a remarkable transformation, evolving from a tranquil fishing village into a bustling hub of artisanal activity. The skilled craftsmen of Vietri honed their expertise in creating ceramic holy water fonts, votive tiles, and expansive ceramic portrayals of saints and religious narratives. These exquisite pieces adorned the churches along the coast and the "edicole," small public shrines found in city streets or adorning the facades of private palaces. Today, you'll find pottery made of vibrant hues, sea-themed motifs, and exceptional craftsmanship.
Castelli: Fine Art in Porcelain
Castelli. Porcelain Ceramics. Credit to Italiasweetitalia
Nestled high in the Apennine Mountains of Abruzzo, Castelli is famous for its exquisite porcelain ceramics. Back in the days, the town was especially known and appreciated by European nobility for its majolica, vibrant decorations, and affordability of the products – something some of Italy's most important nobles such as the Orsini, Farnese and Aragona families especially loved, commissioning countless pieces from the quaint village. Visit today, and you'll find less nobility but way more shops and studios selling the majolica ware, which often features pastoral and bucolic scenes next to iconic images of astrological or religious nature and landscapes on plates, tiles, vases and cups.