World Pasta Day is being celebrated all over the world on October 25, a day entirely dedicated not only to one of the most iconic symbols of Made in Italy, but also to the food that, more than any other, captures the warmth and conviviality Italy is known for.
Pasta, as you know, is a quintessential part of the Italian DNA. It's been a culinary staple for centuries, the undiscussed protagonist at the table all around the boot-shaped country, a humble food able to reinvent itself countless times, with countless sauces and and infinite combinations, from the modest to ultra-refined.
Fresh, dry, egg-based or made with just water and flour; durum wheat, whole wheat, bronze-drawn, long, short or ribbed (there are over 300 types of pasta in existence!): To talk about pasta is to talk about Italy, its culture, history and regional diversity.
And then there's the strong emotional component that binds it to the fondest memories of our childhood, to our mothers and grandmothers, and to traditions passed down from one generation to the next.
To celebrate it all, we thought we'd ask our Chefs at Hotel Il Pellicano, Mezzatorre and La Posta Vecchia to share three recipes they especially love, which of course you'll find on their menus.
Simple, packed with flavours and always delicious, each one reflects the excellences of the territories our properties are in – think ingredients like tomatoes, cheese, fresh fish and fragrant basil – and encapsulates the versatility of pasta.
Take note, shop our pastas, and get cooking!
Hotel Il Pellicano's Chef Michelino Gioia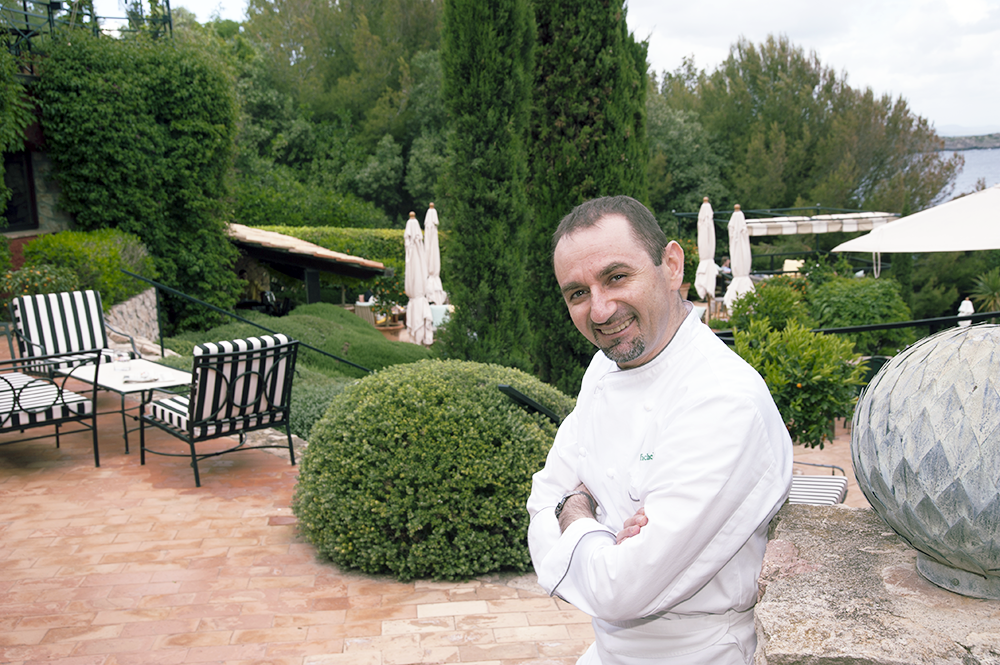 Linguini al pomodoro bruschettato e salsa di mare e triglia
Linguini with toasted tomato, seafood sauce and mullet
400 grams linguini

For the tomato sauce
500 grams cherry tomatoes
50 grams toasted bread
5 grams fresh parsley
50 grams fresh basil, stems included
A generous glug of extra virgin olive oil
200 grams ice
1 Garlic clove
For the seafood sauce
180 grams prawns
50 grams mussels
200 grams pink shrimp
200 grams clams
70 grams squid
90 grams cuttlefish
To finish
400 grams striped mullet fillets
200 grams small date tomatoes
A bunch of basil leaves
200 ml extra virgin olive oil
A bunch of fresh tarragon
Linguini with toasted tomato, seafood sauce and mullet
1.  First up, have all the ingredients ready.
2.  Clean and wash the fresh tomatoes, dry them with kitchen paper and cut them however you like. This will give a play of textures to the dish.
3.  Wet the 4 friselle lightly with water, keeping in mind that the tomato seasoning and water will also work on flavouring them.
4.  Lay them on the plate and dress them with the caponata, mixing the tomatoes and making a nice play of colours with oregano, basil, salt and oil.
5.  Season a few minutes before serving so that everything is well flavoured.
6.  Complete the dish by adding buffalo mozzarella, anchovies and basil leaves.
7.  Serve
Mezzatorre's Chef Giuseppe D'abundo
Pennoni ai quattro pomodori
Four tomatoes pennoni
320 grams pennoni pasta "Pastificio dei campi "
200-300 grams cherry tomatoes
200-300 grams yellow date tomatoes
200-300 grams red date tomatoes
200-300 grams red tomatoes
One clove Italian garlic
100 ml extra virgin olive oil
One bundle of fresh basil
Salt to taste
250 grams stracciatella di burrata (the inner part of burrata)
1. Boil the water for the pasta in a large pot. Meanwhile, clean and wash all the tomatoes and cut them into four slices each. Set aside.
2.  Clean and wash the basil and, on a kitchen paper towel, place the leaves and sprouts which you'll later use to garnish the dish.
3.  Start preparing the tomato sauce. In a pan large enough to hold four portions of pennoni, pour a generous guggle of extra virgin olive oil with a clove of crushed garlic, which you will remove as soon as browned. Now add all the chopped tomatoes and a ladle of cooking water from the pasta pot.
4.  Cook the tomatoes over low heat, crushing them with the help of a spoon to make the sauce creamy. Add a pinch of salt and set aside.
5.  Time to make the pasta. Cook according to instructions, then place it in the pan with the tomatoes to toss it with the sauce.
6.  Add a drizzle of olive oil to give creaminess, grated parmesan cheese and fresh basil.
7.  Serve in a bowl and add the burrata stracciatella, basil sprouts and leaves. Buon appetito!
La Posta Vecchia's Antonio Magliulo
Tagliolini, burro, zafferano, limone e caviale italiano
Tagliolini with butter, saffron, lemon and Italian caviar
400 grams egg tagliolini
200 grams high quality butter
40 grams Italian caviar
1 gram saffron pistils
Zest and juice of one lemon
Tagliolini with butter, saffron, lemon and Italian caviar
1. Cook the tagliolini in plenty of salted water for 4 minutes.
2. In a bowl, put the butter, saffron pistils, lemon zest and juice and a few tablespoons of the pasta cooking water, and mix to create a creamy mixture.
3. Drain the pasta and, with the help of a fork, toss into the bowl to coat.
4. Serve and garnish with the caviar.