Why Italian Embroidery is the Best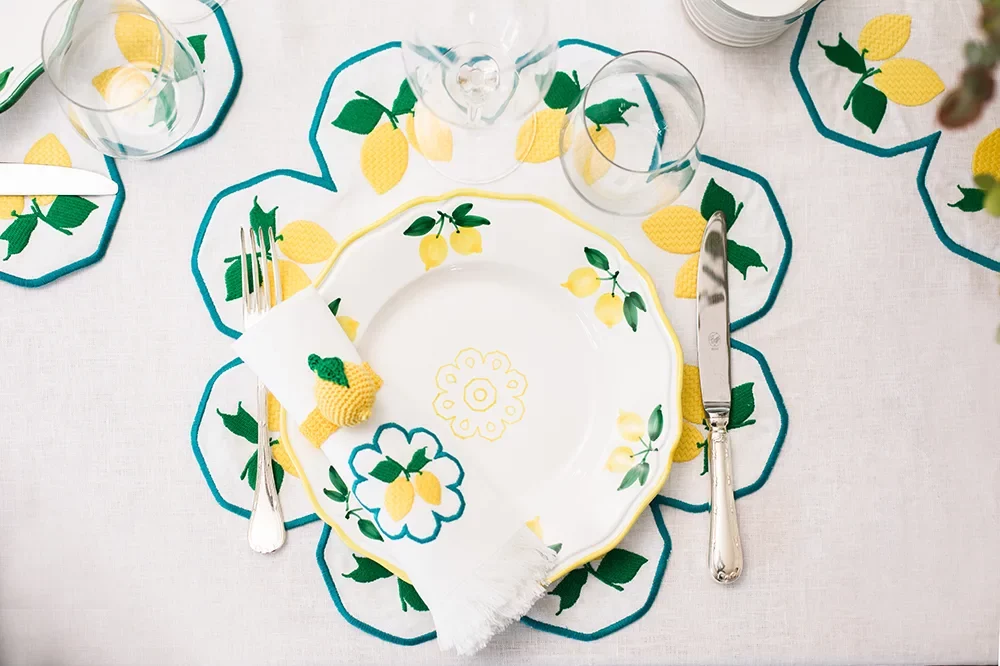 Charting the history of Italian ricamo
The art of embroidery, known as ricamo in Italian, has long held a cherished place in the cultural fabric of Italy.
From the intricate stitching of delicate threads to the creation of breath-taking designs, the craft has woven its way into the hearts and homes of countless Italians throughout the centuries, becoming a tradition passed down from generation to generation.
Ask any of your Italian friends, and chances are they'll all have memories of their nonna putting out beautifully stitched tovaglie (tablecloths) for Sunday lunch; or showing off daintily hand-embroidered napkins, placemats or centrepieces to celebrate any big event, from christenings to first communions.
Today, a crop of artisans and bespoke brands continue to honour the legacy of ricamo by creating their products the way it's been done for centuries. Cibelle, an Apulian venture we've recently come across and fallen hard for, is a case in point.
Founded by young creative and craftswoman Raffaella Gemiti as a response to her need to "embrace the beauty of living with the simplicity of raw materials," the label – whose name is a combination of the words Ci and Belle, "how beautiful" in Apulian dialect – creates fresh, quietly sophisticated ricami 100% made in Italy, using premium linen and the most classic of techniques.
With patterns often depicting nature themes such as blooms and lemons, as well as Puglia's trulli and other symbols, each of Cibelle's design is an ode to the colours and atmosphere of the Mediterranean, and a showcase of artful, humble creativity.
You can explore the collection below – but before that, here's a little deep dive into the history of ricamo in Italy.
Skilled artisans and intricate patterns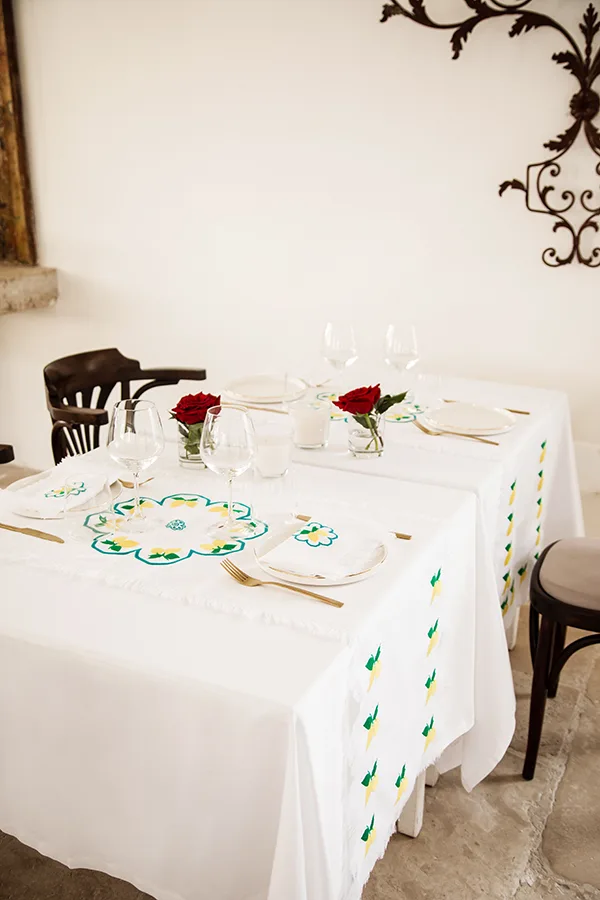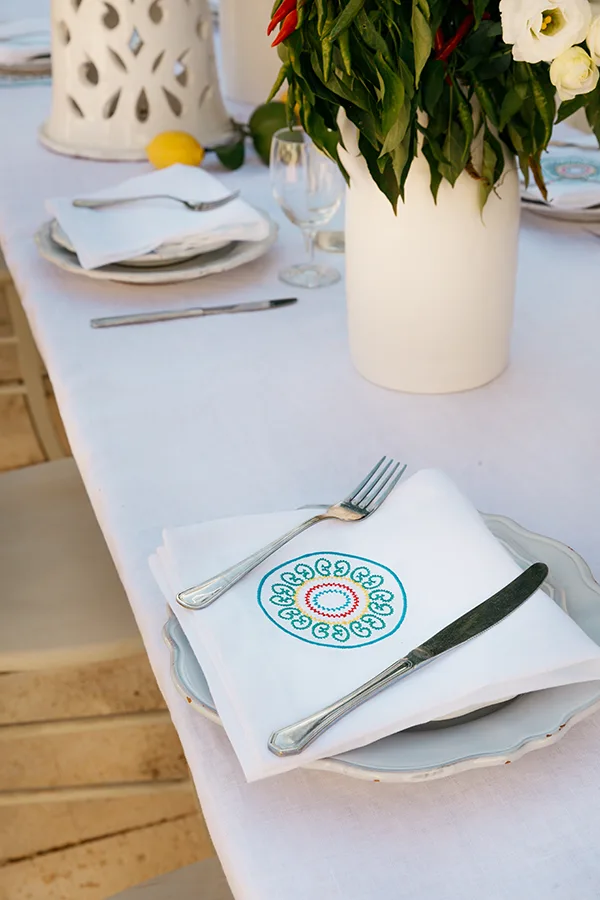 The roots of Italian embroidery stretch far back into history, tracing their origins to the skilled hands of artisans who meticulously adorned garments and textiles with their vibrant threads. The Etruscans, an ancient civilization that thrived in what is now modern-day Italy, wove enchanting narratives through their needlework. Through the use of vibrant palettes and intricate patterns, they captured the essence of their daily lives, their mythology, and their aspirations.
As the centuries passed, embroidery techniques evolved, shaped by the influences of different cultures and historical periods. The Middle Ages saw a flourishing of embroidery throughout Italy, with monasteries and convents serving as sanctuaries for this cherished craft. Nuns and monks devoted themselves to mastering the art, their stitches infused with a sense of devotion and spirituality.
The Renaissance marked a pinnacle in Italian embroidery, as the courts of powerful city-states like Florence, Venice, and Milan became patrons of the arts. Opulent textiles embellished with exquisite embroidery adorned the halls of palaces and the garments of the elite. The Medici family, renowned for their patronage of the arts, supported the production of lavish embroidered textiles, which became coveted symbols of status and wealth.
From the Baroque and Rococo periods to the neoclassical era, embroidery reflected the prevailing artistic trends of each era, adapting to changing tastes while maintaining its exquisite craftsmanship.
In the 20th century, the tradition entered the households of families everywhere in the Bel Paese, as a result of increased interest in classic crafts. Artisans sought to preserve and revive ancient techniques, and embroidery became a symbol of heritage and cultural identity. Today, Italian embroidery is celebrated worldwide for its timeless beauty, masterful technique, and the enduring legacy of a rich artistic tradition.
A language of storytelling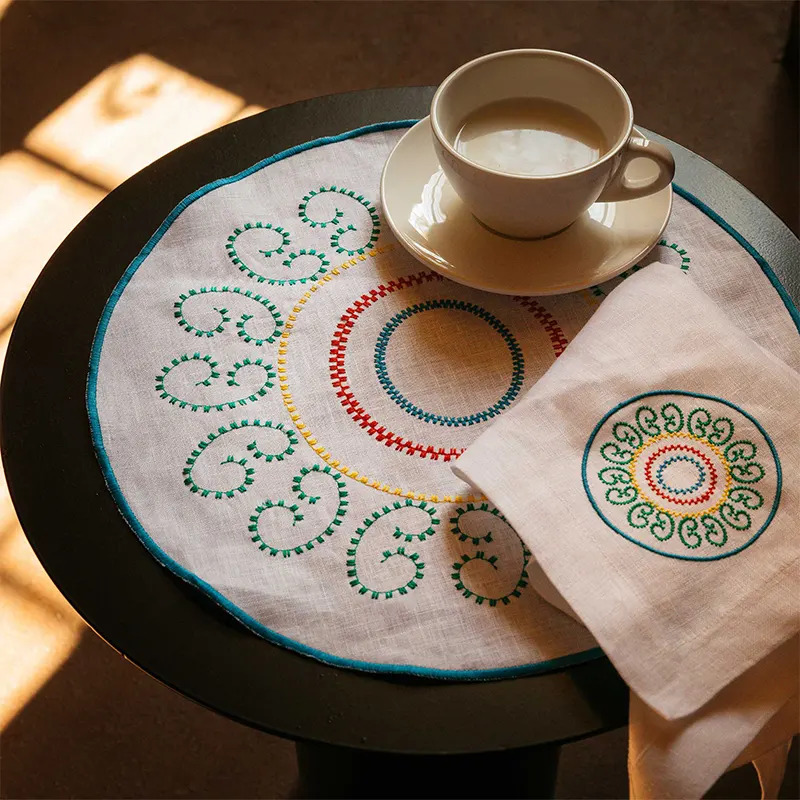 Italian embroidery techniques are renowned for their precision and attention to detail. The delicate stitches are often executed with a finesse that is unmatched, creating breathtakingly intricate designs. One of the most iconic methods is the "punto antico" or "reticella," characterised by its geometric patterns and meticulous needlework. This technique requires exceptional skill and patience, as the artisan carefully weaves threads together to form complex motifs.
But the craft goes beyond mere decoration. It is a language of storytelling. Each design holds a narrative, reflecting the cultural heritage and personal experiences of the embroiderer. To that end, from rural landscapes to religious iconography, from folkloric tales to historical events, the motifs embroidered on fabrics speak volumes about the rich tapestry of Italian life.
Throughout history, embroidery has also played a significant role in the preservation of tradition and the passing down of family legacies. For the longest time, Italian mothers have taught their daughters the art of embroidery, passing on techniques and patterns that have been handed down for generations. For many Italian women, the act of embroidering has been a way of connecting with one's ancestors — a tangible link to the past that keeps the flame of tradition alive.
In modern-day Italy, the tradition of embroidery continues to thrive. While it may have lost some of its practical applications, such as mending and embellishing clothing, it has found a new home in the realm of art and design. Contemporary Italian artisans combine traditional techniques with innovative materials and concepts, creating works that are both rooted in tradition and forward-looking – just like Cibelle.