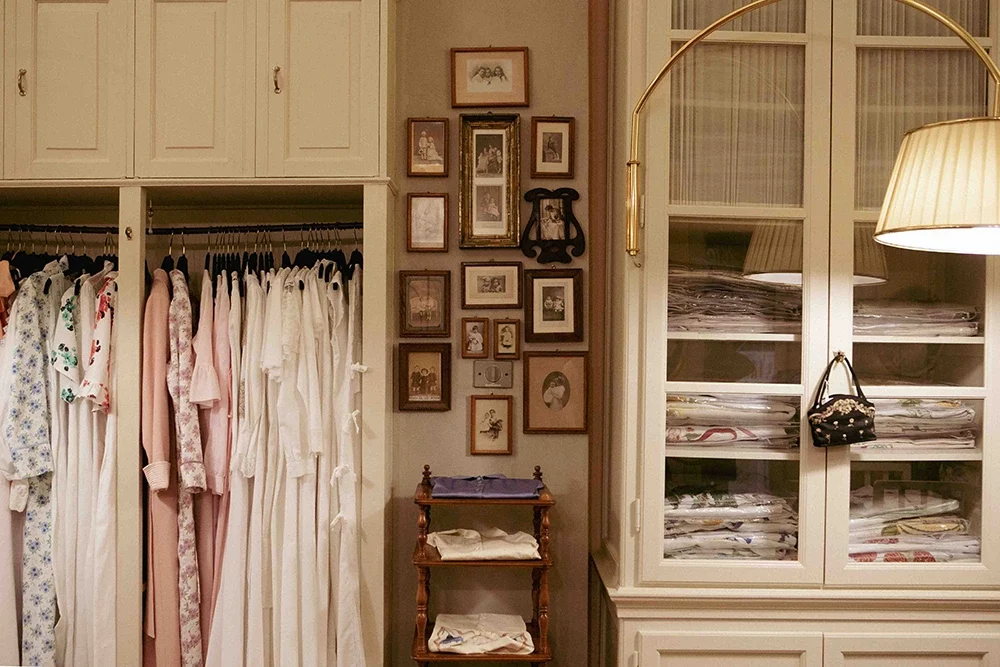 To tastemakers in Italy and abroad, Loretta Caponi needs little introduction. Often referred to as "the epitome of embroidery," the brand has been a household name in the Bel Paese since the end of the 1960s, when the eponymous late founder Loretta first opened her workshop in the Florence neighbourhood of Ognissanti, selling undergarments and home linens she crafted by hand.
Loretta had actually started working as a seamstress and embroiderer two decades earlier, when she was only a young girl, delivering her first commissioned piece at 14. By the time she launched her business, she'd gained a reputation for her exquisite sensibility, refined precision, and house-wear that was ahead of the curve for the aesthetics of the time, thanks to intricate laces and revolutionary silhouettes.
Soon enough, those details caught the attention of the international jet-set. Personalities like Jane Fonda and Lady Diana became fans of her nightgowns, subtle lingerie and crisp home linens, helping bring the Loretta Caponi name into the homes of Hollywood celebs and European royals alike. 
The shop moved to a bigger place just behind its current iteration in Via delle Belle Donne in Florence (do go if you're in town), and, up until her passing in 2015, Loretta came to represent the symbol of Florentine artistic craftsmanship.
Today, that role has been taken over by her daughter Lucia, who continues making the stunning creations Loretta Caponi is synonymous with; and her grandson Guido, the brand's COO, who introduced a prêt-a-porter line in 2017, bridging the world of embroidery and fashion in a series of beautiful, joyful, precious collections.
To mark the launch of the latest on ISSIMO – a gorgeous Resort Collection that begs to be slipped into your luggage for your upcoming sunny travels – we sat down with Guido to chat about the brand, the family business, and his iconic grandma.
Tell us a bit about your grandmother. How was she as an artist and creative?
Imaginative, ambitious and passionate. The nightgown she first became famous for – which today is called the Loretta – was completely different from what was standard at the time, for example. While most undergarments were in pastel colours and synthetic fibres, she chose prints, natural textile, and embroideries on the sleeves and neck – all choices that were out of the ordinary and seeped into the spirit of the brand. She wasn't afraid to try new things. She also always had a keen eye for details. I think that's why so many extraordinary customers have kept coming back over the years.
Eventually I decided to move back to Abruzzo, where I am from, and spend some time in Castelli [a village famous for its ceramics] to learn from local masters and artisans. It was supposed to be a side project, until the pandemic hit, and I embraced the art full-time.
What's the technique that most represents the brand?
Among the embroidery techniques used in the embroidery workshop, I would say the punto catenella (chain stitch) of nineteenth-century origin. It allows you to create colour blends in a single tablecloth or garment.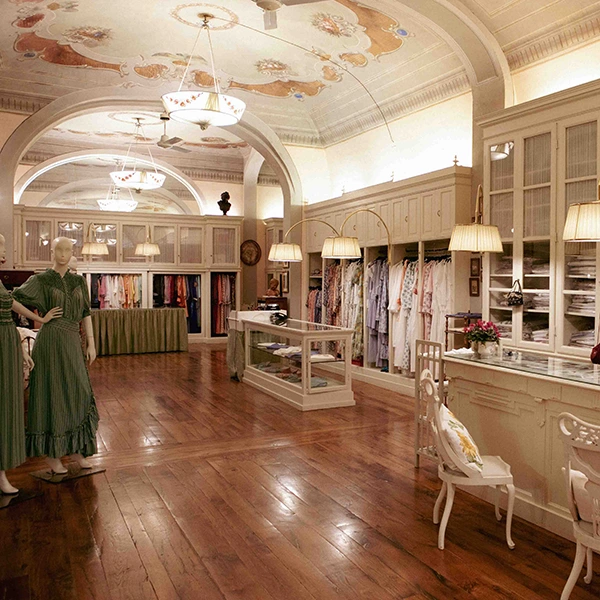 What was the choice behind launching the ready-to-wear line?
I think it felt like a natural extension of the label. Loretta Caponi was doing loungewear way before it became fashionable – pyjamas, robes and flowy nighties that many of our clients would wear outside. We thought it would make sense to expand that world with a collection of easy separates and dresses that could serve as everyday staples, but with the Loretta Caponi signature styling, craftsmanship and prints – our own take on country chic. It's been a way to move forward while still very much honouring our past.
How does it feel to be the third generation working for Loretta Caponi?
I don't think of it as a brand as much as a bottega di famiglia (family workshop). We are a small, family-run business that, in some ways, hasn't changed much since its inception. We follow the same traditions and techniques of my grandma's and cherish the same artisanship. To me, Loretta Caponi is family. 
How would you describe the Resort Collection?
Where do you take inspiration for the prints and motifs of each garment and table-wear?
We have a huge archive of prints and textiles from the 19th century up until the 1990s from all over Europe, so all our creations are often inspired by that.
What would you say Loretta Caponi shares with ISSIMO?
So much. We both have a deep love for excellence, Italianità, and creative playfulness. Loretta Caponi produces everything within an 80km distance from Florence, working only with small ventures that we've known for decades, and making a point to support made in Italy. In many ways, ISSIMO has a similar philosophy: to showcase local talent, curiosities and design objects that have a sense of place, and a strong identity. We couldn't be happier to work together.