That Italians know how to look the part whatever the occasion is an established fact. If we can humbly say, we understand how to mix and match, love experimenting with fashion, and generally almost always succeed in pulling off great outfits.
While that's true for most of the year, summer might be the season we excel at the most. Take a stroll down Rome's meandering alleyways on a hot July afternoon, and you'll see stylish older ladies in breezy, billowy linen dresses, walking the sanpietrini (cobbled pavement) in heels as if it was the easiest thing in the world.
Head to the beach – possibly near Il Pellicano, La Posta Vecchia and Mezzatorre – and you'll likely spot women or girls looking confident in their colourful one-piece swimsuits, straw hats and maximalist palazzo pants, paired with black sunnies and a pair of sleek mules (though Birkenstocks work, too). Sit down for aperitivo by the sea, and chic, well-dressed patrons in easy separates and gorgeous handbags will be all around you (that includes men, too).
The Italian summer look is a thing – and the epitome of carefree living associated with holidays, travel, and impeccable Italianità.
The first examples of it date back to the post WWII period, when the concept of vacation really started taking off (before that, recreational trips were something only the elites would take).
As Italians began making beelines for stabilimenti balneari (beach establishments), anyone from wealthy actresses to stay-at-home mums developed a penchant for shorts (but not too short!) and sundresses, light jackets and chambray skirts – versatile garments to travel light, without compromising on style. After years of hardships brought by the war, those garbs were all about bright colours and floral prints, more fitted silhouettes, and a touch of frivolousness. In other words: they were fun. 
Then came the 1960s, and with them the country's economic boom and opening to the rest of the world. The decade of Elio Fiorucci, Laura Biagiotti and Emilio Pucci brought with it lightweight dresses and out-there patterns, alongside more daring swimsuits and even the first bikinis – although worn, more often than not, by American women coming to spend their holidays here. The two-piece wouldn't be widely adopted in Italy until the early '70s.
Those were the years of Fellini's "La Dolce Vita" and the arrival of the jukebox, of Italian classics like Gino Paoli's "Sapore di Sale" and a greater independence among women, who would wear flared, casual dresses and pleated skirts of varying lengths with Supergas.
The influx of international travellers contributed to the evolution of the summer wardrobe, as well. As American style seeped through cinema, music and TV, so it did in fashion. Hems got shorter, pants became more common, and scarves tied around the neck turned into must-have accessories, in a nod to Hollywood glamour.
Jacqueline Kennedy, in particular, gave the Italian holiday style a new face. Images of the then First Wife wandering the narrow lanes of Capri – of which she was a frequent visitor – in ankle-skimming cigarette trousers (Capri pants), huge sunglasses and handmade leather sandals became synonymous with Italian summer and influenced generations – at least for a while.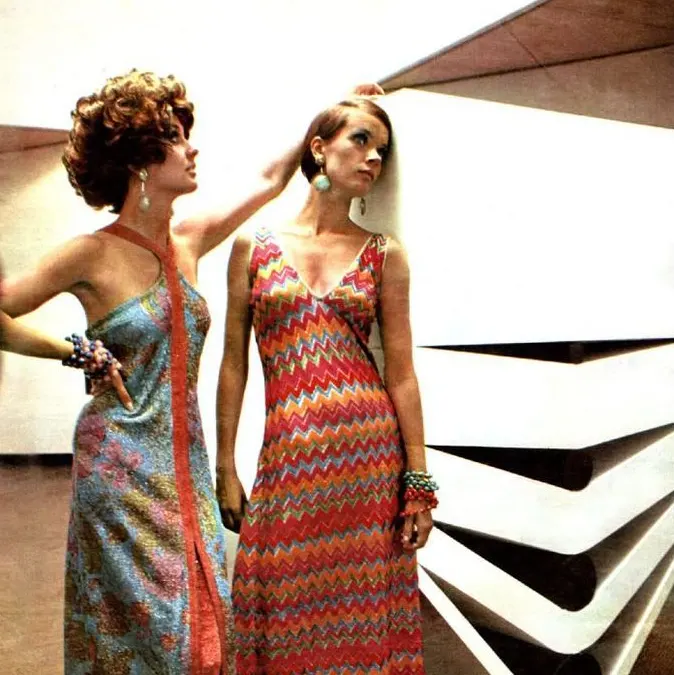 In the '70s, as the pacifist movement took over the Western world, the ladylike closet was replaced by the boho look across Italian shores. Holiday outfits during those years were made of flared jeans and tie-dye t-shirts, embroidered dresses and breezy blouses. Caftans, too, began having their moment – as did bikinis, which started to be seen everywhere on Italian beaches, preferably as crafty crochet or cotton sets (Missoni played a huge role in that).
The '80s, '90s and early 2000s played off that aesthetic. Summer outfits were made of bold, over the top prints – courtesy of Versace – and Bermuda shorts worn with kitten heels; high-waisted shorts and barely-there beach cover-ups. Tomboy ensembles – lived-in T-shirts, Birkenstocks and hotpants – found their glory as well.
Which brings us to today. In the 21st century, the Italian summer look has been drawing from its eclectic past, blending caftans – always a good idea – with Capri-influenced leather sandals, flared dresses with Supergas, big sunglasses with the right amount of bohemian jewellery and maybe a wicker bag. 
Comfort is at the root of it all, together with the desire to keep things surprising, fresh, and always joyful. After all, that's what summer is for, right?