It's time to roll the dice, pass GO and let ISSIMO guide you on a bespoke journey as we combine ItalianISSIMO insider tips with your most-loved board game. With a passion to share the very best that Italy has to offer, we have earmarked iconic locations on a
completely customized version of Monopoly
. Stylishly navigate the board in a
Maserati Levante Hybrid
as you
d
iscover our top tips and embark on your journey. 
We're highlighting a few of the bellISSIMO design destinations, chicISSIMO heritage artisans, coltISSIMO sites and buonISSIMO restaurants you'll unearth along the way.
Andiamo!
Let's go.
Northern Italy: Valle d'Aosta, Piemonte, Liguria, Lombardia, Emilia-Romagna, Veneto, Friuli-Venezia Giulia and Trentino-Alto Adige.
Venezia in the north, photo by Ryan Neeven.
Beginning in the Northern regions, you'll quickly discover the diversity that Italy has to offer. From the Lake District to the Dolomiti mountains, the picturesque Cinque Terre and the Veneto, these are regions defined by literal peaks and valleys. You'll hear German spoken, taste the famed nocciola of Torino, encounter the Floating City of Venice and so much more. Here are but a few of our favourite road trip stops in the North: 
BellISSIMO: For more than a century Bonacina 1889 has been crafting artisanal furniture in Milan, Lombardia, connecting the heritage of Italian design with contemporary style. 
BuonISSIMO: Head to Do Mori in the Veneto and be sure to order the cicchetti. This has been a local Venetian hangout since 1462! 
ChicISSIMO: For outstandingly stylish eyewear, look no further than LGR. Every pair is handcrafted in Italy and every road trip requires a chicISSIMO pair of sunglasses!
ItalianISSIMO: In Liguria you'll discover Abbazia di San Fruttuoso, a breathtaking seaside abbey. Swim out from the shore and gaze back for one of the most incredible views you'll have at sea!
Central Italy: Toscana, Umbria, Marche and Lazio.
Exploring craft and culture in Tuscany
We could spend an age debating whether Tuscany's Cypress trees or Lazio's pines are more iconic but we can agree that the beauty and history of Central Italy is unparalleled. Theses regions comprise rolling hills and coastal counties, medieval towns and ancient civilizations. From Florence's Ponte Vecchio to the green heart of Umbria and the city state of Vatican City, immerse yourself in Central Italy with these picks:
BellISSIMO: Your chance to purchase a piece of design history lies in Via dei Fossi. In Firenze, Toscana you can browse the street full of antique shops to find spectacular pieces. 
BuonISSIMO: A road trip through Toscana isn't complete without a wine tasting and at Agriturismo e Cantina Emidio Pepe you'll have your pick from a cellar with 350, 000 bottles! Sample the best of Tuscan fare at Siena's Osteria le Logge and then cross the regional border into Lazio to contrast the local flavours with the traditional Roman pastas at the historic Trattoria da Enzo al 29. 
ChicISSIMO: Shopping in Rome is all about taking tradition and Italian craftsmanship and updating it for contemporary closets. Our favourite locations for wardrobe staples include Giuliva Heritage, Battistoni,  Atelier Bomba. 
ColtISSIMO: After miles of magnificent exploration throughout Toscana, indulge in Il Dolce Far Niente at Hotel Il Pellicano. Then as you continue south, rest from the road in our historic La Posta Vecchia palazzo, hovering over the sea only 35 minutes outside of the capital city of Rome in Lazio. 
ItalianISSIMO: Explore the psychedelic architectural complex of La Scarzuola in Umbria. The 13th Century convent that housed St Francis of Asissi was transformed in 1957 by architect Tomaso Buzzi.
Southern Italy: Abruzzo, Basilicata, Calabria, Campania, Molise, Puglia, Sicilia and Sardegna
Bella Napoli, on the way to our road trip stops in Campania
There is no shortage of wonders in the South. Your road trip route may wind past the Reggia (Palace) di Caserta all the way to the Trulli of Alberobello. Stop along the way to enjoy the Amalfi Coast, the majesty of volcanic Pompeii and experience the otherworldly Sassi di Matera. Ferries will transport you (and your vehicle!) to the Italian islands of Sicilia and Sardegna to experience even more of the incredible beaches, sites and cuisine of Italy. Here are some of our Southern jewels:
BellISSIMO:
In a country famed for its tradition of hand-painted ceramics,
ceramiche Francesco Di Maio
is an ISSIMO favourite! Six centuries of craftsmanship rest in the fingertips of the masters in Campania. 
BuonISSIMO
: After shopping in Salerno, take the short trip to Amalfi where one of the country's most heralded restaurants resides. The freshest seafood, experty prepared, awaits you at
Ristorante Lo Scoglio.
ChicISSIMO:
In the province of Puglia the bohemian
Tulsi Shop
specializes in garments that feature natural dyes and handloom weaving; perfectly chic styles for a road trip down the Salento Peninsula!
ColtISSIMO:
The ferry from Naples will deliver you to Ischia and
Mezzatorre Hotel and Spa
where you'll dive into a private cove and thermal pools!
ItalianISSIMO:
On the island of Sicilia your road trip winds upwards towards
Cretto di Burri
. The monumental art installation by Alberto Burri marks the city plan of the  hillside town of Gibellina as it was before an earthquake demolished it.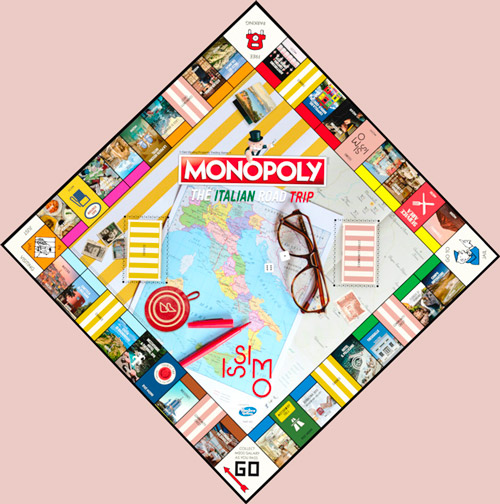 ISSIMO Monopoly also includes a bespoke map and link providing an even more extensive insider's guide to our favourite road trip pit stops throughout il bel paese  (which you can add directly to Google Maps.)