Want to celebrate the holidays like an Italian? Here's all you need to know
Christmas is a serious affair in Italy. There are never ending meals to be had, traditions that change from region to region, lots of food – and we mean LOTS – and a big focus on family time.
The festivities aren't just limited to Christmas Eve and Christmas Day. From the start of December till the ringing of the new year, there are merrymaking occasions pretty much every other day – and specific rules to be followed if you want to celebrate it right.
Rules, you ask? But of course. Italians love their customs, folklore and time-honoured habits, and that applies to the sparkiest of seasons, too.
Whether you're planning to spend it in the Bel Paese or simply like to bring a little Italianità
to your very own revelry, here's all you need to know to do Christmas like an Italian.
Put your Christmas tree up on December 8. That's the day Italians celebrate – or used to – the conception of the Virgin Mary (it's actually a public holiday still), and it marks the official countdown to the big festivities. Families get together to start decorating their Christmas trees – best if with some fun, sparkling baubles.
Visit at least one presepe display. Presepi, aka nativity scenes, are a major deal in the boot-shaped country – particularly in the south – and on the run-up to Christmas they are carefully set up all over Italy, from private homes to chapels, churches, and squares.
Regardless of your religious inclinations (or lack thereof), some are true sights to behold, and make for a pretty interesting dive into Italian culture and craftsmanship. There's lots of variety too, from tiny figurines of the main Nativity characters to human-size showcases featuring elaborate set designs.
Have a feast on Christmas Eve. Italians consider December 24 – la Vigilia – as important as the following day, and celebrate accordingly with their families over a long, multi-course meal that often goes on until midnight (some open their presents then, others wait for Santa's arrival in the morning).
WORD TO THE WISE: if you're putting together a Vigilia dinner, make sure it's exclusively fish based. No meat is allowed on the table on the 24 – a custom stemming from the Roman Catholic tradition of abstaining from eating meat on the eve of a feast day.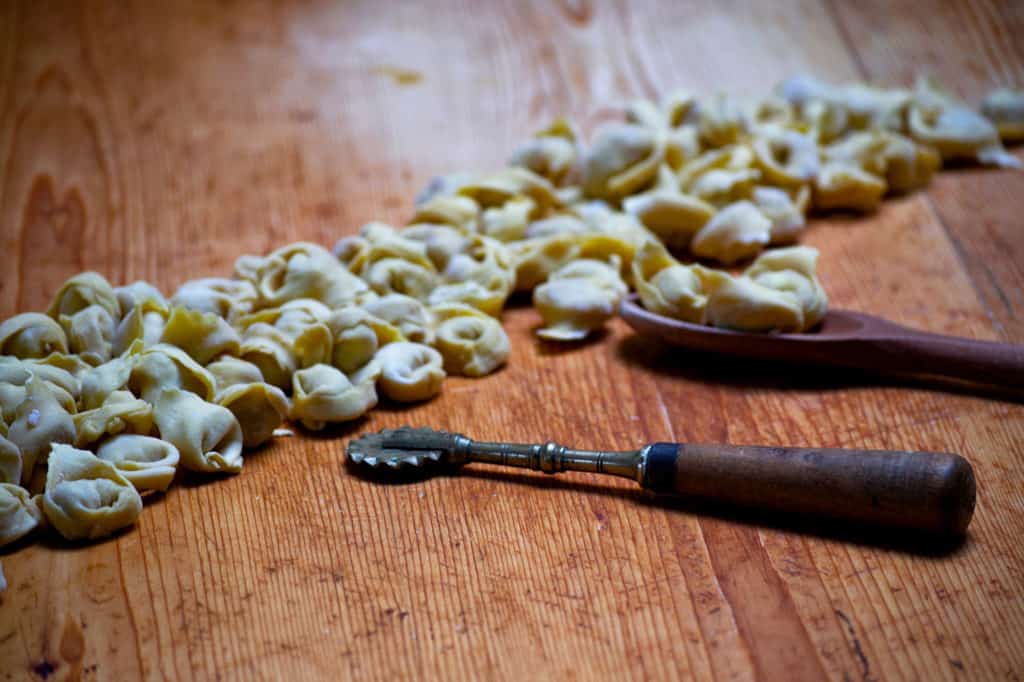 Switch to meat on Christmas Day! Roasted lamb, baked chicken, sausages – insert meat of choice – are all popular options for the gregarious lunch that takes place on December 25, though every family will have their own specific dish they like to serve (and have been serving for generations).
A staple in many northern regions are tortellini or cappelletti in brodo – stuffed pasta in a meat-based broth. Go south, and you'll find baked pasta with luscious ragu-style sauces, fettuccine and meatballs.
Indulge in panettone, pandoro, pan giallo, pan pepato, torrone, mostaccioli…Italians know how to make a sweet treat, and Christmas is the epitome of that. Cakes, pastries, cookies and chocolates are a staple of this time of year, and as central to the festive spirit as gift-giving So get stuck in. They're impossible to resist, anyway…
Play tombola, also known as Italy's official Christmas game. Don't have it at home? Any other board game will do, too – the point is to spend some time together with your loved ones over a fun activity. May we recommend our very own Monopoly?
Expect to leave the table until it's dark – seriously dark – outside. Italian Christmas meals tend to last for hours, and you'll be making a faux pas by leaving after you've had your coffee.
No sir. Go in prepared to spend at least two hours eating, a good part of the afternoon nibbling pudding, and the rest of the time playing games, talking to that aunt you only see this one time of the year, and dozing off on your chair. The bottom line: don't make any other plans besides spending the day with family.
Say no to a second helping. This is not the season to be shy or demure. Christmas in Italy is about abundance, conviviality, getting stuffed – belt-unbuckling is actually welcome – and trying anything that appears on your plate. So forget diets or meal plans and cut yourself another slice of panettone. If not now, when?
Take your Christmas tree down until the new year. Italians usually keep their Christmas trees up until the Epifania (Epiphany), on January 6, and so should you.
Leave all the present-giving up to Santa Claus. In Italy, a few figures are in fact in charge of bringing gifts to children besides the jolly bearded man on his sleigh.
San Nicola, celebrated on December 6 in many northern regions, is considered as important, and said to bestow treats to anyone who's behaved well. Santa Lucia, whose festivity falls on December 13, is also believed to deliver presents, and is honoured from Siracusa to Parma, Brescia to Verona.
And then there's the Befana, on January 6 – an ancient witch that flies around stuffing sweet treats and presents into the stockings of good children (those who were naughty get carbone, a lump of coal). So learn your saints and surprise your loved ones with a little something throughout the month – just like the Italians do.