Enzo al 29 is the Trastevere table
There is something about Trastevere that keeps us coming back and for ML, it is Da Enzo al 29, a gastronomic bolthole in the quieter side of the quartiere. Da Enzo is everything you'd expect out of a Roman trattoria – checkered table cloths, bottles of wine stacked along the walls, checkered tablecloths, daily specials scribbled on a chalkboard, entirely family-run and a delicious origin story.
Somewhere in the tumultuous years of the 1920s and 30s, an osteria opened on via dei Vascellari at number 29.  "Andiamo da Enzo…" so they said, for some local wine as that's all the traditional osteria served. In fact, patrons brought their own pasta. Over time, owner Enzo introduced those beloved Roman dishes- carbonara, cacio e pepe, amatriciana, trippa, coda alla vaccinara. Nothing fancy, just good, local recipes. Da Enzo became a cult hangout for friends, and in the 1980s, Enzo passed the proverbial torch to the Di Felice family.
The Di Felice at the helm
For nearly four decades, the Di Felice family has curated da Enzo with the same meticulous care as a passionate collector of rare artefacts, seeking out prima materia (top quality, locally sourced products) like guanciale from Amatrice, Pecorino DOP from Agro Romano, and pasta from historic mills to create our favourite Roman dishes.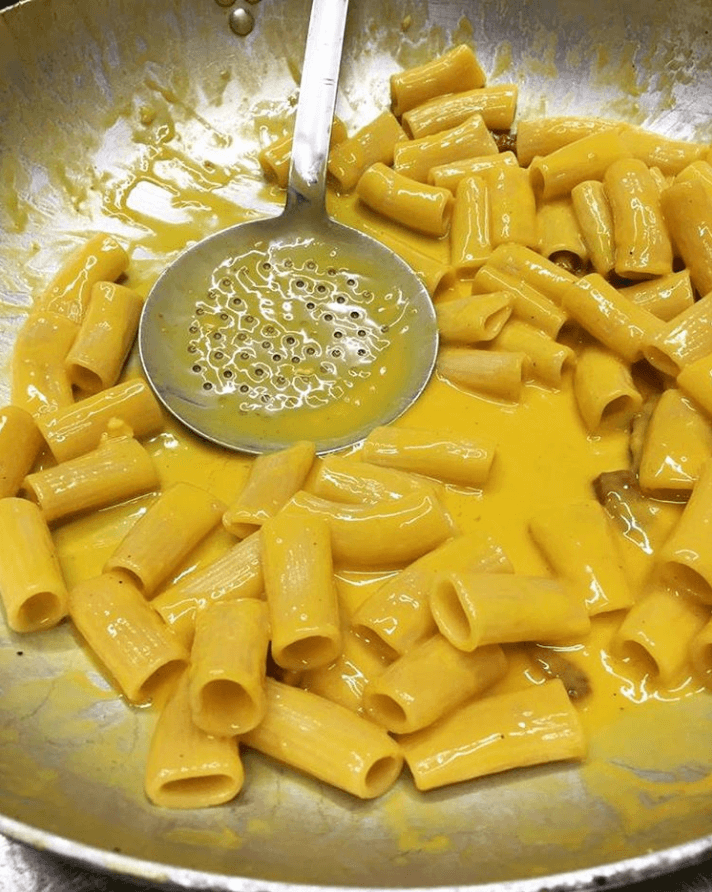 Ma ti rendi conto?! Roman cuisine has always gotten the short end of the stick for its cucina povera (poor cuisine) reputation. You know the story: turn-of-the-century gen pop Romans were so poor that they were paid in offals, left overs and months-old cured meats creating a simplified cuisine that was all about efficiency and comfort, leading many to assume quality came a far second to economics. Not quite.
Enter i fratelli Di Felice: Roberto, Francesco, Chiara and Elisabetta, the next generation line up running the family business. Roberto is the cook, a maelstrom of flavour. Ask him about your dish, the antipasto on the next to you, what you should be eating tomorrow and he will fill you up with incredible foodie information. Every Thursday afternoon, you can find him cooking up a favourite dish live on the street and on IGTV with friend Lorenzo Biagarelli.
"Da Enzo is very classic, very simple and the fundamental element is quality of product, of our team. And our ethos is to find the very best ingredients", Roberto explains, "and I'm always trying to find innovation in tradition".
Convinced by carbonara
One bite of the amatriciana or carbonara and you get it. While the amatriciana is exquisite, the carbonara is truly insane. Literally insane, because Roberto, gasp, uses the entire egg- white and yellow- when tradition calls for only the yolk. That egg matters. In order to create the most delicious carbonara, Roberto picks his eggs from San Bartolomeo in Viterbo, one of the top free-range, organic hen houses in Italy. So why waste any part …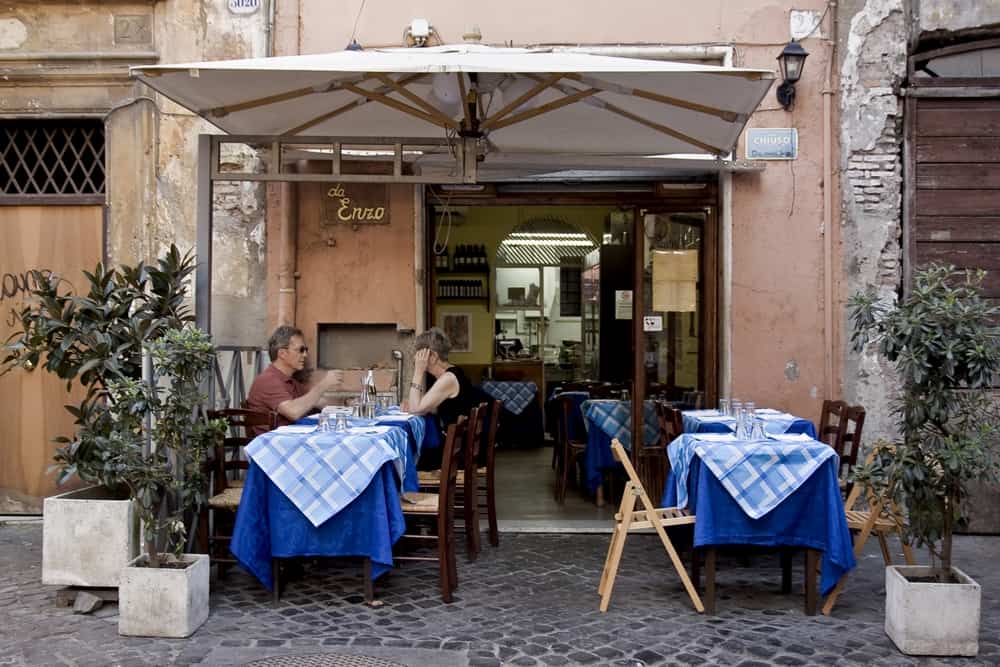 "Enzo is like home to me. Roberto talks about pecorino and parmigiano like an art historian waxing on Caravaggio," says Marie-Louise, whose been a patron of Da Enzo for over a decade. The trattoria is always her first stop when she returns from Il Pellicano and Mezzatorre.
The Di Felice family passion is second to none.
And you can taste it in every single dish –
that is what makes the difference

– Marie-Louise Scio
From farm to Trastevere
Side by side with him in the restaurant is Chiara, and together with Francesco and Elisabetta, the four siblings oversee a tiny empire which also includes a farm, produce delivery, and an e-commerce featuring products that are key in da Enzo dishes.
Let's go to the country. About ten years ago, the Di Felice siblings decided that they wanted more than sourcing from the very best. They wanted to provide the very best of produce and invested in a farm. Le Terre di Enzo in Monte in Sabina (Rieti) grows every seasonal vegetable desired, like wild asparagus, peas, San Marzano tomatoes, basil, strawberry zucchini and gorgeous zucchini flowers, as well as raising chickens and producing its own tomato sauce and organic juices. In 2019, they launched a farm-to-home produce delivery for the Rome and Lazio area.
"Tomatoes, chicory, artichokes, Le Terre di Enzo provides da Enzo the ingredients for nearly everything that we make", Robert tells.
Marie-Louise's staple order at Da Enzo
For antipasto, she loves the ricotta, a freshly made Lazio DOP ricotta served with homemade jam. Her primo is amatriciana, of course, made with Da Enzo rigatoni, Guanciale IGP from Amatrice, Pecorino DOP from Agro Romano. Hungry for more? You have to try polpette al sugo, It pains us to call them meatballs. They are heavenly bites. And of course, tiramisu, a house speciality made with organic eggs from the San Bartolomeo farm, and dark cocoa.