Summer might be almost over, but learn these sayings and you'll feel in Italy all-year round
They say one of the best ways to absorb someone else's culture is by learning their language. We couldn't agree more. Spend enough time in the Bel Paese, for instance, and you'll see that the moment you start understanding the expressions and gestures of those around you, everything begins falling into place.
Immediately, you'll feel more familiar with people, more confident in your step, and more in tune with the rhythms of a culture that might be a universe away from yours.
Language – and all the little quirks and nuances that come with it – can open worlds and connect us at a deeper level than we ever thought possible with new realities, places, individuals.
That's true even when you're no longer immersed in it, but back in the comfort of your home. Adopt a couple of Italian sayings into your daily life, and the boot-shaped country will follow you wherever you go.
Not sure where to start? We can help!
Here are five expressions we think are pretty symbolic of Italy – sayings and proverbs that you can slip into your everyday to conjure up a little Italianità wherever you are and live the Italian way not just in the summer, but all-year round. Ready to take some notes?
The rebellious teenager of Italian idioms, "Al cuore non si comanda" captures a key essence of the Italian lifestyle: Life's too short to always play by the rules.
That applies to anything from love interests and food – why be all sensible in front of a decadent tiramisu when you know a little slice will only make you and your belly happier?
Sometimes, you've got to let your heart shimmy and shake its way into decisions. Just remember, that might mean a rollercoaster ride of emotions – from soaring highs to melodramatic lows. Very Italian!
 "Al cuore non si comanda" is that wink of permission to let your heart twirl in its own tango, even if it occasionally steps on your logical toes.
A pair of sparkly earrings, a rich amatriciana sauce to damn all diets, that bag you don't really need but are obsessed with. Treating yourself to any of these special items is a way to say "Al cuore non si comanda."
Consider this as the Italian version of "good things come in small packages" – only with a reference to wine, of course.
An Italian gem that's like a bite-sized nugget of wisdom, this vino-inspired saying is essentially, a reminder that hidden within the tiniest casks of life are the richest experiences, and greatness doesn't need big displays or braggy show-offs. Think of it this way: In a world obsessed with bigger, better, and flashier, this saying gives a nod to the underdogs, the quaint, and the pint-sized powerhouses – because quality always, always trump quantity.
So, whether you're talking about wine, people, or opportunities, "Nella botte piccola c'è il vino buono" encourages you to savour the small, appreciate the subtle, and relish the remarkable.
Everything we stock on ISSIMO is an example of "Nella botte piccola c'e il vino buono," whether that's a Mezzatorre-themed keyring or a dainty Amourrina necklace. Get your pick and enjoy your small but mighty treasures.
Italy, as we've covered before, loves its gestures, symbols, and superstitions. Among them, le corna – the horns – are some of the most beloved, both for their ability to ward off misfortune (or so the belief goes) and to bring good luck.
They appear in a number of expressions, and "Parli del diavolo e spuntano le corna" is one of them. The meaning: Summoning a mischievous genie when you mention its name. It's the ultimate "I dare you" to fate, a comedic twist on the law of attraction, and the cosmic equivalent of a surprise party, where the universe is the prankster host, and coincidences are the party favours.
Usually, people use it in a gossiping context: You're talking about someone with your friend and suddenly there they are, waving hello.
"Parli del diavolo e spuntano le corna" is a playful reminder to watch what you say, and a whimsical way to acknowledge life's unpredictable twists and turns, where the mundane transforms into the magical, just because you dared to speak its name.
Ask any Italian, and they'll tell you that bringing some corna – the object – into your life is always a good idea. So pick between a t-shirt, a pendant or a handkerchief, and add a little good luck to your routine, the Italian way.
Trust the Italians to cure health-related anxiety with food, friends and drinks. "Ecco il rimedio per l'ipocondria: mangiare e bere in buona compagnia" is like a way of saying "Darling, life's too short for anxiety – let's indulge!"
It basically transforms your health concerns into a recipe for joy: Take one part delectable food, two parts refreshing drinks, and sprinkle liberally with good-hearted companions – voila, hypochondria, meet the ultimate distraction!
The idea is that, when you're having a good time, your mind is so busy savouring flavours and exchanging laughter that it forgets to be anxious, letting your worries melt like butter on warm bread.
We think of it as a cheerful prescription for conquering health-related blues. Embrace life's zests, relish its moments, and let your worries float away like confetti in the wind. After all, nothing beats the healing power of a full belly and a heart full of time spent among cherished friends.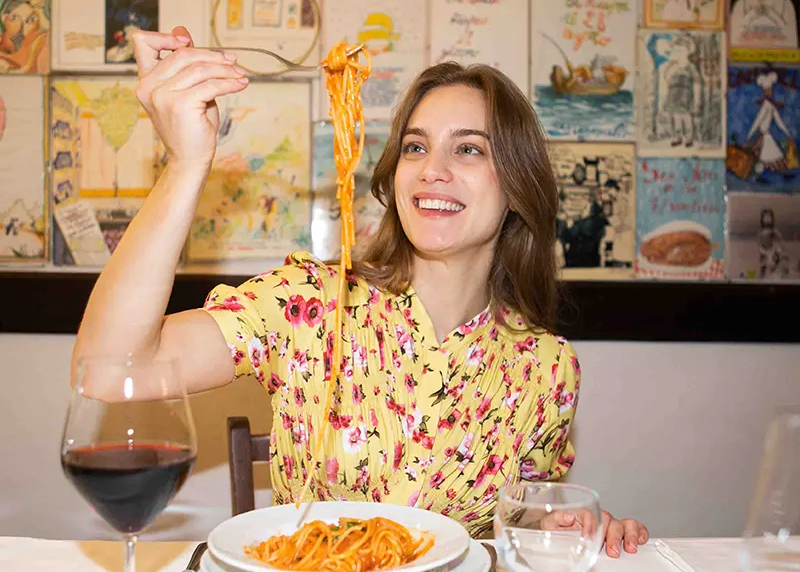 From chopped sundried tomatoes to yummy artichokes, pasta and all the fun homeware you can think of to make your table sing, anything that helps you put together a feast will make the expression come to life.
"Chi la fa l'aspetti" is like the universe's playful wink, reminding us that our actions have consequences waiting in the wings. Translating to "Who does it, expects it," this Italian saying is life's way of giving us a nudge, suggesting that whatever we put out into the world often circles back to us.
Imagine life as a grand stage, and every action you take is a script you're writing. But here's the twist – the play isn't over after your lines. The consequences you set in motion have a sneaky way of reappearing later, often when you least anticipate them.
Think of it as a cosmic reminder that what goes around, indeed comes around. You praised someone's kindness? Brace yourself for a wave of goodwill headed your way. You spread negativity like confetti? Well, don't be shocked if those confetti bits turn into little storms raining down on you.
It's a lesson in accountability, a whimsical reference to the fact that life has its own sense of justice, meticulously tallying every action and response. "Chi la fa l'aspetti" urges us to approach our choices with consciousness, for the threads we weave today might end up sewing the fabric of tomorrow's surprises. So, next time you think about tossing that metaphorical boomerang, remember: What you throw might just loop back around with a cheerful "Surprise, I'm back!"
"Chi la fa l'aspetti" is perfect board-game jargon. You play Monopoly – make it the ISSIMO one – sneakily strategise against your opponents, until they eventually get you with an unexpected move you had foreseen. Chi la fa l'aspetti!